Have you ever given up on something prematurely? Ever tossed in the towel on a project because you were frustrated or just didn't feel like you were making any progress? When was the last time someone gave you directions and you felt that you must have missed a turn or gone too far?
Fantastic Finish in Foxboro
Yesterday in Boston there were two improbable comebacks by the home team. In both of them it seemed that many people had given up hope of a victory while there were certainly people who had already chalked up a 'W' for the visitors and were starting to look ahead to the next game.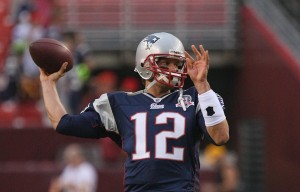 The New England Patriots were playing host to the undefeated New Orleans Saints and it appeared that the home team was going to lose the game. Twice.
New Orleans drove down and took a 1 point lead with 3:29 left in the game. No one in Boston really panicked at that point because they are led by future Hall of Fame QB Tom Brady. After all, Brady has engineered a few comebacks or game winning drives in his career.
Surprisingly, after 3 quick plays, New England was faced with a 4th down deep in their own territory. They still had a few time-outs and the 2-minute warning to stop the clock and try to force a turnover or punt by the Saints so they could have punted the ball and relied on their defense. Instead, coach Bill Belichick decided to go for it on 4th down. The 4th down pass was incomplete and the ball, and the game it appeared, would go to New Orleans.
Gillette Stadium in Foxboro started to empty out as New Orleans had a short field to go and just needed to kill the clock and kick a field goal. The Saints did kick a field goal but there was still 2:24 on the clock. Saints 27, Patriots 23. Tom Brady had done it so many times before so most of the people who were left hung around to see if he might be able to engineer another comeback.
After the kickoff  Brady took the field but dashed their chances with an interception on the very first play. This clearly would end the game so most of the home town fans headed for the exits. Except someone forgot to tell the Saints that the game was over. Inexplicably they failed to get a first down, allowed New England to stop the clock with their final time out and the 2-minute warning and were eventually forced to punt the ball back to the Patriots.
Getting the ball back on their own 30 yard line, trailing by 4 points and just 1:13 left on the clock, Brady and his team had to drive down the field and score a touchdown. No way that would happen, right?
But it did and there were only about half as many fans to see it as there were in the stands a few hours earlier.
Big Papi Pulls a Rabbit Out of His Hat
About 30 miles up the road in Boston, Game 2 of the American League Championship Series was about to begin. After a disappointing offensive effort by the hometown Red Sox in Game 1 against the Detroit Tigers (The Red Sox managed just 1 hit in a 1-0 loss), the home crowd was expecting a great explosion of hits and a much better effort overall to tie the best-of-7 series at one game apiece.
Tigers starter Max Scherzer dominated the Red Sox once again, holding them hitless until the 6th inning as the visitors took a 5-1 lead. The score remained the same and most fans across the country started chalking up the win to Detroit and expected them to take a 2-0 lead with them back to the Motor City for Game 3.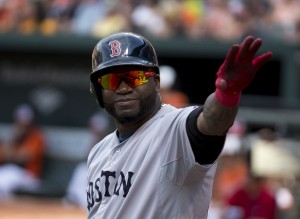 Then the type of magic sports fans have come to expect from the team that plays their home games in Fenway Park happened.
The Red Sox loaded the bases with 2 outs in the bottom of the 8th inning.  Detroit Manager Jim Leyland called for Tiger's closer Joaquin Benoit to come in and save the day. Except Boston star David Ortiz, known by fans as "Big Papi," didn't get the memo that he was supposed to strike out. He blasted the 1st pitch he saw over the right field fence for a grand slam. Tie ball game, 5-5.
The Red Sox would go on to win 6-5 with a run in the bottom of the 9th inning (although some Detroit fans will tell you the Tigers would go on to "lose" the game).
Just like the game in Foxboro a few hours earlier, it was over…until it wasn't. Then, it was over.
Don't Give Up
We've all been faced with situations where it looked like we were going to win…or lose, but we didn't. We have all faced some mighty difficult challenges or events in our life but we had to let things play out the way they did because maybe we didn't have any control over the situation (like most sporting events we watch as fans).
It doesn't mean we quit being fans. It doesn't mean we change direction. It doesn't mean we give up everything.
"Being defeated is often a temporary condition. Giving up with what makes it permanent." – Marilyn vos Savant
How many times have you been working with a Buyer who has made multiple offers only to come in second or third place? Yet you keep looking and eventually their offer is accepted. Do you remember how you felt after that experience? Do you remember how they felt when you called to tell them they were "in contract"?
Have you ever had a home fall out of contract due to a home inspection only to have your clients find a better home that was perfect for them? I have…and it was the very first home we owned. I am still thankful to this day that our isnpection went bad.
When was the last time the other side said "this is our final and best offer"? My guess is you've pulled a number of those deals together a few offers later, huh?
The next call you make might just be the one. Knock on one more door. Send just one more email.
Imagine if all those times you would have left the stadium or turned off the television or went to bed early. You might have missed a great finish.
You always end up finding that thing you've lost in the last place you look. So keep looking.
Remember…it's not over until it's over.
Keep building relationships, solving problems and having fun.