I was in Charlottesville this week for business and scored some tickets to the Louisville Cardinals vs Virginia Cavaliers basketball game. As a huge sports fan, I jumped at the chance and enjoyed a fun game at John Paul Jones Arena. UVA is currently ranked #2 in the country and they are a very good basketball team, so when I landed in Charlotte a few days ago, I looked on my ESPN app and discovered that the game was happening when I was in town.
Thankfully, Abby from the CAAR (my contact in town) had a direct source for tickets.
Trust the Locals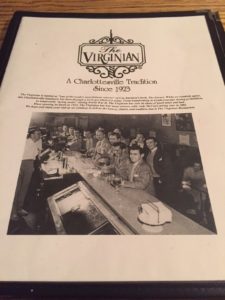 After the game, many of the undergrads told me to head to "The Corner" and experience "UVA Life." The majority of the people told me to check out The Virginian…or "The Virg" as they called it.
What a good suggestion.
I stopped in and grabbed a booth and was immediately greeted by Erin, a vibrant, always-smiling 3rd year. She grabbed me a cold "Get Bent" IPA and suggested several items off the menu. "We're known for our Mac & Cheese but I love our Coal Miner burger. The Caesar Wrap is good too."
After choosing the Coal Miner burger, I sat back and enjoyed my beer while watching the undergrads file in, along with some other alums and basketball fans for a local bite before the kitchen closed at 10 pm.
Hannah was the other server on tonight and she & Erin were a very impressive team. Hannah had an infectious smile and humble attitude that made you want to leave a bigger tip before she even did anything. They are both the epitome of "good people" and anyone who has a son in college at UVA is hoping they find a girl like them. Each of them stopped by my table numerous times to check on me and just chat. They answered my questions and shared stories about "The Virg" and their experiences on campus as undergrads and also gave me some "must see" sights while in town.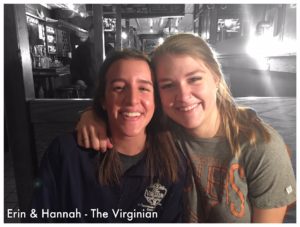 The burger was awesome and served exactly as ordered. The first bite was awesome as the bacon was crispy, the burger was juicy and the BBQ sauce was Carolina Sweet. The crispy seasoned fries and the Chris Stapleton songs on the speakers made the entire meals more enjoyable.
Asking for some YELP!
As my time at "The Virg" was coming to a close, I asked both Erin and Hannah if there was anything I could do for them. Did they want a shout out on Twitter or Facebook, Instagram or Snapchat? References or testimonials?
"We do love Yelp! reviews" stated Erin.
"I'll do it, " I said. "You ladies have been awesome tonight"
My review wasn't going to happen instantly. I had to think about what I wanted to say about these two girls that could be my daughters…or classmates of my daughter. And that's when I realized why I was so excited and energized by the service of Erin and Hannah. It was the same way my own daughter Riley and her friends would have treated me.
Energy, enthusiasm, pride in "the brand," and genuine care for a client, customer or guest.
These two girls were truly happy to be recognized for doing what they do every night…and that's creating remarkable experiences for their customers and clients.
Look, there are lots of places in this town you could eat, but if you're looking for something other than a fast food burger or an assembly line burrito, do yourself a favor and enjoy the experience of The Virginian in C'Ville. Just be sure to ask "are Erin and Hannah are working tonight."
If they are, grab a seat…and consider buying a lottery ticket, because you just had some great luck come your way.
Until next time, as Erin and Hannah would say…"Do it Hoos!" and "Wahoo, Wahoo!"
And as I'll say, keep building relationships, solving problems, and having fun.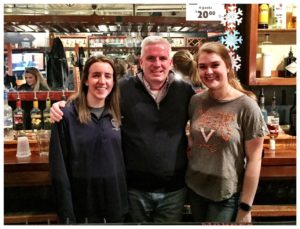 #Blogworthy