Monday Morning Match is a quick post – maybe a quote, inspirational story or idea – intended to spark some motivation inside each of you so your week gets off to a fantastic start on Monday morning.
Travel Delays 
The turbulent landing made me happy to be on the ground. One more flight to go and I would be home, sweet home.
As I was waiting for the passengers in front of me to slowly de-plane, my airline app pinged to notify me that my connecting flight was delayed. Snow and freezing rain moving across the middle of the country was causing a ripple effect of flight delays and cancellations across airports throughout the Southeast and Mid-Atlantic regions.
By the time I had walked through my arrival terminal in Charlotte and made my way to the gate where my flight home was scheduled to depart, I checked the nearest monitor hoping for the best and expecting the worst…and got the worst; the status change had been changed from "delayed" to "canceled." I would not be making it home tonight.
Time for the Serenity Prayer…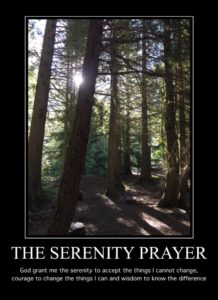 I checked in with the family to update them on my status and then turned to the professionals – the airline personnel (both on the ground and on Twitter) to plan my next move.
I never complained to the airline staff. They didn't make the snowstorm happen. I didn't moan to any staffers at the airport for this unfortunate circumstance I found myself in. They didn't determine which planes could fly and which planes couldn't. Heck, my wife didn't even get mad at me for not making it home as she was in the middle of the snowstorm herself and knew it wasn't a good idea for the airlines to be flying in the current weather conditions. As much as I wanted to get home, I don't think I even got angry. As the cliche goes, "it is what it is." I was quite calm as I thought to myself…"were there any other fights that could get home that night?" "What were my options in the morning?"
I waited in a long line (which only got longer as more and more flights went from "delayed" to "canceled" on the video monitors throughout the airport). After almost an hour wait, finally, it was my turn for an airline staff member to help me plan out my next, best move.
"Mr. Carpenter, I have you booked and confirmed on the 3:50 flight to Columbus," said the kind lady behind the counter. [I asked…but she didn't want to be photographed or mentioned by name. She was simply doing her job. #Blogworthy]
I was grateful for the help and tweeted this out to the team at American's Customer Assistance desk in CLT Concourse C so they knew that people appreciated what they were trying to do…
Dear @AmericanAir – very impressed by the patience and professionalism of your Customer Assistance from in @CLTAirport C Terminal. Teamwork and training is helping make things better. #Travel #Delays #NothingYouCanDoButSmile 😎

— Sean Carpenter (@seancarp) January 13, 2018
Now What?
As it was nearing midnight and all the restaurants and bars in the airport were violently rolling down their metal gates (a subtle way of saying "we've been where all day, we ain't staying to serve you dinner"), I had to start thinking tactically about my next 12 hours. Would I be sleeping in a local hotel or fighting fellow passengers for the classic white rocking chairs in CLT, hoping for something close to a power outlet?
Fast forward a few hours – I spent the night in a discounted hotel room (airlines don't cover accommodations when the weather is the cause of delays) and I was quite pleased with the service and accommodations I secured on short notice. I was thankful I wasn't sleeping on an airport floor. I returned to the airport the next morning and waited as a "stand-by" passenger to jump a the flight that was scheduled before my "booked flight" would depart. A few tense hours and some secret prayers allowed one passenger on the early flight to not show up, granting me the final "standby" seat home. I arrived safely, almost 17 hours later than expected and a little worse for the wear but all in all, in good spirits.
Your Flight Has Departed but…
So the new year is off to a great start but what lies ahead? Do you anticipate any obstacles, challenges or roadblocks along the way? What will happen if suddenly that appraisal doesn't come in where it needs to, that potential seller learns that his cousin has her real estate license and they should probably list with her or the buyer you've been working with found a perfect FSBO this past weekend and made them a great deal?
Are you a manager that might still be smarting from one of your rising star agents leaving to go to a broker with a bigger split and more promise of more this and more that? Do you work for a lender or title company that is upgrading technology but promises it will be up and running this week?
I've said it before and I'll say it again…and I'll try to remind myself of the same message…
Facing an obstacle? You have 2 choices:

1. Quit
2. Quit bitching & move forward.@QuitBitchingCo @djdoug @NiceGuyonBiz #NiceGuys

— Sean Carpenter (@seancarp) July 8, 2016
What's On Your Schedule?
If you're moving forward, I know this much. Sooner or later, the faster you keep moving, the more likely you are to be delayed down the road. It happens to the best of us. Anticipate the delays, challenges, and obstacles and stop fearing them. Welcome them as opportunities to build relationships, solve problems, and have fun.
You never know? You just might find your next customer, client or conversation worth having, right in the middle of the next travel delay you encounter.