Happy New Year!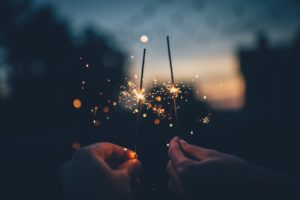 2018 is finally here and it's like…
A new box of crayons when you were a kid.
A fresh jar of peanut butter.
Hearing your favorite song on the jukebox.
The battery on your phone at 100%.
A hug from your child.
Finding out the event you're attending is an "open bar."
Inbox zero.
A full tank of gas.
Putting a shiny new Titleist on the tee to start a new round.
Seeing the "Warm Donuts" sign at Krispy Kreme.
Sitting in the front row on the roller coaster.
Getting the courtesy upgrade to first class on a long flight.
The car in front of you buys your coffee.
That "new car smell."
An unexpected package being delivered from Amazon.
Finding a $20 in your purse or coat pocket that you didn't know was there.
Discovering a new book you just can't put down.
A clean home inspection, a good appraisal and receiving the "clear to close" from the lender.
I hope you find those 18 magical moments in the new year and many, many more. Remember to build relationships, solve problems and have fun.
Here's hoping that '18 is like that…or even better.
Photo Credit: Ian Schneider