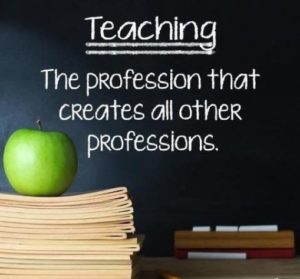 Monday Morning Match is a quick post – maybe a quote, inspirational story or idea – intended to spark some motivation inside each of you so your week gets off to a fantastic start on Monday morning.
Checking the Inbox
The email was unexpected. I almost skimmed over it. The sender was someone I don't know but the subject line was someone I did know. The subject line simply had a name in it. A name from 36 years ago.
It turns out the sender was Googling an address he needed for his Christmas card and when he entered in the name of the person, he came across this post I wrote a little over six years ago. He read the article, probably wondering what the connection was to his good friend and former University of Florida professor and some Realtor in Ohio.
Dr. Robert Beland, Professor Emeritus in the Department of Tourism, Recreation & Sport Management at Florida read his friend the post during one of their weekly meetups for coffee at the Starbucks in the student union. Needless to say, Dr. Own Holyoak was probably surprised to hear he was singled out among all my teachers during my time in school in Gainesville. Dr. Beland reached out to tell me that Dr. Holyoak "lit up" with excitement when he heard what I said about him – which was a relief because even though my reminiscence was meant to be positive, some people might have read it the other way.
I reached out to my old mentor to try to connect…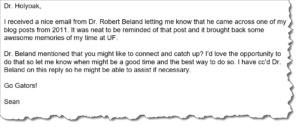 When the next week went by I figured that maybe the "virtual college reunion" would fade away but then I got a lengthy email from Dr. Holyoak. He was busy as a retired professor, having served 30 years on the staff at Florida. According to Dr. Beland, Dr. Holyoak had just returned from watching his good friend (and Florida legend) Steve Spurrier get inducted into the College Football Hall of Fame for the second time – this time as a Head Coach for his days at Duke, Florida and South Carolina.
Finally, the reply came back from my old professor. He apologized for the delay in getting back in touch. He had some things happen that took his attention away and in typical Gator fan fashion, had stayed up late the night before to watch the Gator Volleyball team who is coached by his good friend Mary Wise. The Gators defeated Stanford in the Women's Final Four, advancing to the National Championship match. (They lost to Nebraska on Saturday night).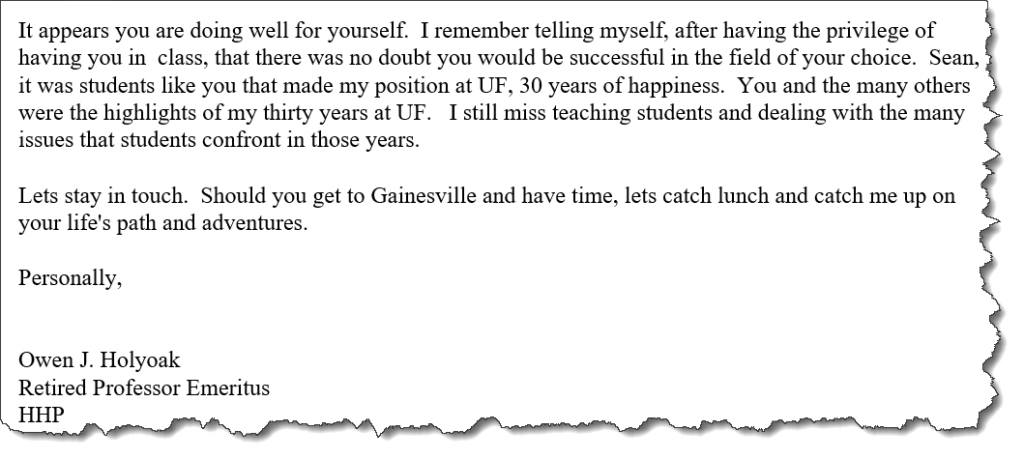 How cool is it that he took the time to reach out? But then, it shouldn't be a surprise at all. That's what great teachers do. They connect with, respond to, and encourage their students. Even when they're not in the classroom. Something about Dr. Holyoak's response made me think of my Dad so I wanted to let him know the similarities I saw with my Dad and him.

Attached to my response, I also shared the post I wrote in tribute to my father on the 11th anniversary of his death (still to this day my most read post)- just to give Dr. Holyoak a sense of who my Dad was and how similar they were as professors.
And with his final response, Dr. Holyoak made me feel almost as good as he did that day some 36 years ago when he dropped my term-paper back on my desk with that "100" written along the top of the cover page…

We Are All Teachers
Thanks, Dr. Holyoak for reminding me how much you care about your students, friends and fellow Gators. Thanks for demonstrating how teaching from the head and the heart is way more long-lasting than the textbooks and tests. You have reinforced the impact a teacher can…and will have.
I hope to catch up with Dr. Holyoak sometime soon and chat about all that has happened since I left Gainesville, grew up, lived my life and became a teacher myself. I'm sure I have more to learn from his wisdom and life lessons.
As I said in a Facebook post last week when I shared the image at the top of this post, "who will you "teach" today that will remember the lesson 30 years later? More importantly, who might you teach today that will have YOU remembering the lesson 30 years later?"