Monday Morning Match is a quick post – maybe a quote, inspirational story or idea – intended to spark some motivation inside each of you so your week gets off to a fantastic start on Monday morning.
It all came together so perfectly…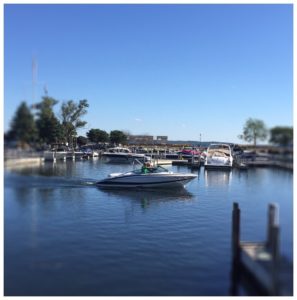 The alarm goes off before sunrise and no snooze sessions are needed. I'm out of bed, dressed and ready to head out for some exercise before the sun rises. The cool Wisconsin air greets me as I head outside to walk along Lake Geneva and watch the sunrise before delivering the closing keynote session to my Coldwell Banker Chicago friends at their Leadership Retreat.
The breakfast buffet is plentiful and hearty. Fluffy scrambled eggs and bacon that could not have been cooked any better; crispy yet meaty, salty…but not too much to make you regret the extra slice you added to the plate. A fresh glass of apple juice was the perfect, sweet compliment.
The attendees were engaging and energetic and gave great attention to the two presenters before me. I felt their commitment to #BecomeBetter as they listened to my session with focus and enthusiasm, ready to take the message of "getting in gear in '18" back to their associates and office staff.
Headed Back to Chicago
It was a beautiful day, the sun beat down
I had the radio on, I was drivin'
Trees flew by, me and Del were singin' little Runaway
I was flyin'

Running Down a Dream, Tom Petty & The Heartbreakers
As I pulled away from The Abbey Resort, I purposely put on some Tom Petty to begin my drive. There wasn't a cloud in the sky and I had plenty of time. Roll the windows down and turn up the radio and simply enjoy the sights and sounds of Southern Wisconsin and Northwestern Illinois. The hustle and bustle of O'Hare International Airport could wait.
Traffic was light and I made it back to the Rosemont area of Chicago near O'Hare with plenty of time to fuel up the rental car and meet a good friend and fellow agent, Andrea Geller, for lunch. Some great conversation and tasty local brews led me right up until my departure time…but it kept getting better.
The rental car return took less than 90 seconds. (Thanks, Budget)
The shuttle bus to the terminal was waiting for me. (Thanks again, Budget)
We pulled right up to the terminal and thanks to mobile check-in on the United Airlines app, I proceeded straight to TSA Pre-Check. There was literally no line. Not a single person in front of me so the entire process took about 3 minutes from the time I entered the Disney World maze of ropes to passing through the x-ray machine and grabbing my luggage.
Gate C-6 at O'Hare is conveniently located right next door to the Goose Island Restaurant and Bar (which was packed) but there was one empty stool along the wall so I grabbed it and slid it over by the entrance (so I could people watch) and ordered a cold flagship IPA. I eventually offered my seat to young Kendra, a new sales rep for CISCO from Wichita who arrived and looked a bit dismayed that there were no seats left and struck up a great conversation with my new friend and fellow hustler salesperson who used to tend bar and serve at Buffalo Wild Wings in Wichita. We talked about building a "KuLT-like Following" and the importance of the 3 C's of Trust. It was one of the moments to help a rookie salesperson gain some confidence (not that she'll need it) and share some wisdom, from someone who has "been there and done that."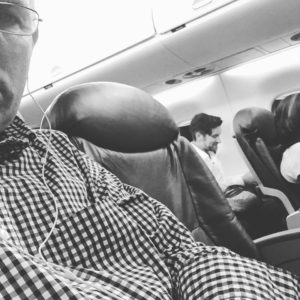 I headed to my gate, we boarded expeditiously and even though the flight was supposedly full, my seatmate never showed and I had an empty row next to me. We took off on time. In fact, I think we only taxied for 10 minutes and were in the air before I finished my Headspace meditation. The beverage cart provided a cool drink and then we were on our final descent into my home airport of Columbus. Touch down on the tarmac was 32 minutes early and we arrived at the gate in no time. (Thanks, United and the crew on Flight #3452)
I was quickly through the near-empty terminal and jumped on my shuttle to get my car and a short 17 minutes later, I was pushing my garage door opener and pulling into my house.
That's what you call a smooth day of travel.  I like to call that #TravelKarma. They don't always happen that way but when they do, it sure does make it feel special, doesn't it?
What's your #TravelKarma Equivalent?
When you have one of those truly great days, what needs to happen? What will you notice is happening to make you realize how good things are? All the lights in your favor? Your spouse makes your coffee? The kids aren't fighting when you come downstairs? Your email isn't full with complaints and problems but instead opportunities and compliments?
I think part of the challenge with anything in life is knowing that not every day can be perfect, but then some days, it happens, Just to remind you to fight through the tough ones and know that good things are bound to happen for you soon. Maybe not today or tomorrow…or maybe not next week…but it's coming.
Just keep building relationships, solving problems and having fun. Today might just be the great day you've been waiting for. You know…one worth blogging about.