I was driving through North Carolina with a little extra time on my hands. As I left the freeway and started to take the less traveled rural routes, I told myself that if I passed a barber shop when I passed through one of the small towns that pop up between tobacco fields, I was going to stop for a trim.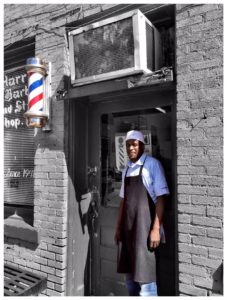 Zebulon, North Carolina is home to slightly more than 5,000 people and as I slowed down to pass through the quaint little town, I started looking left and right for one of those iconic barber poles hanging on the wall out front. It only took me two blocks to spot the familiar red, white and blue barber pole outside of the Harris Barber and Style Shop. I spun the wheel left, cutting across traffic that had slowed at the railroad tracks and parked in the gravel lot beside the old brick building.
I opened the door and the barber smiled and said "Hello."
"Do you take walk-ins", I inquired?
"Of course we do," the barber said with a smile. "Come on in and take a seat. I'll be right with you."
He was almost done with the patron in his chair and after a few minutes, it was my turn.
His name was Charles and he was filled with energy and enthusiasm. He guessed that I wasn't from there – let's just say in addition to the long, unkempt gray hair, I definitely didn't look like a regular resident of the area.  I shook his hand and introduced myself and Charles got to work.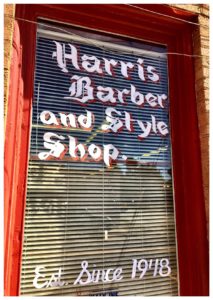 It was fun to watch him work. I kept an eye on him in the mirror in front of me and while he was totally focused on the clippers, scissors and brushes in his hand and the slowly shortening gray hairs, he never lost the smile on his face and the spring in his step. We chatted about where he was from (a small town named Benson in the next county South) and he told me a little about the area and its history. He'd been a barber for over twenty years, cutting hair in Baltimore and other parts of North Carolina but had been at this location for close to 10 years. Charles might be a small town barber but he is definitely a big-time personality.
As he handed me the mirror to inspect his efforts, I smiled and told him "nice job." He brushed off the loose trimmings, removed my cape and thanked me for stopping in. I reached into my wallet and paid him for his service (adding a generous tip) and asked him for a quick photo.
"What for?" asked Charles.
"So I can show my friends that I got my haircut by the best barber in Zebulon," I cracked.
He bowed his head and said it was his pleasure…and then he smiled his infectious smile. I asked him to stand out front for one more photo in front of his shop and as we stepped outside, the waiting patrons smiled, knowing that I now know what a great experience coming to see Charles is. As we stepped outside, a few more patrons passed us, heading in to join those already queued up inside.
Thank for the haircut, hospitality and humble service Charles. You're a perfect example of someone who does what you love and loves what you do. You're also a perfect example of what #Blogworthy is all about.