Monday Morning Match is a quick post – maybe a quote, inspirational story or idea – intended to spark some motivation inside each of you so your week gets off to a fantastic start on Monday morning.
There's Always Another Way to Say It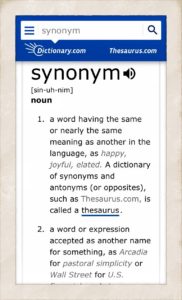 If you can't BUILD a relationship this week, find a way to create, begin, deepen, enjoy, develop, find, strengthen, advance or empower a relationship. 
No time to SOLVE problems this week? Focus on identifying, working around, managing, understanding, avoiding, fathom, decipher, decode or explain the obstacles or challenges that might occur. 
Need a different way to have fun? Play, frolic, enjoy, enliven, entertain, giggle, laugh, guffaw, share, support or simply smile. 
If you need to change the words around a little, that's okay. Just so long as you remember what's the main thing, principal, key, major, salient, prime, foremost, paramount, overriding, crucial, vital, critical, essential, significant.
You know…the things that are important.