Monday Morning Match is a quick post – maybe a quote, inspirational story or idea – intended to spark some motivation inside each of you so your week gets off to a fantastic start on Monday morning.
We all know the games. There's the Grocery Game, Cliff Hangers, Cover Up, Flip Flop, Range Game, Hole in One and everyone's favorite…Plinko! Most of us grew up with Bob Barker and can remember sick days when Mom would let us tune in to watch regular people try to win appliances, watches, video games, trips and at least once a show…A NEW CAR!!!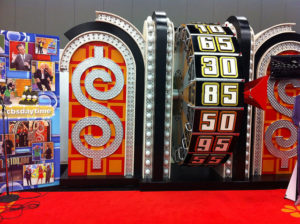 Of course, I am talking about The Price Is Right. The iconic television game show is celebrating its 45th anniversary today and as long as the show has been on the air and those contestants from the studio audience have been called to "come on down," it's always been about guessing the right price. If you were lucky, you could win the Showcase Showdown and if you were really a good at guessing prices, you might even win both showcases.
How Good Are You at "Pricing It Right"?
"Johnny, tell us what the next item up for bid is," said Bob Barker (or today maybe Drew Carey asks the same thing these days to George Gray) and some item like a washer/dryer set or a billiard table are wheeled out onto the stage. The contestants try to guess as close to the actual retail price in order to win.  There's always that moment when the contestant looks to their friends in the audience for help. You can almost hear them thinking to themselves, "Well, back home a washer machine is about $699 but maybe they are more expensive here in Hollywood. I wonder if it is a machine that has the double rinse cycle because that costs more."
It's one of the critical parts of our business – establishing the right price. Whether we're representing sellers or buyers, knowing how to help the clients understand the true value of a property could make the difference between getting a listing sold, helping the buyer win a bidding war or simply being able to effectively answer the common question "How's the market?"
Having the knowledge, skill and competence to research, compile and package the results and translate the numbers into a story that your customers understand and act on is a huge part of what makes a Realtor successful.
Never Forget the Difference Between Product and Commodity 
It's important to remember that with a product like a washer machine or pool table, the manufacturer or seller sets the price. They can advertise it on flyers or television, hang stickers on it in the show room or mail out direct mail pieces announcing the item and the price.  Buyers can decide to buy it or not.
On the other hand, with something like a commodity, it's the Buyer(or market) that establishes the value, and that can fluctuate daily based on supply and demand. Establishing a fair "asking price" is one thing but creating a "perception of value" from the buyers currently (or soon to be) in the market place could be the difference between a "For Sale" sign and a "Sold" top rider. Value can be a combination of price, location, condition, features and many more factors.
Do your research every day so when your name is called by a Seller to "come on down" or you need to provide the best advice and guidance for those people you're helping, you have a good understanding where price and value meet in your market.
Have a great week building relationships, solving problems and having fun. I'll see you in the Showcase Showdown.
Photo Credit: Digitas Photos via Flickr