Monday Morning Match is a quick post – maybe a quote, inspirational story or idea – intended to spark some motivation inside each of you so your week gets off to a fantastic start on Monday morning.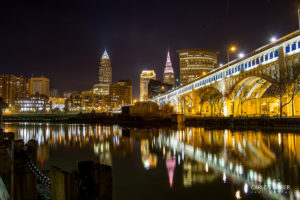 Cleveland Makes a Run
Last week the Cleveland Indians won their American League record 22nd baseball game in a row. Sadly, they fell short of the all-time record of 26 games in a row, but have already started a new streak with consecutive wins after the heart-breaking loss to Kansas City.
During the streak, the players seemed to gain confidence with every single effort they put forth. They were really having fun and simply playing for the love of the game and their love of each other. The pitchers were outstanding, the defense was stellar and at the plate and on the base paths, the Indians simply were unstoppable.
The fans were supportive before, during and after the games and the energy and confidence from the players seemed almost contagious. Cleveland became "BelieveLand" again, just like it was in the Indians magical run to the World Series last season.
Click below to watch their amazing rally to win Game #22
Cleveland Makes a Catch
The Florida Gators played one of their rivals on Saturday. In a hard-fought, sometimes ugly contest with the Tennessee Volunteers, the Gators held the lead for almost the entire game, even though they were sloppy and at times over-matched by the team from Knoxville. One of those moments of sloppiness, when freshman QB Feleipe Franks threw an interception inside their own territory with just 4 minutes left, allowed Tennessee to drive down and kick the game-tying field goal with under a minute left.
After a few plays to try to advance the ball and a strange coaching decision to not call a timeout, Florida was left with one more chance before the game would head to overtime. Franks dropped back and scrambled to buy his receivers some time. The sold-out crowd at The Swamp stood and held their breath. Florida sophomore Tyrie Cleveland raced down the field towards the end zone and inexplicably slid in behind the Vols safety and cradled Franks 65 yard toss into his arms as he fell into the end zone for the game-winning TD.
Click below to watch the Hail Mary pass from Franks to Cleveland
Unlike the Indians, I don't know that there was a lot of confidence and belief from the players, coaches or fans that this game would end the way it did, but until the clock showed 0:00 no one gave up trying.
Which Cleveland will you resemble this week?
Are you giving it your all, day in and day out? Are you doing things consistently, trying to create a streak of your own? How good would your season look if you could secure a closing each month? A new listing every week? What might happen if you really focused on lead generation for 30 minutes or 1 hour every day for the next 22 days in a row? Do you believe in yourself and the value you bring?
Will you execute each and every day, regardless of if anything positive happens? Will you "run your routes" even when the ball doesn't come your way because you know it's critical to the overall success of the offense? Will you accept responsibility to do more, knowing that your skills and talents can help in more places? When the clock is running down, will you find a way to get in front of the opportunities that are seemingly falling from the sky and catch one?
Here's an idea for all of you in the Carp's Corner Tribe; let's all begin a new streak today building relationships, solving problems and having fun. If we can all do that, I believe I'll see you all in the winner's circle.
Photo Credit: Carlos Javier via Flickr