Will someone please call 1-800-INDULGEME?
Remember back when all the "toll-free" numbers started with 1-800? You have to be older than 21 years old to remember those days because it was March 1, 1996, when 888 toll-free numbers were added to the standard 800 numbers that began back in 1966. My daughter Riley was born just 9 months after they started issuing 877 prefixes for toll-free numbers and since then, we've seen 866 and 855 and 844 hit the scene.
In comparison, I wrote the first Carp's Corner post (the blog was originally named The Realtor's Toolbox) on March 4th, 2008 when my daughter was 9 years old. This post you're reading now is my 800th blog post. I just dropped Riley off at the University of South Carolina yesterday to move her into her dorm to begin her freshman year. I figured that a milestone post should come at a milestone moment.
Will someone please call 1-800-TIME-FLIES?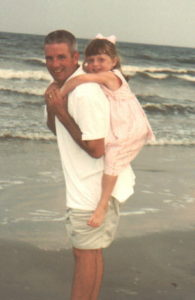 I've often said that one of the keys to earning trust and achieving success in life is consistency. From her first day of kindergarten back in 2004, Riley has consistently shown up at school, ready to…dare I say it…build relationships, solve problems and have fun? From Windermere Elementary to Hastings Middle School to Upper Arlington High School, she has matriculated nicely, thanks to showing up, giving her best effort and being open to possibilities.
Isn't that what we should all be doing, every day, no matter where or what we do? Show up, give our best effort and be open to the new possibilities of what might happen next?
Will someone please call 1-800-TOO FAST?
How can she already be in college? I can still taste the ice cream from the ice cream social at Windermere welcoming new teacher Miss Lenegar to the school. Riley and her classmates would be Heather's first class as a teacher and now Riley babysits Heather's daughter. It's cool seeing the impact that Heather and Jennifer, Emily, Tracy, and Mindy had on Riley as she will be majoring in Elementary Education in college.
Hastings was where she tried softball and tennis before finally getting bitten by the golf bug ("Thank God," sighed Dad) and carried that love throughout high school where she eventually served as a co-captain of the Girl's Golf Team. Hard work, dedication, and teamwork helped lead her team to a 4th place finish in the OHSAA State Tournament.
Fast forward through Spring semester, final college visits and graduation and suddenly we are moving her into a dorm and saying goodbye?
Will someone please call 1-800-MOVIN IN?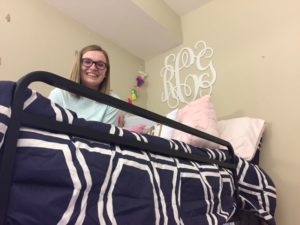 As we unloaded the "best of her last 18 years" from the full Honda Pilot to the "smaller than advertised" dorm room, I suddenly realized that with each box, bookshelf, and bed sheet, I wasn't just moving Riley into her college life, I was slowly moving her out of my house. Maybe that's why I started walking slower with each trip to the car…or perhaps it was the 98-degree temperatures in Columbia, South Carolina with a "106 heat index"? Turns out it was the warmest day of the year in the capital of South Carolina which seems fitting that Riley and her new best friend and roommate Sophie are poised to "bring the heat" to their new college careers.
And then the moment came. The time to say "goodbye" to the little girl you first said "hello" to 18+ years ago in a sterile hospital room…
Will someone please call 1-800-DADS CRY?
It has to happen, right? You can't stay there all night, rearranging pencils in her new pencil holder and verifying her wireless printer is set up properly for the 8th time. "Take a deep breath and man up," I said to myself. I knew I had to break the "goodbye ice" before Ronda did, so I simply said "Okay kid. You need to get some sleep. Make me proud." I walked over and gave her the best hug I could. I started crying. She started crying. I could see Ronda crying. I broke my clutch so Ronda could jump in and hide her tears on Riley's shoulder as my little girl reciprocated on her Mom's shoulder. I simply walked around, fluffed her pillows, and caught my breath.
Then we walked out.
Will someone please call 1-800-TAKE IT FROM ME?
If you have a child who will someday be headed college, please do me a favor. Listen with genuine interest to their stories about their first day of school this week or next. Ask them about their teachers, their classmates and what they had for lunch. Help them with their homework – even if you have no freakin' idea what the hell Common Core is. Put down the mobile device, close the laptop, turn off the television…and if that doesn't work, follow them on Instagram and Snapchat and simply send them the heart emoji and tell them you love them. Trust me, before you know it, my yesterday will be your tomorrow.
Will someone please call 1-800-PROUD DAD? 
If there was such a hotline, you'd hear me at the other end. I'd talk about her caring personality. Her creative spirit. Her fashion sense and her infectious laugh. I want her to be adventurous, inquisitive and of course, safe. I want her to build relationships, solve problems and have fun.
Good luck at South Carolina, Riley. I love you.
#ForeverToThee
Some birds fly only when pushed, others soar on their own.

Good luck at @UofSC @Rileycarp #ProudDad #CollegeFreshman #ForeverToThee

— Sean Carpenter (@seancarp) August 16, 2017