Monday Morning Match is a quick post – maybe a quote, inspirational story or idea – intended to spark some motivation inside each of you so your week gets off to a fantastic start on Monday morning.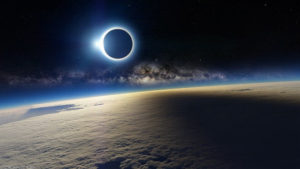 Have you heard? There's going to be a solar eclipse happening over the United States today. From Oregon to South Carolina, parts of the country will see a total solar eclipse (when the moon's shadow completely blocks out the sun's rays) while a majority of the country will witness a partial solar eclipse. It's rare so you can see why it's kind of a big deal. There are special glasses observers of the phenomenon should use to watch it and many places around the country will be having "Eclipse Parties" to commemorate the occasion.
The eclipse makes for a good metaphor for all of us to think about; what's getting in the way of our success? What objects, people or other distractions suddenly get in front of our success?
Think of all the hype that is happening around the eclipse. NBC News estimates that it will cost America almost $700 Million in lost productivity. We know how easy it is for something to capture our attention. A notification on our smartphone, the sound of a text message coming through, social media, a knock on the door. We have become a nation afflicted with ADSW; Attention Deficit…say what?
Enjoy the eclipse. It will probably be something very cool. Then, when it's over, get back to what it is that you need to get done. Make that phone call, send that note, follow-up with that client. Do the work.
Turns out the sun will still be shining behind that moon. It's got work to do and can't let something getting in the way keep it from doing what it needs to do.
The sun is to Earth as success is to your career. Don't let anything get in the way.
Photo Credit: Michail Kirkov via Flickr