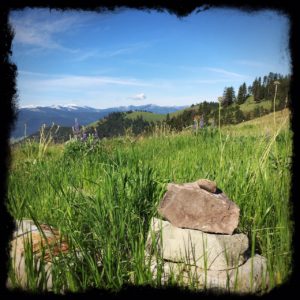 Monday Morning Match is a quick post – maybe a quote, inspirational story or idea – intended to spark some motivation inside each of you so your week gets off to a fantastic start on Monday morning.
I've spent the last few days in Montana. They call it "Big Sky" Country. I think that's because you can see from one horizon to the other. As you stand out here, it really is magnificent when you can turn 360 degrees and see stunning vistas everywhere you look. There are no high-rise buildings, no expansive freeways and no housing developments that swallow up every square inch of open land…yet.
Maybe this week we should all adopt the concept of "Big Sky"?
What might happen if you actually looked at the opportunities you have in your world right now…and made them bigger?
Imagine if you took all the people you know today and added more relationships?
What if your sphere of influence became even more diverse and varied?
How would your business change if you took a 360-degree view and everywhere you looked was someone or something that could take you to the next level?
Instead of seeing the mountains as obstacles you'll never climb, see them as gateways to new places and people.
Montana is known as the "Treasure State." Put on your prospector's hat and build relationships, solve problems and have fun. Expand your mind to the possibilities and start collecting your gold this week.