Monday Morning Match is a quick post – maybe a quote, inspirational story or idea – intended to spark some motivation inside each of you so your week gets off to a fantastic start on Monday morning.
We've All Been There Before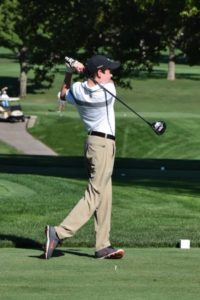 I had one of those "Proud Dad" moments this weekend with my son Ryan. He was playing in a golf tournament and there weren't very many boys in the field. Ryan was paired up with a young man who was starting in his very first tournament. You could tell the little boy was nervous and a bit unsure about where to stand and even how to carry his bag.
Before they teed off on the first hole, I gave Ryan a little pep talk and told him to stay focused on his own game, relax and have fun and be nice to his playing partner. Ryan hit a nice first drive down the fairway and then it was his opponents turn. He did hit the ball off the first tee but not very far. Ryan gathered his bag and walked up the fairway towards his ball as the other kid was slowly advancing the ball forward with several off-center hits and some proverbial "worm-burners." A sideways shot meant the next few swings would be taken from among the trees left of the fairway. Ryan and I both knew immediately that this was going to be a very long afternoon.
Ryan arrived at his ball in the middle of the fairway and calmly calculated the distance to the pin for his second shot. He just looked over at me and smiled as the other boy was probably on his 10th shot and still wasn't to Ryan's ball. At that moment, Ryan looked at me and said, "Well, we've all been there, huh?"
In that one simple statement, I was so proud of Ryan's empathy and understanding that everyone has to start somewhere. Even Jack Nicklaus and Tiger Woods were beginners when they started playing golf. I'm guessing Ryan quickly flashed back to his first tournament or try-out round of golf where he didn't have the talent, confidence or understanding of the game to truly compete.
Remember When You Were a Rookie?
I know that most people who have children will say they were a better parent the second time around. They weren't nervous about how to change a diaper or how to put the car seat in their car. They knew what an "I'm hungry" cry sounds like compared to an "I need my diaper changed" cry.
I'm just going to go out on a limb and guess that you're better at your job now than you were on the day you started. It's hard to take a "been there, done that" approach to things until you have "been there" or "done that." Do you remember your very first client? How much were you hoping and praying that they wouldn't ask you questions? Did you call your broker or manager multiple times during that transaction? Even if you knew the answer, wasn't it nice to have some reassurance, wasn't it?
Fast forward to where you are now. Do you feel like you know everything or do you continually make time to "sharpen the saw" by asking questions, taking classes or practicing your trade? Are you seeking to take advantage of those agents or peers who know less than you or do you remember when you were on the other side of a wise old veteran and help mentor and work in cooperation to make the transaction smoother for all parties involved?
Remember how you felt the first day in your office? Do me a favor and the next time you see a new face in your office, walk right up to them with a smile on your face and say "Hello. My name is ________________. What's your name?" It's overwhelming for a new agent or team member to learn everyone's name right away but it shouldn't be hard for you to learn one name. Make a new friend and point something out to them. Where is the best place to park? How does the coffee machine work? Where are the bathrooms?
I can almost assure you that if you do that, the newest member of your team will probably go home that night and tell their spouse or partner that you are their favorite person they met in the office that day. Show the new people what building relationships, solving problems and having fun is all about.
Meanwhile, Back at the Course…
As for Ryan and his golf tournament, let's just say the course got the better of him today. He didn't come in first place but he also didn't come in last. He hit some good shots and even had a few great shots but at the end of the day, he had too many shots…and in golf, that's not what you're trying to do.
On the way home I told him to keep is head up and remember it's still really early in the season. He now has a few things he knows he can work on and aim to get better each day. He knows he has to stay focused and the importance of maintaining a positive attitude throughout his entire round of golf. He knows that he's really never playing the other players, he's playing the golf course itself. He knows there will be many times he'll leave the golf course shaking his head and thinking he could have played better than he did.
I smiled at him and said, "Hang in there buddy. We've all been there before."