Monday Morning Match is a quick post – maybe a quote, inspirational story or idea – intended to spark some motivation inside each of you so your week gets off to a fantastic start on Monday morning.
This might be a good post to read while you enjoy your morning coffee. Go ahead and grab a cup; I'll wait.
 You know I love talking about people and companies doing good things. I've started to call it being #Blogworthy when people or brands provide service worth talking about. I happen to use this blog to share stories but others might use social media sites or provide positive feedback directly to a store manager or owner or perhaps they go on a review site like Yelp! or Amazon to share their good experience. I feel there's always a lot that people can learn from the #Blogworthy experiences people share so here's my quick story about the team at Keurig.
Mom Needs Her Coffee
I bought my mom a Keurig Coffee Machine for Christmas. She loves her Starbucks and usually makes it to the drive-thru most days but there are just some days where she doesn't make it out yet still wants a cup of coffee or hot chocolate to start her day.
If you've never used a Keurig machine, they are really easy. Simply fill the water reservoir, hit the power button to heat up the water, add a coffee pod and then hit the "brew" button. Relax for a few seconds and voila, you have a fresh cup of coffee. It's so easy, my 80-year-old mother was a pretty bad-ass amateur barista in her own kitchen. Until the machine stopped working.
Having my own Keurig machine at home, I've had to troubleshoot and clean the coffeemaker before so I stopped by Mom's house to see what the trouble was. I was unable to get the machine to operate properly after several attempts so I called their toll-free help desk for assistance. After just a few rings, Rhonda answered and based on her pleasant voice, I knew she was smiling and excited to help me.
I gave a detailed description of the problem and Rhonda apologized for my troubles. I gave her the serial number from the machine and she typed it into her system. Just 30 seconds later, Rhonda stated that my mother should not be kept from her coffee because of a faulty machine.  "Keurig would like to send you a brand new machine so your mother doesn't experience this problem again." She followed up that good news with detailed instructions and a timeline to establish proper expectations. She told me we should have the new machine within a week.
The new machine was delivered just 2 days later to my house and I set it up with ease at Mom's house the next day. The return instructions had been emailed to me within minutes of chatting with the helpful Rhonda so after boxing up the old machine, I swung by the local FedEx authorized location to send it back to Keurig. I didn't even have to tape up the box. The employee at the mailing station saw the Keurig name on the box and said, "I'll take it from here. Have a nice day."
Between the call to the help desk, set up of the new machine and returning the old equipment, my total time invested was about how long it would take to drink a cup of coffee. It was, like the right cup of coffee, quite refreshing. I've been a customer of Keurig for years but this experience helped make me a fan.   I love efficient, trouble-free service and getting it makes me want to use the product, company or service more.
How Can You "Cure" Your Service Challenges the Way Keurig Does?
Think about these touch points for your next customer or client interaction…
When they have an issue with something, can they easily find your contact information?
Once they contact you, do you answer the phone or reply to their text or email?
Do you seek to solve their problem and not worry about why, how or who caused the problem in the first place?
Are timelines and expectations clearly communicated so the customer knows when their problem might be resolved?
Are you under-promising and over delivering, creating a good feeling in the customer's mind?
Did you make the process easy and align yourself with affiliates who keep that same commitment to making sure the process is stress-free and memorable?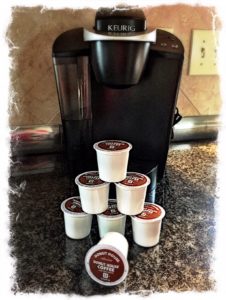 If you can answer yes to these simple questions, you've earned yourself a steaming cup of coffee. Might I suggest a fresh cup of Donut House Coffee. That's my favorite K-Cup flavor. What about you?
While you're thinking about it, have a great week building relationships, solving problems and having fun.