The following post is the fourth and final post in a series being written in collaboration with M/I Homes, a homebuilding company based in Columbus, OH. M/I invited me to share my own Realtor viewpoints over a series of blog and social media posts in conjunction with the grand opening of The Village of Minerva Park, one of their newest communities in Central Ohio. While M/I helped connect me to many of their employees who work behind the scenes and grant me access to their team members and community along the way, all opinions and commentary stated herein were my own unless otherwise noted.
I hope you enjoy this look behind the scenes on the evolution of a new community.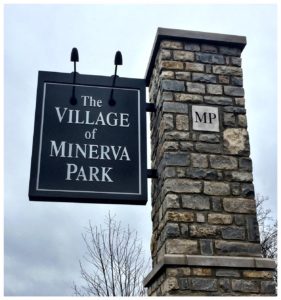 Blooming with Opportunities 
Spring is the time of year when Central Ohio really comes alive. The dreariness and cold of the winter are in the rear view mirror and the flowers, lawns, shrubs, and trees are beginning to add some bright colors to the landscape. With local housing inventory at a near record low, business is not only booming, it is also blooming with opportunities.
With the opening of M/I Homes newest community of Minerva Park now officially open, it's not just flowers that are popping out of the ground in the Westerville area. What used to be a vibrant golf course, the land was developed over the last 18 months and now there sits a beautiful model home and several foundations of future homes have appeared. Inside that model home is where you'll find Angela Kohler and Krista Cupp, New Home Consultants for M/I Homes and the two professionals I stopped by to get some insights into how Realtors can have more success in new home communities like Minerva Park.
Building a Relationship is at the Heart of Building a New Home 
Both Krista and Angela have been with M/I Homes for more than 15 years and they aren't just employees of the largest builder in Columbus; they are also customers. Krista and her husband live in one of M/I Homes communities while Krista and her family are building their second home with the brand. That says a lot about their confidence in the product as well as their transparency about the process of building.
Most Realtors working with buyers focus on existing home sales because the majority of Buyers are seeking to buy something "now" as opposed to waiting for a new home to be researched, constructed and completed. While sometimes quicker, most new homes will take 5 months or longer for delivery to the new home owners. That means plenty of time to stay engaged with the New Home Consultants from the beginning of the transaction to after the close and move in date.
While I have had some experience helping clients purchase a new home through a builder, I would guess only about 10% of all my transactions were of this variety. I always enjoyed my relationships with the new home consultants I worked with so I asked Angela if working with a Realtor is something she enjoys as well.
"Cooperation with clients working with a Realtor is a good thing. It creates one more point of contact, one more set of eyes and one more set of ears so everyone is on the same page."
I asked Angela to share some of her best tips for Realtors to remember when working in the new home market to create the best experience possible for both the future homeowner and the Realtor. Here were her Top 5 Keys to a Great Experience on a New Build Co-op.
 1. Start with an Appointment
While most consultants have regular hours in the model home in the community, they are often in appointments with other people. These range from people currently in the building process inside the community to potential new owners and their Realtors. They also are constantly on the phones connecting with people in the design center and financial offices. In order to have their undivided attention, Angela suggests scheduling an appointment as often as needed through the process.
2. Have the Buyer Get Pre-Approved
Not all builders have their own financial department, most major builders like M/I Homes do. While it's not required that a home buyer uses the in-house lender, there are often benefits for doing so, including service that overlaps across all touch points and a built-in desire to make sure everything goes smoothly and reaches a successful closing. There are also several different floor plans and a variety of upgrades but not every model and upgrade will fall under someone's pricing threshold. Knowing the client's comfort zone and limits will avoid frustration and start with the right expectations when the conversation begins
 3. Remember that New Home Consultants Can Cross Sell Communities
One of the big benefits Angela shared with me is although she and Krista are based in Minerva Park, they have access to all the communities that M/I Homes is working on across the Central Ohio area. Most major builders with multiple communities allow their consultants to listen to what the client wants and needs and suggest the best options available. Some buyers never even knew of the other neighborhoods and ended up finding their perfect home site and model that best fit their plans. This is also great when Realtors make a good connection with a consultant they "click" with and can continue to build that relationship one client at a time.
4. Under Promise & Over Deliver
Always a good idea in a sales role, this is one where the Realtor and consultant can really work as a team. Each side will have different opportunities to be part of the process and the more they can avoid making any statements or taking actions the cannot personally back up, it is best to err on the side of less information and more investigation. Make the extra phone call. Send the additional email. Re-visit the home site and speak face-to-face with the other side before everyone ends up frustrated and disappointed.
 5. Communication is King
Okay, perhaps this one should have been first and maybe that was implied by Angela in our conversation but it's always better to make sure everyone is on the same page throughout the process. As the contractors building the house will tell you, it's always better to "measure twice and cut once" to avoid unnecessary delays or confusion. Establish communication expectations as early as the first meeting with the client and consultant. Will you have an email or text thread? Will there be bi-weekly calls and regularly scheduled site visits? What is the chain of command from the client to the project manager in the field and all people in between? Angela and Krista were very proud of their relationships and communication lines between all levels of the M/I Homes company and stressed that communication leads to celebration.
As we wrapped up our conversation, I asked the ladies what are the most asked questions of visitors to the model home. Among them were about the school district, price point and model/styles available, taxes and if the community would have basements or not. Angela stated that traffic has been outstanding since the neighborhood Grand Opening last month but still guessed that 1/3 of cars "just looking" drove through the neighborhood without asking for information.
Who knows? That car driving by just might have been one of your buyers or potential clients, thinking that building a new house might end up being the foundation of their new home search. I'm just saying, it might be worth a phone call to those people who are on the fence and suggest they consider a new build. Just be sure to start the process by setting up an appointment.
And tell Angela and Krista that Carp sent ya!