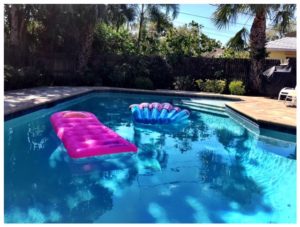 All week we've been sitting out back in our private backyard at our rental home in Naples, Florida enjoying the pool. The secluded backyard is lined with foliage and tall palm trees of differing varieties – some Sabal Palms, some Royal Palms and a few Foxtail Palms along with color from hibiscus and azalea plants.
As the Southwest Florida breezes blew the occasional leaves made their way into the clear blue water so we took turns grabbing the 16′ pool net and scooped out the trespassing dead leaves. After all, it's just nicer swim or float in a clear, clean pool.
Today the "pool guy" showed up for his weekly service on the pool. The bug man and trash crew came by earlier in the week, reminding us that Spring Break for us is just another week of work for the locals. I had a great conversation with Jack as he was working in and around the pool while I enjoyed one more day of sunshine, cold beer, and March Madness basketball. In fact, observing his protocol for servicing the pool, it got me thinking there was a lesson in his service. Therefore, here's a few thoughts on…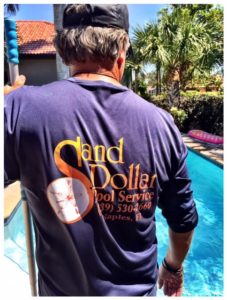 What Realtors Can Learn from The Pool Guy
Introduce Yourself – As Jack pulled up, he came around the side and introduced himself to us. He asked permission to come around back and do his weekly service on the owner's pool. He explained to us the time it would take and he was very friendly in his approach.
Start by Looking at the Job from All Sides – Jack didn't simply toss the vacuum into the bottom of the pool and race to finish his tasks. He walked the entire pool deck and observed what debris was in the water and what types of additional services might be needed. He was also very respectful of our personal items like beach towels and inflatable rafts and moved anything that might be in his way.
Start by Skimming the Surface – There's no sense getting too deep into a problem until you have identified the issues in plain sight. Jack calmly did a lap or two around the pool and removed leaves and other deposits from the trees that were floating on the surface.
The Right Tools Help You Get to the Bottom of Issues – Many of the smaller items of "tree trash" that had dropped below the surface were now cluttered up along the bottom and corners of the pool. Jack hooked up a vacuum and hose to a long handle and started the process or patiently "sweeping" the pool floor and removing the offending particle of bark and mulch.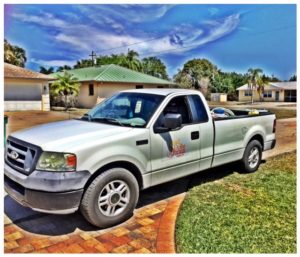 Obstacles May Seem Larger Than They Are – As you look through the clear water to the bottom of the 5′ deep pool, sometimes the liquid under the sparkling sunshine can seem magnified. Don't make things bigger than they truly are. Sometimes when you "get to the bottom of things" you realize it's really no big deal.
When you're looking for a new outcome, change your filter. Oftentimes, it's simply in keeping the "dirty stuff" out of your pool.
The Importance of a Good Story – As I enjoyed a cold Invasion Pale Ale from Cigar City Brewing Company, I chatted with Jack about his background and found out he also hailed from the great state of Ohio. Jack was from Willoughby (North of Columbus, closer to Lake Erie and Cleveland area) where he worked for a pest control company for many years. After enough of the corporate struggle and cold, snowy winters, he gathered up his 401(k) and headed South to warmer weather and smaller problems. He said a few times how much he enjoys the slower pace and simple life found in a town like Naples. He told me how he now gets up early to service his corporate clients (community pools and condo facilities) before finishing off his day with private homes and pools like ours. In fact, our pool as the last one of his day (and week) and he was headed to meet up with some friends for a Friday St. Patty's Day beer.
If he wasn't "on the clock" I'm guessing he would have sat with me poolside and shared more good stories about fun customers and funnier "locals" but those stories will remain a secret for now. I guess that's another lesson from Jack… work hard so you can get to Happy Hour early.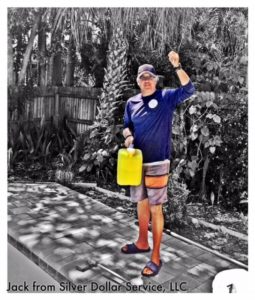 I guess it's safe to say that when it comes to pools and proper cleaning, I don't know jack…which is why I'm glad that I now know Jack. Thanks for the great effort, the fun conversation and the "splash" of inspiration.
Until our next pool deck meeting, keep building relationships, solving problems and having fun.