The following post is the second in a series of posts that are being written in collaboration with M/I Homes, a homebuilding company based in Columbus, OH. M/I has invited me to share my own Realtor viewpoints over a series of blog and social media posts in conjunction with the grand opening of The Village of Minerva Park, one of their newest communities in Central Ohio. While M/I will help connect me to many of their employees who work behind the scenes and grant me access to their team members and community along the way, all opinions and commentary stated herein will be my own unless otherwise noted.
I hope you enjoy this look behind the scenes on the evolution of a new community.
Part I of this series can be found here
According to FreeDictionary.com, "neigh ⋅ bor ⋅ hood" is a noun meaning "a district or area with distinctive characteristics.
The Definition of Neighborhood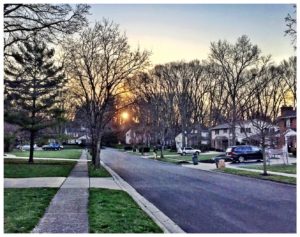 I asked in last week's post how do you define the word "neighborhood"? I received many comments and thoughts from Carp's Corner subscribers, my social media friends and some people in my office. I thought it might be neat to share some of the answers I received…
Trish simply said, "Friends." Will Duderstadt from MI Homes (who is working with me on this project) says to him, neighborhood is all about "comfort and safety."
Krysta Denner thought a neighborhood is "where life happens. It's community. It's friends." My Sunday night podcast partner Bill Risser thought it meant "more a state of mind than a physical location."
North of the border, the concept of neighborhood is not that much different from here in the United States. Melissa Mummery is from Port Dover, Ontario, Canada and I loved the way she described it. "The air even smells different. It's coming over the hill and counting the blocks and stop signs 'til you see your driveway." I know I have had that same feeling many times, as the family drove home from vacation. Just being away for a little while makes you miss your familiar surroundings.
Sharon Steele is a close friend of mine who specializes in a small neighborhood called Cranford, New Jersey. In fact, Sharon is one of the top agents in her city and runs a fantastic blog called The View from My Porch all about her community and the things she loves about it. Her response to define "neighborhood"?  "Calmness, comfort and Cranford comes to mind." Don't you just love that? Her neighborhood is the town and her town is the neighborhood.
Down South it's no different as David Seaver from Greenville, South Carolina proves. "Friends, fun and fellowship. (Neighborhood)…is a way of life. That's how we roll in Greenville."
Sarah Farmer thinks is "Cul-de-sacs, cookouts and kids playing," while Tim Van Ingen says it's "people helping each other out." That could mean anything from borrowing eggs for a recipe while cooking to lending tools for a honey-do list. Neighbors usually serve as watchdogs and at the same time, no when it's time to mind their own business.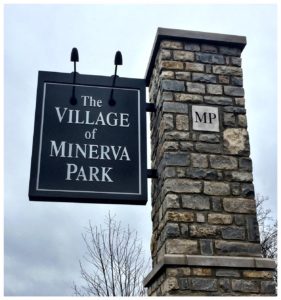 Kappy Mann answered literally with "a 1-2 block radius" while Andy Hopkins realized it's more than just a grid on a map.  "To me, it used to be a group of houses and streets, until we moved to an area with a "feel," said my Buckeye friend who now lives in Texas. "Now it's good people in those houses and on those streets turning into friends."
The final answer I received was from Stan Collins, Executive Officer of the Columbus Realtors, our local board with over 7,000 members serving the neighborhoods and communities all around the central Ohio marketplace. He might have been joking with his simple response of "Mr Rogers" but anyone who grew up watching that children's show on PBS can probably still recite the words to his opening.
"It's a beautiful day in this neighborhood,
A beautiful day for a neighbor,
Would you be mine?
Could you be mine?"
"I have always wanted to have a neighbor just like you,
I've always wanted to live in a neighborhood with you."
Click here if you don't see the video below
What's Next?
Another children's show from the same era – Sesame Street – educated children on many things, including who are the people in your neighborhood. In our next instalment of this series, we'll learn how a builder plans the process of a new development like Minerva Park and some of the people involved in the process from the President of the company and development procurement team all the way down to the product architects, marketing and sales teams.