Monday Morning Match is a quick post – maybe a quote, inspirational story or idea – intended to spark some motivation inside each of you so your week gets off to a fantastic start on Monday morning.
I'm in South Carolina today visiting Clemson University with my daughter Riley. We've been here before but wanted to see the campus with students in session as well as meet with some of the faculty and staff to answer some questions about college life.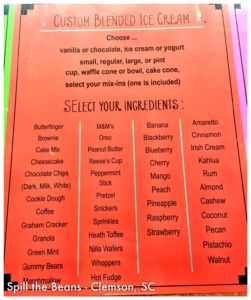 Another aspect of college life is the living and lifestyle that students can expect on campus and in the town around the area. Later today we'll tour some of the dormitories, eating halls and classrooms but last night we visited one of the iconic student spots – the local ice cream eatery. Clemson has a few great ice cream stores but last night we visited one of the student favorites called Spill the Beans. The set -up requires the customer to select a flavor of soft-serve ice cream (vanilla or chocolate) or frozen yogurt and then add in an ingredient of your choice. The ingredient selected will then be blended in with the ice cream to make your own personalized concoction. Of course, for an additional charge you can add additional ingredients, but trust me…all you need is one at Spill the Beans.
Riley selected chocolate ice cream with Reese's Cups while I went with chocolate ice cream and Heath Bar toffee. In a single word – scrumptious.
What's Your One Ingredient? 
Let's say your success was as simple as choosing one ingredient to make for a "scrumptious" year? It's not like you even need to debate between vanilla or chocolate or yogurt, it's simply choosing the one thing that will make your year better than you ever would have expected. What would you choose?
Look at the menu below and see which one you might choose to blend in with your current flavoring of your business today;
Attitude
Schedule Ownership
Lead Generation (a.k.a. Business Development)
Lead Follow-up
Customer Follow-up
Personal Marketing
Property Marketing
Social Media
Technology Usage/Implementation
Market Knowledge
Database Management
Legal Oversight
Business Oversight
By themselves they all sound tasty. The question is, which one is the best addition to your current scoop of business? The young server behind the counter is ready to take your order. Smile, order confidently and enjoy your selection.
Just remember, a few of the "baked in" ingredients are Building Relationships, Solving Problems and Having Fun.
So…Which one are you making sure is your main ingredient in 2017? Drop me a tweet at @SeanCarp and use hashtag #SuccessIngredient.