You're in a strange town. You really don't know your way around and the last thing you want to do is drive miles away and end up settling for a McDonald's or even worse…a gas station taquito and a Mike's Hard Lemonade.
In this case, I'm in North Dallas for an amazing event with the Coldwell Banker Apex team of associates, managers and amazing affiliates and vendors who will be spending their day with me at Quantum Leap 2017. I arrived and had a great meet-up with their amazing Director of Education, Debbie Holland, to finalize details on the event and catch up on business and life. After we said our goodbyes for the night, I had to check in to my hotel and decided to grab a quick bite to eat before bed.
Driving around a strange town and relying on the navigation app of your smart phone might not be the best plan so I asked the hotel desk for restaurant recommendations. All I got was "go to the light and turn left. Go under the freeway and you'll eventually run into some eateries after the CVS Pharmacy." I was hungry and didn't feel like researching too deep on the Diners, Dives, and Drive-Ins website so I followed her instructions…into a fast food hell.
I drove through a few business centers and industrial developments before I saw some neon lights. Could that mean some possible spots for food and beer? I found a few spots but Yelp! was not nice. A few others looked a bit desolate with only two cars in the lot. Quick math tells you that the cook and the waitress needed to drive to work but no other guests are inside. I was hungry but also tired. Should I just go back to the hotel and go to bed? "No…let me see what is on the next block," I said to myself. "If there is nothing good, I'll go to bed early…and hungry."
I have never heard of Liberty Burger. I've only been to Dallas a few times and this was certainly my first time in Richardson, Texas as I walked into the pseudo-fast food joint. It had burgers on the menu and local brews on tap. It was open. I was hungry.
"Are you ready to order?" asked the young lady behind the counter.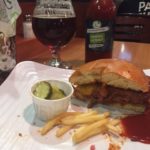 I simply smiled, stepped up and ordered. A Wild West Burger cooked medium. No onions, pickles on the side, please. Add a side of skinny fries and a local brew – a Peticolas Brewing Velvet Hammer Imperial Red Ale. (It came highly recommended by Douglas, the store manager).
I grabbed a seat and watched the Texas A&M vs Kentucky college basketball game. I really enjoyed this local brew and had a few minutes to catch up on some social chatter and email from the day while I was traveling to Big D. When the burger arrived, the first thing I noticed was the signature Liberty Burger Chipotle Ketchup on the table. I added some of that to my plate and enjoyed a few fries. As I cut the burger in half, the chipotle BBQ sauce oozed out from the bun. The bacon almost crunched as I sliced through the buttery bun. Seriously…I'm only trying to be as descriptive as I am about this burger because it deserves it. Coupled with the beer, it was possibly the best burger meal I have ever had.
…In my life.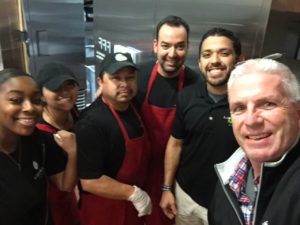 I Snap-chatted it. I Instagrammed it. I gave the beer a shout out on Untappd. I asked Douglas to bring the staff out of the kitchen so I could snap a "selfie of satisfaction" and recognize the hard-working, dedicated crew for their efforts.
I always say that "doing what is expected only prevents customer dissatisfaction. You must do more than is required to truly satisfy a customer."
Well done Douglas and crew at Liberty Burger. You did more than was expected. Your service, the food, the beer and the experience weren't just satisfactory… it was #Blogworthy.
PS – Nice touch by the manager to hand me a chocolate creme pie before I left. He said it's been slower to start the year…maybe due to people's New Year's Resolutions? – and he'd had to see one of their homemade pies go to waste. Thanks, Douglas…the pie wasn't necessary, but it was welcomed.
But just so you know, you and your staff had me at "hello…"
"…welcome to Liberty Burger. What can I get you?"
…Yep, when you're still thinking about your burger and beer a few hours later, that's what we call #Blogworthy.