January 27, 2017
Dear Riley,
It always sounded so cliché when people told me "take lots of pictures and enjoy it now. They grow up quickly." I was barely able to make it one day without an anxiety attack or utter exhaustion just trying to keep from breaking this little baby girl that I had brought home from the hospital. The last thing I needed at the time was some old person's advice or sage wisdom on how I should be ready for that little baby to one day be a young lady.
After a few extra days in the hospital after arriving via C-section, we finally brought you home on Super Bowl Sunday. We had really enjoyed the help, guidance and support from the amazing nurses (Krista & Bethany) in the Labor & Delivery Unit of Mt. Carmel Hospital. I will never forget that moment during Super Bowl XXXIII between the Denver Broncos and the Atlanta Falcons when we couldn't get you to stop crying; I seriously thought I had broken you.  I called the hospital and the switchboard patched me through to the 6th floor.
"She won't stop crying," I cried. "What am I supposed to do? Did I break her?"
"She'll be fine, Sean," said one of the helpful nurses. "Just keep rocking her, feeding her and being there for her. You didn't break her. She's a tough little girl."
Long story short, we all survived that night. It turns out we were just a couple of rookie parents who had no idea what the hell to do. Those "wise people" were good at telling us to take lots of photos but they never told us that babies don't come with an Owner's Manual. You couldn't even download instructions off the Internet because there is no generic model. They are all different…and that's a good thing because it turns out the one we got was you.
And you were just perfect.
That was then, this is now…
That tough little girl who gave us a run for our money that first Sunday night has grown into a beautiful young woman who I couldn't be prouder of. You bring sunshine and sass into everything you do but you also have a spirit of kindness and compassion that makes others want to be around you. You have found a voice on Instagram (@NorthPrepster) and your blog that certainly makes me smile with pride. The fact you're a pretty decent golfer and a great big sister is simply a bonus.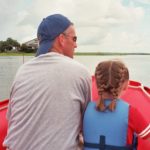 In just a few weeks you will probably find out where you will be going to college. Right now it's down to Clemson, Auburn and South Carolina and whichever one you choose, I know that school will be lucky to be getting not just a good student, they will be getting a great person too.
R is for respectful.
I is for imagination.
L is for loving
E

is for enthusiastic
Y is for youthful.
You're 18 today and before you know it, you'll be 21, 25, 30 or older but one thing is for sure; you'll always be my little girl.
Happy 18th Birthday Riley. I love you. Keep building relationships, solving problems and having fun.
Love,
Dad