Monday Morning Match is a quick post – maybe a quote, inspirational story or idea – intended to spark some motivation inside each of you so your week gets off to a fantastic start on Monday morning.
 "…what we found out is that each one of us is a brain, and an athlete, and a basket case, a princess, and a criminal."

Signed,

The Breakfast Club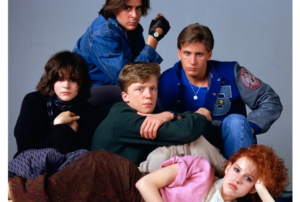 Today is actor Judd Nelson's 57th birthday. Nelson is probably best know for his role as John Bender in the 1985 classic "The Breakfast Club." Any late Baby Boomer or Gen Xer will remember John Hughes's iconic film focused on 5 teenagers stuck in high school detention and learn about stereotypes and friendships. It truly is one of those "coming of age" comedy-dramas that most people who have seen it will always equate it to their young adult days. The 5 students brought together various "cliques" that somewhat represent real life; the affluent sector (Molly Ringwald), the athletic jock (Emilio Estevez), the book-smart scholar (Anthony Michael Hall), the outcast (Ally Sheedy) and the rebellious, blue-collar delinquent played by Nelson. They went in as virtual strangers but they came out at the end of the day as classmates and friends.
Who's in Your Breakfast Club?
Last week I had breakfast with Will & Kevin. I didn't know Kevin at all until the meet up and really only know Will from a few social events and social media. We engaged about business but also shared stories of personal and family things going on in out lives. I have no doubt that we will meet up again and continue our relationships – both personal and business opportunities.
I have a good friend Scott who spent most of his first year in residential real estate seeking to schedule morning coffee meetings with friends and other people in and around his network and community. He wasn't looking for a quick sale, he was looking for a long-term relationship and all residual referrals that might result.  6 years and some 300+ transactions later, Scotty will still point to the importance of those morning meeting with people as one of the catapults to his success.
Even on days when you don't have any scheduled meetings, what's stopping you from walking to the nearest Starbucks, Panera, Bob Evans or other coffee-house and setting up shop? Get to know the friendly staff of baristas or servers, start to recognize the "regulars" and maybe even say hello to a few strangers. Sure, not everyone you meet will be just like you but that's the cool thing because everyone you meet will have their own story to tell.
What are you waiting for? Think of who you can connect with later this week for some eggs and engagement, some coffee and conversation or some pancakes and problem solving.