How hard is it to make your clients feel good? What are the little things you can do to show your customers that you appreciate their patronage? When people show support for your product, service or team, how are you supporting them back?
Whether it comes from the corporate world or a college kid, its certainly worth pointing out it's impact when it happens.
It Starts By Listening
I'm a loyal customer of the Marriott family of hotels. I try to stay at one of their properties any chance I can when I travel. I can't always make it happen due to event locations or availability but I always have the goal each year to earn Platinum status so it's certainly a top-of-mind priority.
The people at Marriott have been striving to take care of their customers for years. From their reservation operators to their hotel staffs, I always seems to have a great experience from the moment I arrive until the moment I check out. I've even built a virtual relationship with the staff behind the Marriott's social media presence as I regularly tweet them and spotlight different staff members I encounter on my visits or like when I blogged about my regular hotel I stay at in Cincinnati.
When I tag @Marriott, @MarriottIntl or @CourtyardHotels on Twitter, I truly expect nothing from it. I just love spotlighting people doing awesome things and I guess I hope they'll internally recognize the front line staff members who are providing me with great service on the way to a memorable experience.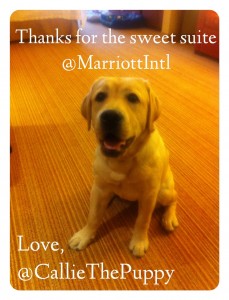 Living the Suite Life
While travelling with my family this week, I had reserved a room at the Courtyard Hotel in Statesville, NC. We were bringing our new puppy Callie on this vacation and this would be her first night away from home so I was hoping for a little extra room – possible an upgrade to a suite. I tweeted about my hopes that the hotel wouldn't be sold out and we might be able to get an upgrade. The neat thing about the team at Marriott's social media team is they were listening, a critical skill in today's noisy world. Just being "on" social media isn't enough anymore. Having an account doesn't help you engage with people. Listening does.
Britt – one of the team members – quickly tweeted me back to let me know my wish had been granted and they had arranged for Callie to spend her first night in a hotel in a suite. We were greeted by Vivian and Jessica when we arrived after 7+ hours of driving and were made to feel like we were the only guests in the place even though we weren't.
They smiled. They laughed. They welcomed Callie.
Talk about "top dog" treatment.
Right Place, Right Time…Right Reaction
As we continued our travels today, we took a short detour to visit the campus of the University of South Carolina in Columbia. I've had many fun visits to USC back in my college days and have a lifelong friend thanks to one of my visits. For some reason my son has developed a love of the Gamecock baseball team. It probably started when he watched them win back-to-back College World Series titles in 2010 & 2011. He has a couple of Gamecock Baseball shirts and a hat and he watches them every time they are on ESPN. He has a team poster from last season hanging on the wall over his bed.
We stopped by the baseball field near the campus to see if they might have any team posters from this season. The team was playing later in the day so the stadium and surrounding parking lots were empty but for a few stray workers or employees. Sadly we couldn't arrange our schedule to catch the game in person.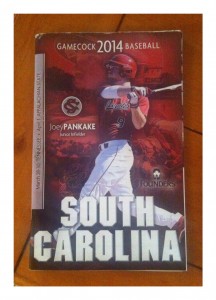 As we walked around the perimeter of the stadium, there was a security person guarding the main clubhouse door. We asked her if they had any team posters inside. She shook her head no. We asked her if we could take a look inside, as over her shoulder, we could lots of team memorabilia and decorations. She shook her head no. We asked her if we could find any open gates to take a quick photo of the field. She again just smiled and shook her head no.
Look, I get it. She was hired to be security and she was keeping the facility secure.
As Ryan walked away dejectedly, she handed Ryan a team program. She asked Ryan who his favorite player was and he replied "Joey Pankake."
"Well," she said in her southern accent, "Joey is on the cover."
Ryan looked down and sure enough, the junior infielder was on the cover, just like she said.
Then it got better.
As we started to walk away, she noticed that Pankake was actually just getting out of his car and making his way into the stadium for the game later in the afternoon. She told us to wait a second and as he approached, she asked him if he wouldn't mind signing an autograph for one of his fans.
Joey smiled and grabbed the program and pen from Ryan and happily obliged. Ryan stood silently and watched this mature young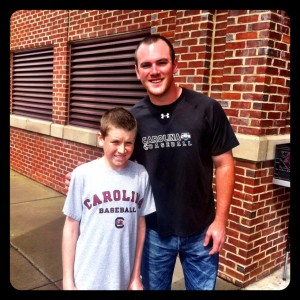 man do something he didn't have to do but probably enjoyed the opportunity to create an even bigger fan. I captured a quick photo of the two baseball players and Joey slid in to the stadium to get ready for the game after shaking Ryan's hand and thanking him for being a fan of the team.
Ryan handed the pen back to the guard, thanked her while smiling as bright as the Carolina sunshine and practically floated back to the car to show his Mom and sister what he got.
Pankake and that unknown security guard turned Ryan from a "casual fan" into a "lifelong fan."
Fan-Tastic!
Two simple examples of people doing such simple things as listening, doing something more than expected or taking a moment out of the day to make someone feel important.
Thanks Marriott and thanks Joey Pankake and the South Carolina Baseball program.
You've got some big fans on your side.