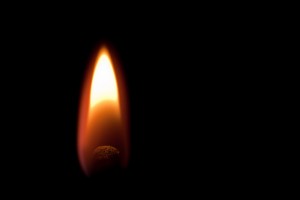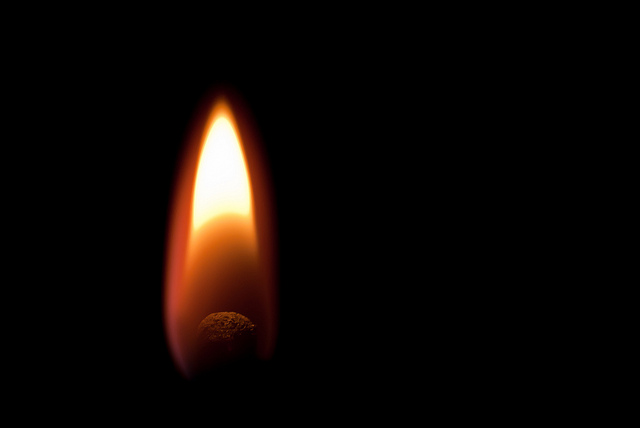 Monday Morning Match is a post – maybe a quote, inspirational story or idea – intended to spark some motivation inside each of you so your week gets off to a fantastic start on Monday morning.
All Aboard
I'll be the first one to admit it; I was a bandwagon fan this year. The Upper Arlington High School boy's basketball team was having an amazing season and not many people were even paying attention. I didn't watch them play until the Regional Finals. It was my first high school basketball game since I attended UAHS and graduated in 1985. That's 29 years between attending games to watch the Golden Bears play hoops.
They won their 25th game in a row over the very talented and higher ranked Northland Vikings and were headed to play at The Ohio State University for a chance at the Division-I title in a game that would be played just 2 miles from the high school gymnasium that displays all the various state championships the school has earned. The sole boy's basketball title on that wall? 1937.
We Are…UA
So what made me and my family along with many of the residents of Upper Arlington fall in love with this team as they continued to win? Maybe it was the fact that they hadn't earned a spot in the state "Final Four" in 75 years? Perhaps it was the fact that they hadn't won a state title since FDR was in office? Or was it the fact that the college version of March Madness was already in full force and after the local Buckeyes got bumped in the 2nd round, people just wanted to cheer for more local basketball teams?
All those reasons are possible but I'm thinking it was the overly infectious nature of these boys that just made people want to see them succeed. Coached by UAHS grad Tim Casey and led by talented seniors Kevin Vanatta, Danny Hummer, Wes Davis, Harrison Heath & Logan Richter this team was just the kind of kids you enjoy rooting for. It didn't matter that they weren't your sons or that you didn't even know them. All that mattered was they were talented individuals who knew that playing together as a team, they could accomplish something awesome. In this case, the whole was greater than the sum of the parts.
Basketball isn't an individual game, it's a team sport and these boys epitomized the word "team." They weren't the tallest players in any game I watched and they probably weren't the most skilled, but they each knew their role on the team and certainly on the floor. They listened to their coaches, they played with each other but probably more importantly, they played FOR each other.
Davis and Hummer handled the ball while Vanatta did most of the scoring but every boy on that team could carry the weight and at some point in all three games I watched, they did. They took the shots they needed to take, the made the passes, chased down the loose balls and sacrificed their bodies when the game dictated.
Welcome to the Big Time
The city of UA certainly showed their support in the Golden Bears semi-final, 25-point dismantling of their opponent and the energy of that night would have been worth millions if it could have been captured and bottled up. You could have called it "Community Pride" or "Arlington Ale" but it would have been something that would have had every shark on Shark Tank wanting to partner with you.
Students chanted and danced, parents smiled and cheered and alumni and other supporters hugged and high-fived as they were waiting to exchange their tickets for the next night's championship game. "Can you believe this team?" people asked. "Aren't they something to watch?" queried others. "Is this really happening?" was on the minds of anyone who knows that Upper Arlington doesn't produce future NBA players like some of the high school hoops powerhouses in Akron and Cleveland.
It's a funny thing what young men can do when they start believing in themselves and their teammates. When they feel love and support from classmates, coaches and an entire community, they are able to battle one of the top teams in the state in one of the most memorable championship games in the history of the Ohio High School Athletic Association history.
"I Believe That We Will Win"
The student section was filled an hour before the game. Faces were painted and coordinated t-shirts were on. Cell phones were charged for the tweets, Instagrams and Snap Chats that would fill the arena until and after tip-off. They jumped and chanted and cheered and did everything they could to settle the nerves for the game. The players just had to do what they have done for the last 26 games. Play their game.
They scored the first 7 points of the game and the building was electric. The black and gold clad fans were on their feet. There were 80-year-old grandparents standing next to 8-year-old elementary school students cheering for this team that just seemed to be living a real life version of a Hollywood movie. They took the lead into halftime and had everything they had hoped for when the game started. They took a 6 point lead in the final 3 minutes and had a chance. It was all they could have asked for.
Their opponent was not in this game by accident. They had earned their way to the Final Four as well and boasted a roster with at least a few D-1 college prospects. The team and their boisterous fans certainly weren't going to give up and they didn't. The last few minutes see-sawed back and forth until the Golden Bears made an incredible play to go up by 3 points with 4.6 seconds left.
Time out on the floor. The fans stood and cheered. Would they pull it off or will the other team make a last-second 3-pointer to tie? Was this is a team of destiny or will they need to keep playing a little longer to find out? If "wanting" a team to win was all it took, the Bears would have been cutting down the nets last night.
The shot will go down in OHSAA history and probably won't be forgotten by anyone in that building. It hit nothing but the bottom of the net and the game went into overtime. There was joy for one side and deflation for the other. The game was tied and headed to overtime. Five more minutes for the right to call yourself a "State Champion" for the rest of your life.
For 4:58 seconds, the UA team played their asses off trying to get back what they thought they already had, but it wasn't enough. Time ran out and they fell short of the magical ending we all felt this story deserved.
Game Over
I, along with many in that building (and in the city of Upper Arlington, Ohio) on Saturday night don't know much about where this team started their run – many of the boys playing together since youth basketball – but it wasn't supposed to end like that. It just wasn't…but it did.
Lakewood St Edwards 62 – Upper Arlington 58
Upper Arlington High School – 2014 Division I State Runners Up
"We are (clap, clap) UA (clap clap)"
Epilogue
My daughter is a freshman at UAHS this year. She sat in the student section at the last three games this season and enjoyed every second of the energy and emotion of cheering for "her team." She sees these players in the hallways during the school year but doesn't really interact with them. Why would she? They are upper classmen; she's a freshman. My son goes to the local middle school and watched the last three games and cheered for his future school along with hundreds of his middle school buddies. He sat silent after they lost. My wife and I, while sad they lost, are both proud to say we graduated from Upper Arlington. Maybe even more so after watching this team put the school and community on their backs.
Not many of us "know" these boys or the coaches but we sure are proud of them today. There are plenty of college and professional athletes that could learn something about their efforts, attitude and approach to handling what life gives them. Look what three of the boys said on Twitter after they just lost the state championship game. Pure youth and pure class are exemplified at the same time in these tweets: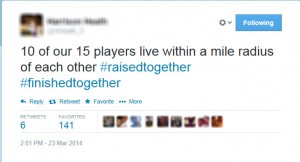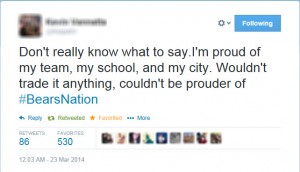 These boys reminded us what a team can do when they all share a common goal and an unyielding desire to achieve it. This coaching staff will have many questions about what they could have done differently but they will have many more memories of what they did do. And life will go on. These boys are resilient. Rumor has it they were even out playing a pick up game today. I guess when one winning streak ends, it's time to start another one.
The team that no one really knew about 5 months ago created something that people will know about 25 years from now.
Build relationships, solve problems, have fun…and Go Bears!