I love when I get great service. I love it even more when it is part of a bigger, memorable experience.
Many of you reading Carp's Corner know that I occasionally spotlight places that "wow" me with their service or companies that go out of their way to make a great impression on the customer. I've written about Bar Louie taking great care of me and my daughter before a hockey game and Linda, the Delta counter agent at Port Columbus raising the bar for airline service. There was my friends at the Goodie Shop or you might remember the story I wrote about my home away from home at the Courtyard Hotel in Cincinnati.
Last month I wrote about West Jet's airlines holiday video that has since gone viral (when I posted about it there were less than 250,000 views on YouTube. Now it's been viewed over 34 million times!)
I'm also no Pollyanna and when I receive bad service or have a bad experience, I try to use those opportunities as well to suggest or show how easy it might have been to correct or even dissipate the negative experience with some simple actions or a simple response.
This is Nuts!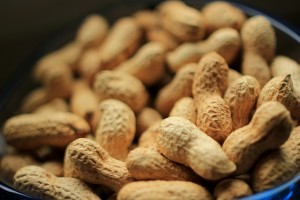 Here's a quick story of a bad experience that was handled perfectly.
It was New Year's Eve and my family decided to go out to eat. Actually, my daughter was staying at a friend's house so it was just my wife and I. We chose Logan's Roadhouse near our house because we've been to another location in Columbus for several previous New Year's Eve meals and they have a very extensive menu of simple food that we like – steak, chicken, cold beer. It's a fun spot with free peanuts before you eat which is always fun and gives you something to do while you're waiting for your drinks.
When we arrived the hostess told us it would be about 60-75 minutes. We weren't excited but figured it's a busy night and everyone else is out to eat so we might as well wait. Going someplace else wasn't going to make the wait any quicker.
But as we looked around the restaurant, we noticed there were several empty tables. Well, there were no patrons but there were dirty dishes from the previous diners. No one seemed to be in a hurry to clean them off and seat the waiting customers. I said to my wife that I assumed they were understaffed or someone didn't show up for their shift and left the team members who did show up to "deal with it."
A group of people left the bar area and were seated and when no one else grabbed their vacant spots at the bar, we sat down. At first we were just going to order some drinks and an appetizer while we waited but as we noticed the empty tables further into the restaurant, we decided to just stay where we were and eat at the bar.
Kiley behind the bar was extremely friendly but it didn't take a psychiatrist to figure out that she was frazzled. The bar was full, the service bar (where the wait staff waits for their bar orders) was lined 3 deep and you could just tell that she wanted to cry.
But she didn't. She smiled, welcomed us to the restaurant and did her best to make our meal as pleasant as could be. (The beer was ice-cold so that was a great start if you ask me). She suggested a special menu that was perfect for what we wanted, she served out appetizer quickly (it was really tasty) and continued to check back on us regularly.
As someone who has been in the food service business on all sides (waiter, bartender, kitchen help), I could tell she just needed a safe spot to go to when others started pulling her in every direction. It wasn't her fault that the other bartender didn't show. She couldn't make the food come out any quicker. She was doing her best to control the things she could control.
To keep this post shorter that it could be, it wasn't a great experience. In the big scheme of things though, we had a good dinner and got to spend time with each other. There are certainly bigger problems in the world and this isn't even in the top 10,000. But I did feel that someone at Logan's should know what happened so they could use this one customer's experience to try to make the next customer's experience better.
Using the "Feedback" system that was provided on the receipt, I submitted my thoughts and review. In my experience, most of these surveys go into a black hole and are probably not read, let alone responded to. Some companies even bribe you for your feedback, like Starbucks to offers you a $1 discount on your next coffee or Wendy's gives you a free sandwich if you fill out their survey.
You Can't Hide…But You Can Learn
I received a call today from a number I didn't recognize. Usually I let those "unknown" calls go into voice mail but for some reason I picked this one up. Jim, the manager of the Logan's location we ate at a few nights ago, was on the phone. The first thing he said after introducing himself was "thank you."
Read that again. I just ripped his restaurant and he says "thank you."
You see, Jim can't go back in time and make the servers who called off sick show up. He can't re-open the competitors store down the street that closed a week before reopen so additional guests wouldn't be coming into his place. He couldn't instantly make the rookie line cooks Bobby Flay and insure they wouldn't under cook or over cook a steak for someone on New Year's Eve 2013. But he sure could let me know that he was sorry and that he appreciated my feedback so he can try to make it better for the next customer.
We had a great conversation. There were no excuses. There was no hostility on Jim's part or blame being passed around. All there was was two ears listening to a paying customer so he could take what he was hearing and make sure that the next time would be better.
It could be better for the hostesses so they didn't get some overwhelmed. It could have been better for the wait staff so they could have turned more tables and made more money. It could have been better for Kiley, who obviously loves what she does, and each drink would have been that much better because it wouldn't have been rushed while being poured. The managers would have been able to greet patrons and thank them for coming and the kitchen crew would have been able to laugh and enjoy their craft and look forward to hoisting a cold one when the ball dropped later that night.
Jim invited me and my family back…as his guest. He wants to make sure that the experience we had at his Logan's is a good one. He wants to make sure that he does what he can to build a satisfied customer base because in the restaurant business, much like the real estate business, he knows that repeat and referral customers ar ethe best way to succeed.
I told Jim I would accept his invite (and before anyone thinks I'm just looking for a free meal, that's not why I sent the feedback) but I also asked him if it was alright with him if I give him feedback the next time we come in, so he'll know if the first feedback worked. He smiled through the phone and said he would expect nothing less.
Jim at Logan's is a great example of how we can all succeed when we listen to our customers and clients.
Peanut photo credit: Manoftaste.de via Creative Commons