I've written posts before about the idiocy of airport bartenders carding patrons who are clearly twice the drinking age. I know many people feel somewhat flattered when they get carded but usually it's more of a pain in the butt than it is designed as an ego boost.
On the other hand, getting a personal card in the mail is one of the neatest things that happens to most people. Knowing that someone took time to not only think of them but go through all the steps of finding the perfect card, writing in some personal thoughts, purchasing postage and getting it to a mailbox is a cool feeling.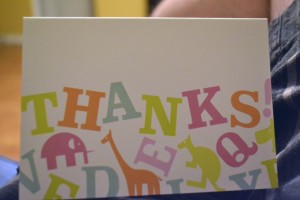 Many people in our society send out annual holiday cards. Some people call them Christmas cards while others prefer the more politically correct "Season's Greetings" messages. Whatever you might call them, the fact of the matter is many people send them in some form or fashion. Store-bought cards, personalized artwork cards, photo cards or the traditional "Family Update" letter are all common around the holidays.
Many people send them each year and many people receive them each year. In fact, on some days, your mailbox might be filled with them. You mindlessly grab the letter opener, slice the envelopes, pull the cards out and give them a cursory glance and then…toss them into a pile or basket with all of the other cards. If you're the sender of the card, trust me when I say yours ends up in the same "pile of sameness." Sure, it might be different cards and messages but they all start blending together.
Force Them to Find the Basket, Don't Fill the Basket
Instead of waiting for Black Friday and then sending out your traditional holiday cards, beat the rush and stand out at the same time. Find a simple set of cards or stationary and send your clients a "Note of Thanks" this week or next.
"As we near the end of the year, I wanted to let you know how much I appreciate the opportunity to work with you over the years. I feel blessed to help families such as yours with one of the largest transitions in their life.

It really means a lot to me that you have entrusted me and I look forward to being able to assist you in the future.

Have a joyous holiday season and a fantastic new year."
Sign the card personally with your name only.
No team name or no brokerage name. Don't add a business card. Don't attach a little sticker that says "I love referrals."
If you send it this week or next, it just might remind them that they'll soon receiving more holiday cards so they'll go to their closet in the foyer or that shelf in the basement and grab their "Card Basket."
Most likely, yours will be the first one in there for the season.
Send one. Send a bunch. Maybe to every client you've ever worked with or at least to the ones you worked with this year.
Buy 'em, sign 'em and send 'em.
Then get out there and start building relationships, solving problems and having fun.