Now I know what Tony Bennett meant in his famous song.
Last week I was in San Francisco attending one of the pre-eminent gatherings in the real estate industry. It's called Real Estate Connect and it is hosted by Brad Inman and produced by his awesome team from Inman News.  It is the "premiere event for everyone who wants to seize opportunity from these changing times. Each year, thousands of influential real estate leaders gather at Real Estate Connect to see the future and learn how to embrace and leverage the change for your business."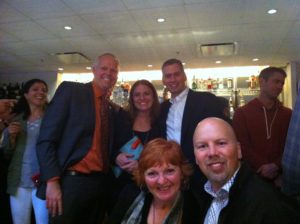 Each year "industry insiders come to Real Estate Connect to learn best practices, forge partnerships and make deals that will keep them ahead of the competition."
I was honored to represent my teams at Coldwell Banker in Columbus and Greater Cincinnati and be among the 18 Inman Ambassadors invited to attend the event this summer. I have been at the Inman Connect NYC events that last two years in January but this was my first time attending the signature event in San Francisco.
The Ambassadors are a mixture of men and women from around the globe (from Boston to Brisbane, from Colorado to Charlotte and all points in between) who serve as Realtors, sales trainers, coaches and affiliates. Ranging in age and specialty, there's one thing that we all had in common – the desire to help contribute to the growth and elevation of the real estate industry and the clients we serve.
As Ambassadors, we were charged with promoting the event before it began through the social media channels as well as sharing throughout the event. We blasted thoughts, ideas and sound bytes all week-long via Twitter (be sure to surf the hashtag #ICSF), Facebook, Instagram, You Tube, Foursquare, various blogs and many other channels.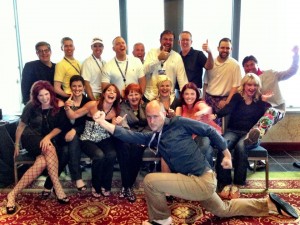 We also helped attendees feel welcome, directed traffic between the trade show, main stage events and the numerous breakout sessions that the event is known for and might have even participated in some of the social events surrounding the event.
If you ask me, the name couldn't be named any better.
C is for Conversation
Before you even arrive in the "City by the Bay" you are starting conversations with people. It continues the moment you land at SFO and grows in animation and emotion in the hotel lobby. You hear it before and after every session and even after hours in the local restaurants and bars. There's no doubt these conversations will be going on for weeks and months to come.
This is what makes the event so special; the conversations you can get engaged in, both professional and personal really helps you appreciate the wealth of wisdom and talent in our industry.
O is for Observation
It's often said that "all real estate is local" and that's true. It's also wise for agents, managers, brokers and owners to know what is going on in the world around them. Inman's Real Estate Connect brings a nice mixture of technology and real estate trends together so everyone can see what is happening in and around the industry.
New is for New Relationships
In a brilliant blog post by my good friend Michael McClure from a few years ago, he talked about "Meeting Old Friends for the Very First Time." After connecting with many of the attendees ahead of time on the various social channels, it's not strange to have your first face-to-face with someone you have been chatting "avatar-to-avatar" for years. This event is also a great opportunity to meet people from nearby markets that you might connect and collaborate with or get to know people from around or outside the country that you could send or receive referrals from.
N is for Now
Much of what is discussed at Real Estate Connect is where the industry is going but it's all focused on what agents and brokers need to be doing NOW to stay ahead of the wave. Brad and his team do a great job of identifying up and coming innovators who are find new ways to make an old industry better and it's the things that are available to today's Realtors that will make them tomorrow's success stories.
E is for Engagement
It's really hard to attend an event of this magnitude and not want to get involved. Whether it's with your company in discussions with "raising the bar" of service and support or becoming active in your local organizations or communities, you realize the impact that you can have by volunteering your time, wisdom and/or expertise.
Brad and the Inman team do a great job of delivering an agenda filled with incredible speakers, new voices and a great slate of vendors and sponsors. It's for this reason that attendance at Connect has stayed steady in recent years, regardless of market conditions. People know that they can expect good info, good people and good fun.
T is for Trust
Along with consistency, confidence and competence create the foundation of trust. Listening to leaders of the industry openly share their insights and vision adds credibility to their daily actions. Having a chance to hear technology developers talk about the mistakes and failings they have encountered help to humanize them and shows us that with enough dedication and determination anything is possible. Finding out that the people you have come to know on-line through Twitter and Facebook are the same…or even better…in real life makes you want to create more relationships to grow your global sphere of influence.
So what do you think?
If you were at this year's Inman Connect event in San Francisco I invite you to share your favorite takeaway or moment from the wee below in the comments. Was it one of the speakers or perhaps a breakout session? Was it a chance meeting you had at the Lobby-Con before or after the sessions or was it one of the fun vendor parties or gatherings in the Urban Tavern?
If you weren't able to attend this year, don't worry. There's another event right around the corner – ICNY '14 in New York City.  Click here to register now.
I know you'll have a great opportunity to live each one of the aspects of C-O-N-N-E-C-T in real life but you'll also be able to build relationships, solve problems and have fun. Take it from me, that is worth the price of admission alone.
Hopefully you'll get to do all those things with me!
I'll see ya in the city!