"Appreciation is a wonderful thing. It makes what is excellent in others belong to us as well."  ― Voltaire
It's been a few months since I encouraged people to join me in a quest to run #EveryDayInMay. I know many people had great intentions to run at least 1 mile each day that month and a few of you were able to accomplish that challenge.
I know that not everyone enjoys running or might not be able to find the time to hit the treadmill or streets with their busy business and personal schedules. Heck, just finding 30 minutes to catch your breath is a chore on some days.
So I decided to challenge myself and anyone else out there to commit to something in the month of August that will not only make you feel great but it could have a huge impact on the world around you.
"The deepest principle in human nature is the craving to be appreciated." – William James
According to the Adecco Human Resources Company, a sincere word of thanks from an employer can make a bigger impression upon workers than monetary compensation. Employees expect payment in exchange for their labor. However, an expression of thanks signifies that your employer paid special attention to your work and took time to praise you for it.
I know many of us feel thankful for what we have in our lives from our families, our health, our careers and our freedoms.
But how often do we express that appreciation?
Do we wait until Thanksgiving Day? Or graduation? Or Mother's Day?
Or worse if we wait to deliver our appreciation in a sobbing eulogy at a funeral where the words are heard by mourners but not the one who they are meant for.
How often does a word of appreciation go unsaid because we assume the person already knows how grateful we are?
Think of the last time you received an unsolicited word of thanks or appreciation. It might have been a quiet handshake behind the scenes from a co-worker or high-five or fist-bump from a teammate.
Perhaps it was an email or a tweet, a voice mail or a text.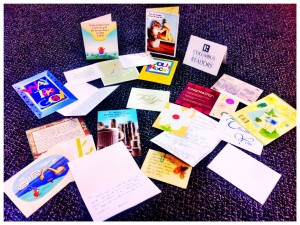 Maybe it was a hand-written note like the one I received this morning – thanks Tina – or the thick file of personal messages and notes that I've saved throughout my career from co-workers, students, family and people just like you who took time out of their day to share some appreciation, encouragement or wisdom.
The neat thing about appreciation is it makes both the giver and the receiver feel good.
"Don't forget, a person's greatest emotional need is to feel appreciated." – H. Jackson Brown Jr.
Knowing the power of appreciation, here's my challenge.
Every day in the month of August I plan to appreciate more of the people in my life. Each day of the month, I plan to send one hand-written note to someone. It might be a family member or a co-worker, a peer or a mentor. I don't have a list of 31 people picked out ahead of time. I'll just make it up as I go.
Maybe it will be a service provider who went out of their way to provide me with a memorable experience.  Perhaps it will be someone I haven't spoken to or seen in years but for some reason, they pop into my head that day. It could even be a stranger who doesn't know me but has had some impact or effect on my life or someone I know.
With the #EveryDayInMay campaign, running 1 mile a day was the minimum and so with this effort, sending 1 hand-written note each day is the goal.  That means each day of the week you pull out a pen and a note card and write a note of appreciation, not 7 notes on one day or spending 1 day writing 31 notes and storing them away like a squirrel with his acorns. It's the action of doing it daily that will make us realize how much we have to appreciate right in front of our eyes.
#EveryDayInMay is a catchy name. It rhymes and looked good as a hashtag in tweets and on Facebook. It was obvious to outsiders that it was something that happened daily.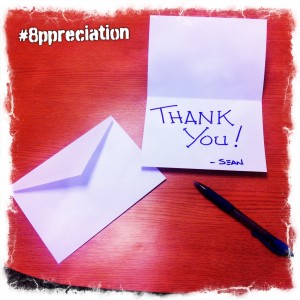 So what will I call this effort? I was thinking Appreciation August but AA is already taken by another organization and I wanted to have a cool hashtag so people could follow or join the movement easily. August is the 8th month of the year so I thought it might be easy to join the two and call it #8ppreciation. I know it might not be the catchiest of campaigns but who knew what WWJD stood for before some leather wristbands started making the rounds and I don't really remember seeing YOLO when I was a kid and even back then we all knew that you only live once, right?
"Everyone wants to be appreciated, so if you appreciate someone, don't keep it a secret."- Mary Kay Ash
Just like running 1 mile was the minimum, I plan to do a little bit more each day. In addition to the daily hand-written note to someone, I'm also planning to tweet at least one message of appreciation each day and I'll use the hashtag #8ppreciation. I'll also give a shout out of thanks on Facebook to a person or group and tag it with #8ppreciation. I'm even going to try to send one text or make one phone call each day to someone to let them know how much I appreciate them.
If you want to get involved, there's no entry fee or membership required. Just simply look around and see who might have helped you become the person you are today.
Let's all keep building relationships, solving problems and having fun.
Please know how thankful I am for you visiting me here at Carp's Corner.
I know you're a busy person and I just wanted to tell you that I really appreciate you stopping by.