My Favorite Beer?
Some people drink whiskey or a scotch on the rocks
While others enjoy their Cabernet from a box.
Some like tequila but I think it's quite gnarly.
I prefer a drink made with hops, water and barley.
I've had beer in the mountains and beers by the sea.
I've enjoyed beers in big cities and out in the country
I like it on tap or straight out of the can.
If its beer in a bottle, I'm always a fan.
It can be craft-brewed or imported or even domestic,
However you serve it, I think beer is fantastic.
When its hot outside and I need something wetter,
I really like beer and the colder the better.
A 6-pack or a 12-pack is just fine by me
but I really like beer if it's provided for free.
No matter where I drink beer, or when or with who,
There's one thing I find that will always be true.
If you ask me my favorite beer that I ever have had,
I'd have to say my favorite beer is the one each year that I share with my Dad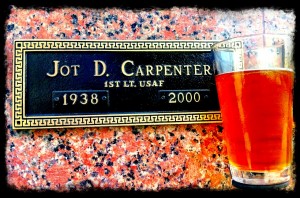 Happy Father's Day to my Dad and all the Dads out there.
I'll raise my glass to you all.
Cheers!