Nobody likes to come up short in a task, job or competition.
People want to be valiant in their efforts and will usually do whatever they can to win.
Attorneys want to win the case. Doctors want to heal the patient. Sales reps want to close the deal.
Marathon runners want to finish the race.
As a participant and finisher in the 2006 Columbus Marathon, I know the dedication and determination it takes to complete a full marathon. I know that the Boston Marathon is the cream of the crop attracting over 500,000 spectators and fans along the route. It's the world's oldest marathon and is the one race that anyone who runs marathons would love to say they completed. Sure, it's an elite race but it's less about the fast-paced racers at the front of the pack and more about the runners who compete against the race itself, not the other runners.
By now you have probably heard of the tragic bombings that occurred near the finish line of the 2013 Boston Marathon. At latest count, 3 people were killed and over 170 injuries were reported, many of those wounded in critical condition.
I have a friend from Columbus who ran in yesterday's race. He finished just 20 minutes before the explosions and thankfully he and his wife are safe. I have another good friend and co-worker who qualified for the race but wasn't able to secure her spot before the race reached capacity. I am thankful that they are both safe.
According to the Boston Marathon results page, close to 27,000 people entered the historic race. 23,336 participants showed up on a bright and sunny Patriot's Day planning to complete 26.2 miles through the scenic streets and neighborhoods of Boston. They would run through towns like Wellesley and Brookline and pass places like Boston College   and Heartbreak Hill.
Sadly, only 75% of the runners who started actually crossed the finish line. 
17,580 people can say they finished the 2013 Boston Marathon. They got to experience the emotion and sense of accomplishment that comes with not just the race day efforts but the months of training and dedication to become a marathon finisher.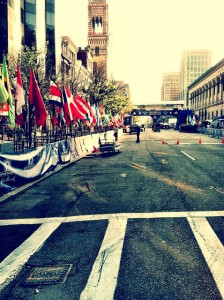 To those runners I tip my hat in awe at your effort. I am so proud of you and I know that the family and friends that you had supporting you along the race route, at the finish line and back home wherever you may be from (all 50 states and over 86 countries were represented) will be beaming with pride for your accomplishment for many years to come.
It's the 5700 or more runners that failed to finish the race they started that I am heartbroken for. They never got to enjoy the feeling of triumph and euphoria as they crossed  the finish line and their fans and supporters never got to cheer and yell and share in that victory either.
It is sickening to me to think that 3 people will never get to see another finish of a marathon again.
They won't get to see another Red Sox game. Or a walk through the market at Faneuil Hall. Or wear a Harvard sweatshirt that they bought at The Coop. Or taste a freshly brewed Sam Adams from the Boston Brewing Company.
They won't even get to see the sunrise of a new day.
Run to Live. Live to Run
The running community is a strong one. Whether you're a local runner who struggles to jog one mile a week or someone who runs large chunks of distance every time you hit the pavement, you know the incredible energy that comes from running. It's common that runners will share a subtle head nod or simple wave as they pass on the streets and there aren't many races across the country – from 5K's to ultra marathons – where the competitors don't come together like a family.
I thought to myself as I ran 3 miles this morning how neat it would be if I could have "donated" those miles to runners who were stopped short of the finish line on Monday in Boston. There were runners yesterday that with just a 1/2 mile here or 1 mile there and they would have experienced "the finish line."
The next time you take on a new task at work, face a new challenge at home or head out for a run, think about the journey ahead of you and then just start putting one foot in front of the other.
That's all you can do.
The finish line is out there and you'll hit it sooner or later.
For now…enjoy your run.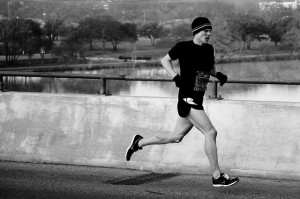 Photo Credit: BU Interactive News via Creative Commons
Photo Credit: Charlie Llewellin via Creative Commons