Usually when someone says they have the "blues" it means they're feeling sad or down about something. The city of Memphis is known for their blues music scene. But there is another place where "being blue" isn't anything sad at all.
At least not during basketball season.
This group of people who love "being blue" have a home city – Lexington, Kentucky – but they prefer to think of their tribe as an entire nation. A "Big Blue Nation."
Most of the Carp's Corner audience knows that I am a die-hard Florida Gator fan so when I was invited by fellow Realtor (and UK grad) Nick Ratliff to attend the Florida – Kentucky game in Lexington, it was an easy answer.
Kentucky plays their home games in Rupp Arena. I've been there before to see NCAA Tournament games but have never seen the home team Wildcats play there. University of Kentucky was where Mrs. Carp's Corner graduated from so she's been to plenty of games in Rupp and she knew I was in for a treat. She even offered me a "good luck" as I left the house this morning.
Mt Rushmore of Arenas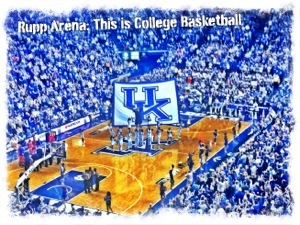 As a college sports fan, there are only a few "legendary" basketball arenas to see a game. Rupp Arena would arguably be in everyone's Top 4 places to experience a college game along with Allen Field House in Kansas, Cameron Indoor at Duke and Pauley Pavilion at UCLA. (Honorable mentions to Indiana's Assembly Hall, North Carolina's "Dean Dome" and The Palestra in Philadelphia).
When you enter Rupp, you quickly realize that there aren't many other clothing options than something sporting the Wildcats logo, a large UK or a reference to their 8 National Championships. Probably 75% of the color you see is blue, 20% white (with blue lettering) and 4.99% gray. The .01% in other colors were either rooting for the opponent or just don't understand college sports. 
I always enjoy visiting The Bluegrass State. I'm glad Nick invited me and I was able to make the 3-hour drive down to the "Horse Capital of the World." It was fun to be amongst the 24,294 screaming college basketball fans today.
And even though the Gators lost the game, it was neat to be there to witness and be a part of something that occurs every time a college basketball team steps on their home court to host a game. It's something invisible called passion.
Passion Is What Makes It Different
Passion is what makes college sports different. Sure, you can argue that there is passion in professional sports but because it is much more of a "business" than college sports ever will be, it's just not the same. Passion like you see from the members of Big Blue Nation and all of the other collegiate fan bases across the country is something special.
The neat thing is you don't just see it.
You can feel it – you get goosebumps when the crowd erupts as the home team takes the lead or hits a 3 pointer. Or that pit in your stomach when your team has a chance to win the game. The tears of joy that stream down your face with a victory or the nausea you feel when your team loses.
You can hear the passion when you're walking anywhere in public and someone says "Go Gators" or "Roll Tide" or "War Eagle" in acknowledgement of a shirt or hat or logo that you're wearing. When people approach you and say "Rock Chalk" or "We Are" or shout "O-H" and expect you to say "I-O" in return, that is passion that you're hearing.
The Big "IF"…
What would happen to your business IF you approached every client like they were the ones that were going to get you into the "Big Dance"?
Could you be better IF you took instruction and inspiration from your coach and put it into action when you get "in the game"?
How hard would you try each day IF you knew your teammates were putting out the same 100% effort?
Wouldn't it be neat IF you elicited the kind of passion from your fan base that teams like Kentucky or Florida or Ohio State or any of the 344 other Division 1 college basketball teams create?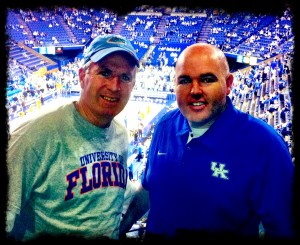 I know I am proud to be part of the "Gen Blue Nation" with Coldwell Banker and I hope that you are proud to be part of whatever company and brokerage you work for. I know that when you are excited to be a part of the team – regardless of the color of your uniform – you really get pumped up for game day!
Thanks Nick. I had a great time today but if it's alright with you, instead of the Big Blue Nation, I'll stick with the "Orange & Blues."