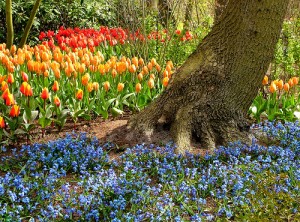 The following post was originally presented as a workshop and just recently I was invited to submit an article for my local Board of Realtors monthly magazine. After going through the slides and converting them to text, I thought it came out pretty good so I thought I would share it with my Carp's Corner audience.
Here is Part 1 of Things Realtors Can Learn from Spring:
"If we had no winter, the spring would not be so pleasant; if we did not sometimes taste of adversity, prosperity would not be so welcome." ~Anne Bradstreet
It's always an exciting time when the seasons start to change and the arrival of spring is upon us. Let's face it, even if you're a fan of wintertime, it's nice to see a color other than gray and get to put away those scarves and mittens along with the dreaded snow shovel. 
As we all start to shake off the cabin fever that we have felt these last few months, there is so much we have to look forward to in this season of re-birth. You might be off to a great start already in 2013 or perhaps you're still waiting for the spark to ignite into full-blown business. Either way, there's a lot that Realtors can learn from spring. 
1. Spring Training – Are you a baseball fan? If you are then you're probably bursting at the seams in anticipation of a new season. Every team still has a chance at this point so there's tons of optimism. 
"People ask me what I do in winter when there's no baseball.  I'll tell you what I do.  I stare out the window and wait for spring." ~ Rogers Hornsby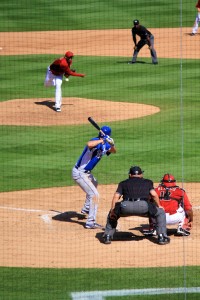 Spring Training in Florida and Arizona is a chance for the best baseball players in the world to get back to basics. They will practice throwing and catching, running and hitting and all the things they have done since they were playing pee-wee baseball. They will be getting back in shape both mentally and physically for a grueling year ahead where the difference in winning and losing could be the slightest mistake or extra effort. 
Realtors utter the phrase "it's time to get back to basics" more often than Justin Verlander strikes out a batter so what can you do to ensure you've got your "bases covered" this year? MLB players practice the fundamentals so when they are in a game situation they don't have to think about what to do next, they just react. 
Imagine if you could perform at your highest level when the pressure is on and calmly answer questions, deliver outstanding presentations and overcome objections without flinching. I think if you could do that, you'd be looking at a winning season ahead.
2. A Season of Lent – The Catholic religion observes the time between Ash Wednesday and Easter as a special time. Many Catholics choose to give up something during this time and devout Catholics do not eat meat on Fridays during these 6 weeks. Lent is a season for reflection and taking stock. 
As you take stock of your business right now and measure the difference between where it is and where you want it to be on December 31st, what are some things that you could give up that might help you find a refreshing and energizing burst for the hectic summer rush? 
Imagine if you could find a way to give up whining or apathy, blame or pessimism. 
What if you became truly dedicated to give up procrastination for the next 40 days? 
How much more success could you create for yourself if you consciously chose to rid your business of negativity? 
Are you willing to make the sacrifices necessary to take your business to a new level in 2013? Imagine what might happen to your business if you were truly committed to your goals?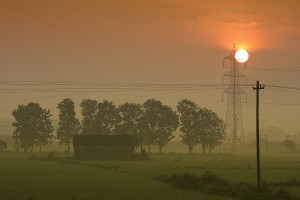 3. Daylight Savings Time – Are you like most people and look forward to the longer days? It's hard in the winter when the sun doesn't come up until 8am and it's dark by 5pm. It gets hard to show houses or meet with Sellers when it feels like midnight.
The time change doesn't bring us any extra hours (we still haven't found the way to create more time in a day) but it will allow us to add some activity to our schedule, including appointments, walk-thrus and even inspections. Oh yeah, did I mention more business development activities?
When we have more time for business development, it should lead to more time needed for business support. We need to be conscious that it doesn't take too much time away from family time or personal time and we should still build time for physical exercise or activity into our day so we don't burn out. The added daylight hours also help us get involved in our communities, whether it's as a coach in a youth baseball league or hanging out with neighbors at the community pool or at the town square.
Photo Credit: KKMarais via Creative Commons
Photo Credit: CEBImagery via Creative Commons 
Photo Credit: VinothChandar via Creative Commons