Call the Paparazzi
Have you ever been star-struck?
If you had to answer the question, "Who is the most famous person you've ever met," how would you answer?
Would it be a movie star like Matt Damon , Denzel Washington or Sandra Bullock? How about a politician – maybe a Senator or the Governor of your state? Have you met a musician that is more well know than that guy who sings karaoke in your local pizza shop on Thursday nights?
Tonight I was in Cincinnati for business. Also known as "the Queen City", it's no surprise I got to spend the night with royalty.
Now before you ask, Prince William or Prince Harry weren't in Southwestern Ohio. You can also rest assured that if Kate Middleton, the beautiful Duchess of Cambridge, was involved in this story I might be calling TMZ instead of blogging about it here in Carp's Corner. And no, that mysterious "prince" from somewhere in Africa that has been busy emailing all of us didn't show up to split his family inheritance with me.
Instead – I got the chance to spend the night with  ROY-alty – both literally and figuratively.
ROY and "The Big O"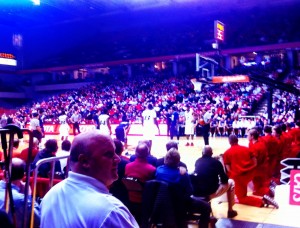 It's always neat to spend some extra time in the beautiful city of Cincinnati. Usually when I stay here I work until dark, grab a quick bite to eat and then retire to the hotel room for some social networking and snoring.
Tonight I was lucky enough to get invited to the college basketball game between the Villanova Wildcats and the hometown University of Cincinnati Bearcats with Scott Oyler. Scott is the Rookie of the Year (a.k.a. "ROY") for our local Coldwell Banker West Shell company in the Tri-State area for 2012 and is validating his first year success with a tremendous start in 2013. He's currently #15 out of 500+ associates.
Oyler is a third-generation UC alumni following in the footsteps of his grandfather and father. Not just a "casual supporter" of the school, Scott is one of those "I can't miss a game unless my wife is in labor…but if it's a big game, I'll arrange with the OB/GYN to suggest a scheduled C-section"  types of fans. (Seriously, Scott is a great husband and loyal father to his twin daughters Gabby & Izzy and would miss a game for any of them…but he would still be DVR'ing it).
It's neat to attend a game with "ROY" because everywhere you go, people know him. Like Norm in Cheers, Scott walks in a place and people all know his name. Before the game at the local pizza joint, handshakes and high-fives greeted us. As we arrive at The Shoemaker Center, everyone in the UCats Club knows this young man. At the halftime buzzer Scott led me down to the lower bowels of the arena to a concession area for alumni and "special guests." More handshakes, high-fives, fist bumps and comfortable half-hugs. I wasn't sure if Scott was a Realtor or a member of the Board of Regents. 
One thing is clear – Scott wasn't the Rookie of the Year by accident and it isn't mistaken identity that Bearcat Nation knows who he is. He has built these relationships and the attention they garner because he is just a really good dude. There's no pretentiousness, no silver-spoon and no bullshit paving his way for success. Just hard work, a willingness to learn and support from his family and friends. He's one of those guys that your proud to have representing your company and industry.
Maybe I'm a fan of his because he is really, really good at building relationships, solving problems and having fun.
It was also due to Scott's "royal standing" as a Bearcat alum and supporter of the program that we had access to this lower level area at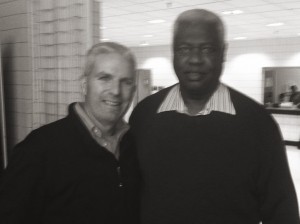 halftime and I was able to meet more "Cincinnati Bearcat royalty."
Oscar Robertson, alumni of UC, is a regular in the front row at Bearcats games. "The Big O," as he is known, helped lead UC to two Final Fours and was named College Player of the Year all three years he played college basketball.
Robertson went on to earn the NBA Rookie of the Year honors in 1961, league MVP in 1964, was a 12-time NBA All Star and helped the Milwaukee Bucks win their only NBA World Championship in 1971. Roberston was named one of the NBA's "Top 50 Players of All Time" in 1996.
It's not every day that you get to spend time with one Rookie of the Year and tonight I got to hang out with two of them.
The Relevance of "ROY" and Real Estate?
I know what you're thinking. What the hell does hanging out with Scott or meeting Oscar have to do with real estate? If you must know…everything!
It's all about Passion – Scott is passionate about real estate and Oscar was passionate about basketball.  
Are you passionate for what you do every day and are willing to work hard to be the best? 
It's all about Determination – Success isn't given to anyone just because they want it. Obstacles need to be overcome, opponents need to be defeated and failure cannot be accepted as a final outcome.  
A few years back, Scott and his wife Kristin were determined to have children and after many years of efforts, IVF and a surrogate mother they are proud parents of two beautiful girls. Robertson didn't let poverty derail his dreams for success. His family couldn't even afford of a basketball growing up in rural Tennessee but he learned to shoot by using old tennis balls and rags wrapped in rubber bands into an old peach basket.
Will you let the lttle obstacles knock you off your path? Can you get up off the floor and dust yourself off? How hard are you willing to work to achieve your goals?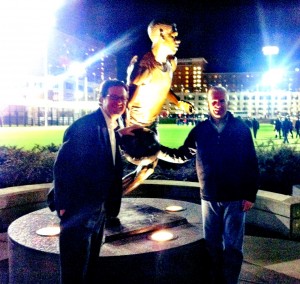 Teammates – Oscar played with many good teams at University of Cincinnati and in the NBA with the Cincinnati Royals and the Milwaukee Bucks. He earned a gold medal at the 1960 Olympic Games and was elected to the NBA Hall of Fame in 1979.
Scott has a created his own team with Heather Stallmeyer and Erin Fay and works closely with branch manager Bill Heckman. He also gets tremendous support from his mentor, coach and father Steve Oyler and his mother Lois.
Are you willing to join arms with people who can help you get where you want to be, sharing in the successes while persevering through the pains along the way?
Who is Your Royalty?
Whether you're a brand new agent or a multi-year veteran of the business, what can you learn from the royalty you have among you and your industry? Invite them out for a cup of coffee so you can ask them questions. Take them to lunch and pick their brain. Engage them in dialogue and learn from their experiences.
Or take them out for a few beers and ball game.
Who knows? You just might end up hanging out with royalty.