When it comes the subject of winning, I think legendary Green Bay Packer coach Vince Lombardi is a pretty good expert.
"Winning isn't everything–but wanting to win is." – Vince Lombardi
When it comes to the subject of losing, there just aren't as many experts. At least, no one would want to admit it. Even when you Google the terms "winning" and "losing", "winning" wins by almost double the number of items found. (Of course, Charlie Sheen might have helped that total just a bit.)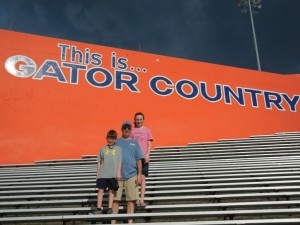 It's Great To Be a Florida Gator
As many of you know, I am a rabid fan of the Florida Gators. Ever since I set foot on the campus at The University of Florida as a freshman back in 1985, I have  supported my team through thick and thin. Since graduating in 1991, I have cheered loudly and proudly and seen the football team earn three NCAA National Championships ('96, '06 & '08) and the men's basketball team win back-to-back titles in '06 & '07.
Last night, the Gators were facing the Louisville Cardinals in the Allstate Sugar Bowl. Florida came in to the game ranked #3 in the country and was a huge favorite after a successful season where they beat powerhouse teams like Texas A&M, LSU, South Carolina and Florida State. With only one loss to a very skilled Georgia team, it wasn't supposed to be much of a game against the underdogs from the Big East.
Except everyone must have forgotten to tell the players, coaches and fans of Louisville.
From the very first play until the last snap of the game, the Gators were out-played and out-coached by the Cardinals. To put it in a more relevant context to the "Derby City" that the Cardinals hail from, this was a runaway win by Louisville. Or to use another local brand, the Cardinals took the Gators out behind the woodshed and beat them with a Louisville Slugger. The River City's legend Muhammad Ali didn't beat many opponents as soundly as The Cards beat the Gators.
The Gators only lost by a score of 33-23 but don't let the ten-point margin fool you. It wasn't that close. No one watching in The Louisiana Superdome (the lowest attendance at a Sugar Bowl since 1939) or on television ever really thought Florida would come back from the quick 14-point hole they were in after the first 6 minutes.
In All Kinds of Weather We All Stick Together
We have a tradition at Florida where the crowd joins arms and sings "We Are the Boys" at the end of the 3rd quarter of football games. When you see it live in The Swamp, it's a really neat college tradition that will give you chills. A line in the song say "in all kinds of weather, we'll all stick together for F-L-O-R-I-D-A."
It's time for all of us to learn from last night's loss and I think we need to look no further than the helmets Florida wears every game that has the word GATORS written on them.
G – Give your opponents credit. Assuming everyone played fair and square, there has to be a winner and there has to be a loser. Accept that you lost this time, shake hands and hold your head up high.
A – Appreciate the opportunity you had. Not everyone gets to play sports at the collegiate level, let alone in a nationally televised game in the Superdome. What I'm about to say next won't make much sense to the Florida players because they'll still college kids but years from now, you'll remember less about the game and more about who you spent the time in New Orleans (and all season) with. All of us should be thankful each day for a chance to do what we do. The statement – "it's just a game" will start making sense to you as you get older.
T – Try to learn from your mistakes. The Gators have plenty to learn from here. The lack of disciple was evident with Florida racking up 98 yards of penalties during the game, including 5 personal fouls. Those are usually not physical mistakes, those are mental mistakes. With 239 days until the next time that many of those kids will get another chance to play a game, it will be interesting to see what they learn.
O – Opt out of making excuses. There isn't much to add to this one, it's pretty clear. Own the outcome and be accountable for the individual effort you put forth. Don't blame, point fingers or pout. It won't change the results.
R – Resolve to come back stronger. This kind of ties in with learning from your mistakes but there is usually "another chance." Maybe not to play Louisville in the 2013 Sugar Bowl again, but many of those kids will have another game wearing the orange and blue of Florida. Some will play in the NFL or CFL and sure, some will never play again. But almost  everyone on that field last night will go on to more important things in their life. Learn from NBA All Star Dwyane Wade…
And finally…
S – Show pride. I certainly will never know what it's like to run out of the tunnel at Florida Field as the stadium announcer says "Heeeeeeeeeeeeeeere Come the Gators!" I'll never know what kind of commitment it takes to play Division I football at a national powerhouse like Florida. But I do know that I am extremely proud to be a Florida Gator and would give almost anything to have another chance to relive my time in Gainesville. (I'm guessing more of you who went to college would say the same thing.)
The player in the photo below is of Darrin Kitchens. He is a reserve linebacker for the Gators from Homestead, Florida. What is so cool about this photo is the obvious pride that Kitchens has in being a Gator.
It's been a tradition for a while now that after games – win or lose – the team would gather in front of the band and sing the Florida Alma Mater. As you can see, after the stunning upset to Louisville, Kitchens teammates didn't think it was necessary. The season was over and they had just lost the game. Why go sing?
Whitney Holtzman, a Florida grad in attendance at the game snapped the photo and shared it on Twitter and said it best in her comment
When Gators win, team sings alma mater with band. Despite loss, one player stayed to sing tonight: twitter.com/WHoltzman/stat…

— Whitney Holtzman (@WHoltzman) January 3, 2013
What will you do when you suffer your next defeat? You better think about it. Odds are it will happen sooner than you expected.
I know as a Florida alumni, I am certainly proud of Mr. Kitchens and hope that he will earn a spot on the field next season so the loyal Gator fans can return the favor and "Stand Up and Holler" for him after his games.
Win or lose.
Go Gators!