Hockey is back. The NHL owners have ended their lockout of the players and the sport is back on the ice and in full swing. The season was drastically reduced but in the cities with hockey teams it's back to work.
"Ladies & Gentlemen, please welcome to the ice… your Columbus Blue Jackets!"
Coming Out of the Penalty Box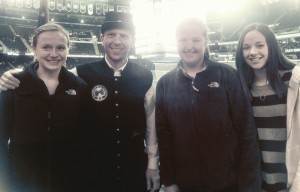 Most of the fans will dig out their team sweaters and jerseys while some have washed their hands of the sport – frustrated and angry that the game was stopped by billionaires fighting with millionaires. Even I wrote an angry rant about the league a few weeks ago when they officially cancelled the All Star Game which was to be hosted in my hometown of Columbus on January 27th. (Click here to read Hey NHL! Head to the Penalty Box)
The reason I was so upset about that cancellation was it was going to fall on my daughter Riley's 14th birthday and she loves to go to hockey games with me. While we won't get the cancelled All Star game back this year, I was able to secure tickets to last night's game against the Dallas Stars (I share season tickets with two of my buddies) and I brought Riley along with two of her girlfriends.
"Jackets on the Power Play"
Columbus will never be mistaken as a hockey town by anyone (especially with THE Ohio State University looming just 3 miles up the road) but the team ownership and management has done a great job since Day One back in 2000 when the organization joined the National Hockey League. They have focused on making the fans and supporters of the team feel appreciated and welcomed.
This season they know they need to go above and beyond to not just provide great service but to create an amazing experience for patrons each time they have a chance to attend a game in Nationwide Arena. Discount tickets, fun promotions and tremendous personal service has been the main offering so far to re-engage the fan base that was pulled in hundreds of directions by all the competition out there today.
Other pro sports, collegiate athletics, movies, museums, video games and technology is available everywhere, every day so doing what they can to keep the Blue Jacket fan base loyal and supportive is job #1 for the employees of the Columbus organization and their partners in the NHL. You could say that the staff is going on the "power play" to make sure they score with their fans.
He Shoots. He Scores!
I have a sign in my office that holds a very powerful message for anyone in a service or sales position. It states:
Doing what's required only prevents customer dissatisfaction. You must do more than is required to truly satisfy a customer.
I reached out to my season ticket representative about another small issue with my tickets and while I was on the phone with Sean S., I asked him if it might be possible to have Riley's name displayed on the arena's awesome new Jumbotron scoreboard during one of the intermissions. I know it was a late notice request but I figured I'd try and if it wasn't possible, no big deal. Sean was concerned that it might be too late but told me to watch during the 1st intermission because if it happened, that's when it would occur.
Sean also confirmed where we would be sitting and even asked me if Riley has a favorite player. I told Sean that Riley was a huge fan of #18 R.J. Umberger. I asked Sean a few more details and asked him to send me a link to a season ticket holder coupon that I could use at the team store for some merchandise which he quickly sent over to my inbox. Everything was great. Nothing extra was promised so nothing extra was expected.
After a fun dinner at a local establishment down near the arena, Riley, Lauren, Edison and I made our way to our seats in the upper bowl of Nationwide Arena. There truly isn't a bad seat in the house but these seats in section 206 certainly give you a different view of the ice than the seats down near the glass where you can really appreciate the massive size and incredible agility of the world's best skaters.
The home team Blue Jackets slept-walked their way through the 1st period, attempting only three shots on goal. For a Monday night in a lockout-shortened season, there just wasn't much life in the sparse crowd. It was quite different from the previous two home games – both sellouts with raucous crowds. As the buzzer sounded for the 1st intermission and the teams left the ice, I told Riley and her friends to keep their eyes on the scoreboard.
Sure enough, a few minutes later, the arena announcer bellowed "The Columbus Blue Jackets would like to wish the following fans a very Happy Birthday. Thanks for spending your special day with all of your friends here at the game," and Riley's name was displayed in lights for everyone to see. The photo below isn't the best (remember I sit so high in the arena that the scoreboard is technically below me!) but you'll be able to see her name up there.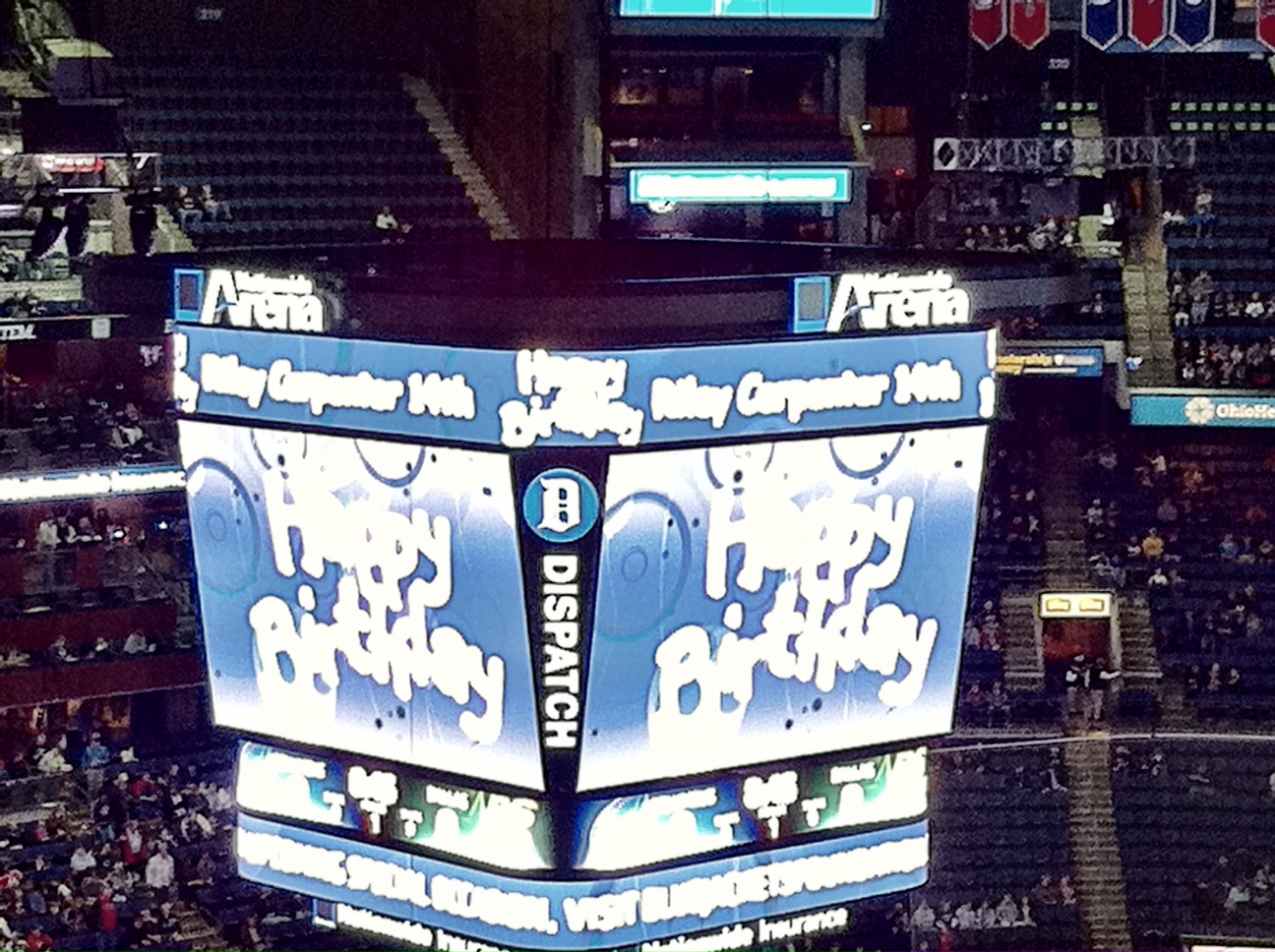 That was cool and caused some fun chatter from the girls but a few minutes into the 2nd period, Sean S. showed up at our seats to introduce himself and personally wish Riley a Happy Birthday. This is a guy who had been at work that day since probably 9am yet was still in his suit and doing everything he could to insure that the fans of the Blue Jackets were enjoying themselves and having a great time at the game.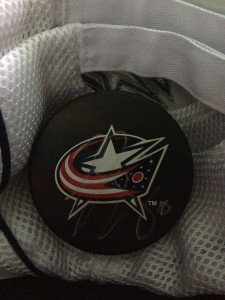 Sean even brought along 4 CBJ hats for each of us and sat for a few minutes and watched the game with us. We chatted about the crowd and all the activities that the team had planned for the fans. We also learned that Sean was a graduate of LSU so we had some SEC smack to talk about because…well, that's just a rule when a Gator fan and a Tiger fan are in each other's company.
Before he left, Sean asked Riley who her favorite player was. After Riley shyly said "RJ Umberger," Sean pulled out a puck signed by the Associate Captain himself.
How cool is that? Talk about a perfect example of "under promise and over deliver."
Sean earned a huge fan in Riley and a satisfied season ticket holder in me (and I'm sure if my two seat partners have a chance to work with him they'll feel the same way). I think all of the people who are impacted by the team being back on the ice –  the local restaurant employees to the ticket scalpers, the ticket takers to the ushers and vendors and the team employees from the owner on down are happy to be back doing what they do best. Making sure their customers and fans have a great time and come back again.
Of course the players on the ice will have a lot to do with that and a few more games with the effort they put forth in periods 2 and 3 might give them a chance. The Blue Jackets won 2-1 so we'll consider that another gift for Riley from the Columbus Blue Jackets.
Icing on the cake!