Influence Starts Here
A few years ago when I hit my 101st blog post (at that time it was still called The Realtor's Toolbox) I decided to spotlight and publicly appreciate the 101 Most Influential people in my life.  I still maintain close contact with most of the people on that list and stand by my rankings. I'm sure over the years since that post (and the next two that allowed me to recognize all 101 people) that I have added many, many more people.
I always hope that many of the people that have been influential in my life have also been influenced by me in a positive way in some form or fashion. One of those people, Andrew Guanciale (#59) has been a great friend and someone I am always excited to help and proud to follow his success.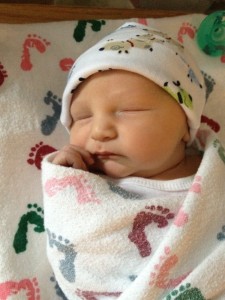 Yesterday Andrew and his wife Jill had their first baby. The moment Luke Andrew Guanciale was born, he instantly became the #1 person in Andrew's life  that he must influence in a positive way. He'll have the opportunity to do this for Luke through his words and his actions the same way his father Patrick (#58) has influenced him.
Snips & Snails and Puppy Dog Tails…
I was cleaning my dresser this morning and came across something that I created for my son Ryan back when he was in preschool. I'm not sure if it was for a school project or just something I wrote down one day but it is something I saved for a reason.
It was created on an index card the way someone records a recipe. It listed ingredients and instructions.  
While I'm sure that Luke's paternal grandparents, Patrick and Carol, as well as his maternal grandparents, Steve and Shanda, will pass down many family recipes for baked goods, holiday treats and other "family traditions," today seems like a great day for me to share my "recipe" with Andrew & Jill.
Recipe for a Happy Child
Ingredients
1 cup loving Mother
1 cup loving Father
1/2 cup older sister (like raisins or nuts, this is completely optional)
2 sprinkles of Grandmothers
2 morsels of Grandfathers
a pinch of imagination
a handful of dreams
a dash of humility
a belly full of laughter
Instructions
In a large household, mix 1 cup of Mother and Father (the more balanced the better so as to even out the sweetness and overall nutrition of the final product). Once that mixture is settled, add in additional siblings (if applicable).
As soon as possible, add in Grandmothers and Grandfathers. Addition of these ingredients may ease the pressure of the first ingredients so determine the entire results of the recipe. (Do not worry if all grandparents are not currently available. When mixing into recipe, think of any missing ingredients and the final product will have all aspects of those missing).
To ensure a great final product, add in a pinch of imagination, a handful of dreams, a dash of humility and a belly full of laughter.
Please note: This final ingredient not only makes the recipe better, it also makes those that prepare the recipe and those that have the chance to enjoy the recipe receive more smiles and memories along the way.
Optional side dish – Add 4 to 5 chicken nuggets to increase levels of happiness at or around lunch or dinnertime.
Congratulations Andrew & Jill and welcome to the world Luke.
I'll look forward to seeing you in "the Cabin" soon.