It's become a very popular theme or topic these days to talk about the power of "story."  The ability to tell your story when it comes to helping customers and clients understand who you are and what you can do for them is critical to establishing trust.
We all have stories for all aspects of our lives. There's our family story and our backgrounds. Our educational path and our relationship stories are often shared with others. Certainly how we got into what we do today is something that comes up in our initial meetings with people and is reflected in our marketing efforts.
Can you pinpoint the day you became who you are today?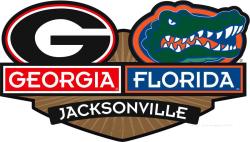 It's Florida–Georgia week (Georgia-Florida week if you're from the Peachtree State). This Saturday will be the 80th meeting between these two Southeastern Conference rivals. Since 1933 the game has been played in Jacksonville, Florida (except two years when the stadium was under renovation). Over the years it affectionately earned the nickname "The World's Largest Outdoor Cocktail Party" for all the tailgating and celebrations from both fan bases before, during and after the game.
Each year one of my best friends, Tom Sandberg (#20 on this list) , sends out his "story" of how he became a Gator. I know not everyone who reads Carp's Corner is a Florida fan or maybe even a sports fan, but when you get a chance to read the detailed description of when Tom knew what his "why" was, it hopefully will help you think back to the first chapter of your current novel you're writing each day.
The Story Remains the Same…
The story remains the same. It is nice to revisit every year though…
A twelve year-old boy sat in his home on a warm, south Florida day, November 8, 1980 to be exact. Convinced that he was the creator of "channel surfing", he flipped channel to channel in hopes of finding something to interest him. He came across a mid-afternoon football game on ABC, (remember, cable was just being introduced back then) in which he was mostly unfamiliar with the two teams playing. However, what caught his eye, kept him glued to the television and the remote control was immediately put down.
Here he witnessed two teams– one in white jerseys and red helmets battling the other–in orange jerseys and orange helmets and he continued to watch as the drama unfolded. Deep into the 4th quarter—less than three minutes remaining, here was the team in orange and its fans celebrating what was to be a victory. This was a sun-splashed day which would culminate with a win over the team in white, who just so happened to be the nation's second ranked college team at the time.
What really caught his eye was the continual panning of the camera to the crowd as the team in white failed on first, second and third down. With each unsuccessful down, the orange-clad crowd grew louder & more rowdy—similar to a can of Coca-Cola that had been shaken for hours and was ready to be opened. If the stadium had a roof, it was about to be blown off.
He wasn't really interested in whom the teams were, yet he was mesmerized at the electricity of what was unfolding. Keep in mind, this was a young boy who was born and raised in Miami, grew up in the shadows of Coral Gables & The University of Miami and had nothing but Ohio State University  graduates as family members. He had no; pardon the pun, "dog" in this fight. However, he was realizing that here was a team from his "home state" about to beat a team from the state of Georgia. Good for them. Good for the boy. Good for the home-state team beating their border rivals.  So, as the team in red helmets and silver britches came to the line on 4th down, the boy was ready to resume his channel surfing as he thought, game over….right?  
And then it happened.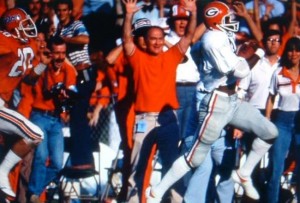 Quarterback Buck Belue found his wide receiver on a crossing route after being flushed from the pocket, hit him in stride and the rest is history…"Lindsay Scot, Lindsay Scot, Lindsay Scot". Touchdown—team in white– Wait, no, this couldn't have happened, could it? Could defeat really have been snatched from the jaws of victory from the orange team and its fans? Yes, the penultimate dream had just become a nightmare and those same cameras panning the jubilant crowd just seconds before were showing the same fans and players in dismay, shock, anger but most of all, heartbreak. Final Score: Georgia 26, Florida 21.
I am that little boy now 32 years older and I relive that moment every year. I am steadfast in saying that my birth into the Gator Nation was immediate. I could not stand that a non-Florida team did that to them, no us…me! Had it been the Hurricanes or Seminoles, they'd have been the chosen one.  I'd probably not have crossed paths and built friendships and relationships that I have with many of you up to this point.  I didn't become a fan on the coattails of family. I didn't become a fan on the bandwagon of victories or championships. My loyalty to The University of Florida was born from a loss and I'm not ashamed to say that.
It is Florida-Georgia week this week. It has been 32 years since "this Gator" was born. It is time to renew "The World's Largest Outdoor Cocktail Party". Ironic it is, that my wife of eight years, Kristin is a Georgia-born girl, and she roots, uh, er, woofs for the "dawgs". More ironic, was that our first date was the Florida-Georgia game in 1998 (*cough*, a UF victory 38-7). It never gets old.
In one way, I'd like to thank Mr. Belue & Mr. Scot for that 4th down pass, catch, run and score. I think my life has turned out pretty darn good and it is pretty simple from where I sit these days. "Nothin' Greater, Than a Gator."
Go Gators, Beat Jaw-ja!
 Tom Sandberg
UF Class of 1991, Fan Since 11.8.1980
What's on TV?
Maybe this weekend as you flip through the channels you'll come upon the Florida-Georgia game. Or maybe it will be the Ohio State-Penn State game or the Notre Dame-Oklahoma game, the World Series or maybe you'll be watching a movie with a loved one.
Whatever you might be watching or doing or whoever you might be spending time with, just think…
Will your story remain the same?