There are many stories out there that never get told.
Some are secrets between two people while some stories are considered local legends yet never confirmed by anyone. Certain stories have become embellished over the years while more than one story has died a slow death and never been told again.
How many stories could you tell about your real estate career? How many stories have you played a role in this week alone?
Compelling stories are all around us if we just take the time to look or listen for them. Whether we decide to continue, share or even embellish that story is up to us.
In fact, just looking at my song list in my iPhone made me realize there might be a good story right in front of my eyes…
(insert dream-like waves like on the old TV shows)
"Success in Real Estate from A to Z"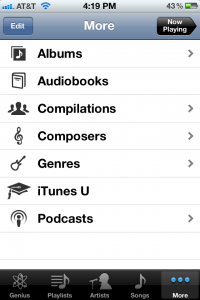 I had spent "All Summer Long" (Kid Rock) in school in order to get my real estate license. I was planning to become a "Big Star" (Kenny Chesney) in the real estate industry but the business just wasn't beginning as quickly as I would have expected. I told myself that "Come Monday" (Jimmy Buffett) I was going to really make a plan to contact my friends, family and everyone in the neighborhood to seek some referrals. "Don't Stop 'Til You Get Enough (Michael Jackson)" is what I told myself in an attempt to get motivated. It didn't matter how many people I called or what time of day it was, I knew that "Even The Losers" (Tom Petty) get lucky sometime.
All the most successful agents in the office, along with my manager and coach told me to have "Faith" (George Michael) in my actions. Reach out to all the people you know in town and if someone leaves you a message, be sure to "Get Back" (The Beatles) with them immediately. Sure, rejection might be "Hard to Handle" (The Black Crowes) but "I Can See Clearly Now" (Johnny Nash) that once you get that first "no thanks" out of the way that making the next call isn't as difficult.
I figured if I was going to be a top agent that I needed to secure a big property to list – something in a high price point that would get me lots of exposure and instant credibility. "Joy to the World" (Three Dog Night) I said to myself when I finally secured my first listing appointment with Mr. Aloysius Heaven, the eccentric recluse who lived in the spooky mansion on the West side of town. After practicing my presentation and researching the local market activity, I felt I was ready. At 6pm that night I was "Knockin' on Heaven's Door" (Bob Dylan) and trying to secure my first listing.
After spending some time with the Seller, discussing his motivation and determining his urgency, I shared with him my marketing plan for his home and did my best to demonstrate how I was going to net him the most money in the shortest amount of time. He seemed impressed when he quickly said "Let's Get it On" (Marvin Gaye) the market before the holidays. He wasn't familiar with the fact that today's consumer likes to search for homes on the Internet but after explaining to him that most people from "My Generation" (The Who) prefer to look on line for homes, he was glad to let me start taking photos and videos of his property that night.
Even though I was the "New Kid In Town" (The Eagles), I had just listed one of the biggest, most expensive homes in "Ohio" (Crosby, Stills, Nash & Young). The house showed great in the marketing, mostly because Mr. Heaven had a lot of "Pride" (U2) in his home and the incredible landscaping and curb appeal of his property.
One of the top agents in town called me less than 2 hours after my listing hit the market and he said, "I have a "Question" (Moody Blues) about your new listing." I had a lot of "Respect" (Aretha Franklin) for this agent so I answered all of his inquiries and scheduled a showing for him and his buyers.
Needless to say when he sent me an offer that was almost full price, I wanted to "Shout out Loud" (Amos Lee). I set up a time to present the offer to my Seller and after reviewing all the details, my Seller wisely decided to "Take the Money & Run" (Steve Miller Band).  It was really "Unbeleivable" (EMF) that I was able to sell the house for almost full price in such a short period of time.  
I started to plan a "Vacation" (The Go Go's) I would take my family on once the transaction closed but then at the last-minute, an issue with the deed came up and it looked like the deal might not close. The Buyers gave us 24 hours to fix things or they said they were going to cancel the contract. I called my title company and anxiously said "We've Got Tonight" (Bog Seger) to get this cleared up. After a long night of tension I finally got a call that everything was clear to close the next day.
Walking in to that closing room was like "Xanadu" (Rush) but it wasn't a dream. It was real and everything went off without a hitch. As we shook hands and said our goodbyes, I told Mr. Heaven how much I appreciated the opportunity to work for him and hoped he would feel comfortable referring me to friends and family who might need real estate help in the future.
He just smiled and said I didn't have to call him Mr. Heaven. "You Can Call Me Al" (Paul Simon) he chuckled.
Whew! I was exhausted after that ordeal. I felt like a "Zombie" (The Cranberries).
I guess it was a good thing I had a vacation planned, huh?