The new school year is approaching and that means athletic teams are getting ready for tryouts. Kids all over the country will be competing for spots on the Fall team in sports like soccer, golf, field hockey, football and more. Club sports, middle and high school and community teams all will be narrowing down their choices of candidates to what they feel are the best of the field.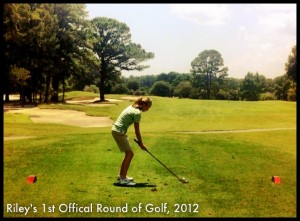 Both of my children are hoping to be among those athletes that will earn a spot on the team.
Ryan, my 10-year-old, is anxiously awaiting a chance to make the local U10 travel baseball team (10 & under) for our community so he constantly wants to swing his bat, throw the ball or practice pitching every night.
My soon-to-be 8th grade daughter Riley will be attempting to make the girls golf team at her middle school. She's a newcomer to the game of golf but has really taken to the sport and wants to practice all the time. In the house, out in the yard or at the course. Morning, noon and night, she is focused on golf.
They really like to practice.
Why Practice? Isn't It the Game That Matters?
Not all professionals feel the need to "practice" their profession. Remember the buzz that followed former NBA point guard Allen Iverson when he missed a practice when he played for the Philadelphia 76ers? He was very defensive when he was questioned by the media about why he would miss a practice with the team. Click here if you don't see the video below
Learn from the Best in the World
The best golfers in the world will hit range balls and practice putting before each round of golf. Many might even go back to practice some more after their rounds of golf so they can apply immediate correction on their swing based on what they did well or not so well on the course. 
NFL players and college football teams will gather soon to start practice for their upcoming season. Most teams will have multiple practices each day in addition to meetings, seminars and discussions.
Tonight across Major League Baseball stadiums some of the best baseball players in the world will show up early and practice throwing, catching, hitting, fielding, running and many other aspects of their "business."
But I Already Know What To Do
Why will they do that? Athletes practice so that when they are in a "game" – when it really counts – they won't have to think about what to do. They will just do it. Don't think. React.
Actions that are rehearsed can be repeated subconsciously and in sports, where a split second can mean the difference between winning and losing. When your career might depend on the outcome, the right action (or reaction) is everything. 
When Phil Mickelson or Tiger Woods is faced with a 145 yard shot to a pin tucked behind a bunker, they have probably hit a 147 wedge shot with 3 yards of backspin hundreds of time on the driving range. Now they just need to visit that "file" in their brain and send the correct message to their muscles to make the shot.
Oh, that's a beauty of a shot right there folks. The ball hit just behind the flagstick, bounced once and then delicately spun back to within 12 inches of the cup for a tap in birdie. Very well executed there golf fans. That's a shot he has probably hit hundreds of times on the driving range and when he needed it most, he really nailed it.
Peyton Manning throwing to a wide receiver before he has even turned around and completing the pass for an important first down or a game winning touchdown isn't a fluke. It's hundreds of repetitions in practice so, in the game, they just have to repeat it again.
Does anyone think that Olympians like Michael Phelps or the women's gymnastics team didn't rely on their years and years of practice this past week to earn their gold medals?   
How Do You Feel About Practice?
Let me ask you and honest question. When was the last time you practiced your listing presentation?
My guess is, if you're like most Realtors, you would tell me the last time you practiced your listing presentation was the last time you gave your listing presentation. It is one of the most important things you will ever do in a real estate career if you want to become and remain successful yet not many Realtors ever practice their listings presentation.
I just don't hear or see many agents – whether they are rookies or super stars – practicing their presentations, dialogues, answers to objections or commonly asked question or discussions on market statistics.
I don't think you need years and years of practice like the Olympians but would you be better if you practiced 15 minutes a day? What if you listened to yourself (or a coach, mentor or trainer) on CD while you drove to work or on your iPod as you walked on the treadmill? Could you find ways to improve, shorten or "tech up" your delivery?
Or you could just keep doing what you've been doing and think like Allen Iverson.
You just better hope that your competition feels the same. If they aren't taking the same approach and are constantly practicing, you might be more like Allen Iverson than you thought.
Out of the business.