Where Should We Eat?
Think about the place that you and your family go for vacation every year. Can you picture it?
Now pretend I just told you I was going there next week and wanted some of your best "local advice" on where to stay, what to do and where to eat.
Do you have some favorite restaurants that you love to revisit? Maybe it's for the great service or maybe it's for the wonderful food. Perhaps it's for the ambiance or the overall experiences you have enjoyed there over past visits.
If you were headed to Hilton Head Island, South Carolina and asked me to recommend some places to take the family for dinner, I would have a very short list. Now there are plenty of amazing restaurants on the island and as a disclaimer, I haven't eaten at all of them. We're more of a wings or burgers and margaritas or beers type of family as opposed to a fancy bottle of wine and expensive seafood destination (although we do end up ordering a lot of grouper and tilapia).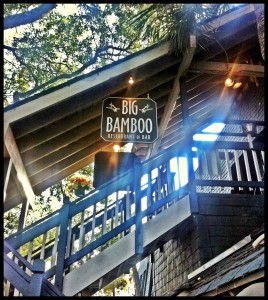 Each year we end up trying one or two new spots but we have our definite "go to spots" that we like to attend. One of those spots was The Big Bamboo in Coligny Plaza. Notice that I said "was."
Carp's Corner isn't a foodie blog and I'm not trying to turn into a poor man's Zagats. I am writing this "anti-review" more as an example of how great service might have been able to overcome bad product but when you have problems with both, the customer experience ends up failing.
We have always enjoyed The Big Bamboo for several reasons; not much of a wait (at least not when we usually arrive as we are border-line "early birds"), 2-for-1 beers and margaritas during happy hour, generous portions of tasty, expertly presented food and a game room in the back where the kids can play video games and pinball.
At least tonight there wasn't a wait. Not really.
We walked in and weren't greeted by anyone. Oh, we saw two bartenders talking to each other but they never even looked at us. Finally a waiter came over and showed us to a table.
I'll give that part of our visit an underwhelming "yea!"
Turns out he was going to be our waiter so we ordered our drinks and I asked him what beers they offered as part of their 2-for-1 happy hour special.
"Oh, we only do that at the bar," he said.
I replied, "That's too bad. When did they change that?" We always enjoyed the branded wooden tokens they would leave when they delivered your first ice-cold mason jar of beer.
"I don't know but it's only happy hour at the bar" was the best response he could offer. If there is a better deal somewhere that I am not seated, that's not what I would call "Happy Hour."
Boo! 
Meals were ordered and between 2 plain cheeseburgers for the kids and two meals off their "specials" menu, we figured we couldn't really go wrong. Our salads were quickly delivered in small fruit bowls – certainly about 1/3rd the size of the salads last year. No big deal as the salad was good but it was definitely smaller than expected. Maybe they got tired of throwing away uneaten salads and were looking to cut some expenses?
As we were eating our salads, the kids asked if they could go back to the game room and play some video games. Off they went with some quarters in hand only to return a few minutes later to let us know that most of the games were out-of-order.
Boo!
Our meals finally showed up and after a few bites I knew I would have to do what I hate doing. I had to send my food back. The grouper was as rubbery as the raft I blew up for my son earlier in the day. So much for one of their "signature dishes." It must have been a counterfeit signature.
I switched to the tilapia and waited.
Boo!
(Warning: If you are eating while reading this next sentence, stop eating) Thinking we were almost in the clear, we found a long hair in my daughter's cheeseburger. Now before you conspiracy theorists point fingers, it couldn't have been my daughter's hair based on the fact that it was melted into the cheese!
I reluctantly flagged down the waiter (who by now clearly considered us the night's "Table from Hell") and told him of the additional "ingredient" on the burger. He did apologize, said he'd take the burger off the bill and offered something else to eat but few people would be looking for something else to come out of a kitchen that had just enjoyed a 50% failure rate to a table of four.
Boo!
As we were waiting for the bill I looked at my wife and whispered "I guess we don't have to keep this place on the list for next year." She just smiled, nodded and silently agreed.
Sadly when the bill arrived, it still had the Hair Burger on it. No big deal, but at that point I just felt that it wasn't right to pay for what I didn't get.
Boo!
Lessons Realtors Can Learn
I'm going to guess that you want to be on someone's short list of recommendations, right? If someone was coming to your town and needed a real estate agent, you want to do everything you can to ensure that people would suggest choosing you.
Consistency is key – People don't buy or sell real estate every day. In fact it doesn't even happen every year so it's important that every chance you get in front of a consumer that you are as good or better at delivering great service. Is your service consistent? How about your marketing? Does your personal brand look the same across all media? Are you the same on-line as your are off-line?
Restaurants in a vacation destination like Hilton Head don't get the same people in every day either. Much like us, some people visit a destination once a year and might revisit a favorite spot. There is comfort in knowing what you're going to get. Earning customer's trust is necessary to be successful.
Does the actual experience live up to the expectations? Are you good at under promising and over delivering? Do people say "Wow, they keep getting better" or will they despair and think, "they're slipping. It wasn't as good as last time"?
If You Have to Say "I'm Sorry" Make it Sound Like You Really Are – When something goes wrong in your transactions with clients, how do you react? Are you more concerned with covering your own ass or do you do whatever it takes to make sure your client is taken care of. I don't think you can teach empathy but in the emotional business that is real estate, you must be genuine with your care and concern of helping your clients. Ask yourself how would you want to be treated?
If and when something goes wrong, it's a good idea to find out if there is anything you can do to make it right. I understand it might not be your fault (I don't think the waiter cooked my fish or put the hair on my daughter's cheeseburger) but there's no sense in blaming anyone now. As the old saying goes, you can't control what happens to you but you can control how you react. 
Take it to the Next Level – It would have been nice to have the manager or the owner visit our table to offer personal apologies or check on the second order of fish to see if it was better than the rubbery grouper.  There was no sign of anyone other than our waiter who was now most likely scared to even walk within 20 feet of our table.
How often do you lean on your team leader, manager or broker to help when something goes wrong? Asking for help isn't admitting defeat or fault, it's just trying to get another set of hands, more experience or perhaps someone with more power to "make things right." 
Personal Experience and Trustworthy Referrals
There are lots of places that we can choose to eat while we're on vacation just like there are many other Realtors people can pick to buy or sell their next house. Of course I could give The Big Bamboo another chance for one of our dinners the next time we visit Hilton Head but after this experience, would you take a 1 in 8 chance on them getting it right? Fool me once shame on you; fool me twice, shame on me.
 I hope your clients would never have to consider where else or who else to call.
So now that we only have a few days left, you got any suggestions for a good place to eat in Hilton Head?