In the last post I pointed out some bad aspects of customer service. Today, I spotlight the good side.
Nobody goes there anymore. It's too crowded. – Yogi Berra
Do you like to share local knowledge?
How many of those "hidden gems" of your city would you feel comfortable telling people about?
Sure, everyone knows you can find a generic hamburger at those "golden arches" but if someone is looking for a mouth-watering masterpiece of ground beef on a bun in your city, where would you direct people?
Need your hair cut when you're in a strange city? I'm sure you could find a Great Clips in any ol' Google Search but wouldn't you rather trust a local to tell you about the best barber in town?
How about pizza? I'm guessing if you're in Chicago or New York City, you're not calling Domino's or Pizza Hut. You're asking the concierge where the "best pie in town is" and you're trusting them with your taste buds.
Now here's the real question – would you still tell people about a good spot if they were wearing "enemy colors"?
Would a Crimson Tide fan tell someone from Tennessee to stop by The Houndstooth before a football game to enjoy the pregame atmosphere?
I wonder how many St. Louis Cardinals fans would be welcomed with open arms into Murphy's Bleachers beyond the ivy-covered center field walls of Wrigley Field in Chicago?
Would a man wearing a Michigan "Go Blue" t-shirt be referred to The Varsity Club near Ohio Stadium for some great pizza?
Hopefully you're not keeping the best of your local area a secret. After all, that's your specialty – your local knowledge. 
Jump at the Chance to Eat Here
I know the guys at Jump & Phil's on Hilton Head Island, SC aren't keeping the best of Hilton Head a secret. Even though as Georgia Bulldog alums, they probably have every reason not to tell a Florida Gator grad. (Most of them are still mad over the Steve Spurrier and Urban Meyer years).
Good news for me and my family is the team at Jump & Phil's have never been the pretentious, "we're the hottest spot on the island" restaurant owners that scatter the landscape in a tourist spot like Hilton Head.
Jump & Phil's is more than a "tourist season" type of restaurant that staffs up from May through August. They are proud to be considered a "local joint" and they weren't just given that moniker. They earned it.
Don't Look for the Lines. Look for the Locals
Here's a great rule of thumb when searching for a good establishment the next time you're in a strange city. Instead of going where there is a long wait or crowded parking lot, find the spot where the locals go. Sure, the happening spot might be fun with lots of "buzz" and you might even end up enjoying it.
But will it be there next year or the year after that?
We've all seen too many places come and go in a wave of promotions and giveaways but they fail to deliver what really counts – great product, excellent service and a memorable experience.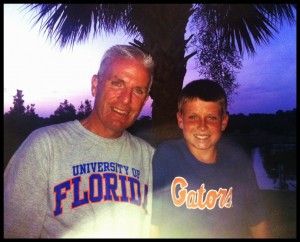 "Who let the Gator Fans in?"
That might be what you'd expect to hear if Jump & Phil's was located in Athens, Georgia but being located 200+ miles east of the home of the Georgia Bulldogs makes it a little easier to allow the enemy inside.
We popped in to the cozy restaurant located in Hilton Head Plaza (just South of the Sea Pines Circle) for dinner tonight and were greeted by one of the namesakes – John "Jumpy" Griffin. Although we've been many of the last 13 years we've been to town, I can't remember wearing Florida colors in to this Georgia Bulldog hotspot (Jump & Phil's is also the local home of the Green Bay Packers club for the South Carolina Low Country).
After absorbing some good-natured ribbing from Jump, we chatted about the Florida-Georgia rivalry, I told him my father was a UGA graduate and we even discussed the upcoming season. John genuinely thanked us for coming in and offered his assistance if we needed anything during our visit. I truly felt he was offering not just during our dinner visit but during our stay on "his" island. (see: Southern Hospitality) 
We enjoyed some great food and cold drinks (my wife had been looking forward to their tuna melts the entire week) and really just relaxed in the laid back atmosphere in the place. The one thing you'll notice about Jump & Phil's is the amount of locals that dine there. I even remember a few years ago when we were seated next to a table of 8 locals and we got to talking.
We asked them to recommend some other "local spots" on the island that many tourists might not know about and from that conversation, we have discovered some wonderful spots that we continue to visit each year. We know the best nights to go for the specials, the short waits or the best servers.
As you think about being the "neighborhood expert" in your city or town or offering the "_____________________(insert town) Experience" to all of your clients, what are the places that you recommend that are truly worth talking about?
What are the menu items that can't be missed? What are the best days and times to go? Who are the owners or bartenders or the best waitresses or waiters to ask for?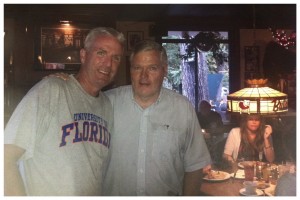 The next time you head to a new city for business or pleasure, I hope you'll be looking for that spot like Jump & Phil's on Hilton Head Island. Don't be lazy – you can visit Applebee's or Chili's in any city. Do yourself (and the local economy) a favor and visit someplace that the locals go.
If you're unsure where that place might be, find someone with an in-state license plate and ask them. You certainly don't have much to lose and just think…you might build a new relationship. 
Even if they are from Georgia.
Until next time, keep building relationships, solving problems and having fun.