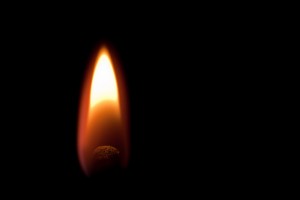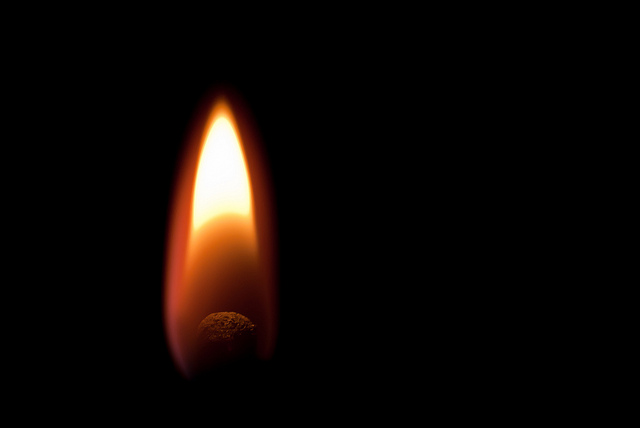 Monday Morning Match is a quick post – maybe a quote, inspirational story or idea – intended to spark some motivation inside each of you so your week gets off to a fantastic start on Monday morning.
How's Your Pace?
183 days have gone past. You have 182 ahead of you.
If you checked your results right now, are you halfway towards your goals?
Think of your favorite football or basketball team. Do the coaches try to make adjustments at halftime so when they come out for the second half they are prepared to not only maximize their strengths but also expose the competitions weaknesses?
When you're playing golf, does that brief stop in the "halfway house" allow you to check your score and get focused on the next 9 holes that might be separating you from a great round of golf?
Driving 250 miles may seem like a long way to you and me but to racers driving in the Indianapolis 500 it's just the warm up for what is coming next.
What's the Score?
Who's winning at the halfway point of the year – you or "the market"?
I don't think it's a cut & dry calculation that you should be exactly 50% towards your transaction or income goals today as it is being "in the vicinity" because most Realtors have busier 3rd and 4th quarters than they do 1st and 2nd quarters. But here's the question:
Do you know what your track record shows?
How many closings do you average each month? How about each quarter? If you knew you averaged 24 transactions each year for the last three years, that's great. But what if 75% of those deals came between May and August? Would it change your marketing budget if you knew that 68% of your annual income was generated in the last 5 months of the year?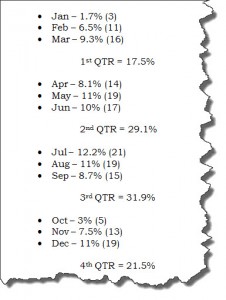 Here is an example of my "business breakdown." It shows the number of closed transactions I had each month and how much of a percentage of my total closed units each month and quarter accounted for. As I tracked this it was a great gauge to help me figure out if I was on track to achieve my yearly goals or not.
As you can see, I knew that statistically, 53.4% of my business happened in the 2nd part of the year. If I was a few deals behind at the end of June I always knew that I could make up the gap in the 3rd and 4th quarters. I knew July produced the greatest number of monthly closings than any other month. That would help me make good business decisions in April, May & June when I was putting those deals into contract. 
Many of you have probably been watching the US Olympic Trials as the men's and women's swimming and track athletes have been competing for spots in the 2012 London Olympics. You'll hear the announcers mention the competitors "split times" to show whether they are on, ahead of or behind their expected pace.
How do you feel about your pace so far this year? Are you content with your progress and feel like you're "running your race" or do you need to pick it up and start securing some closings, more appointments or increasing the contacts you're making with people?
On the PGA Tour they refer to Saturday as "Moving Day." It's the chance for those in the lead to extend the gap between them and their challengers or for players a few strokes back at the start of the day to gain some ground.
Treat today like "Moving Day."
It's time to either "stay on" track or "get on" track.
Haltime is over. It's time to play like a champion. You have 182 days left.
Start building relationships, solving problems and having fun.
Photo Credit: Derek Gavey via Creative Commons