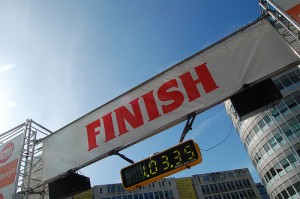 Back at the end of April I wrote this post about commitment and a personal goal I had to run a minimum of 1 mile #EveryDayInMay. After 31 runs and just under 100 miles, I completed  my challenge yesterday morning with an easy 4 mile run.
Throughout the month I had a lot of support, both locally from my wife and children and in the office each day from fellow agents, and on-line through the Twitter hashtag #EveryDayInMay. Others joined in the campaign including people in Alabama, Mississippi, Colorado, Texas, New Jersey, Tennessee, New Mexico, Georgia, Illinois and of course here in Ohio.
I am so proud of everyone who participated and whether you actually were successful in your daily commitment or fell a bit short, you were thinking about it every day and that means something.
"Four short words sum up what has lifted most successful individuals above the crowd: a little bit more. They did all that was expected of them and a little bit more."
~ A. Lou Vickery ~
I never set out to hit a specific mileage total but when I added up my distances I had run each of the 31 days, I was a bit disappointed that I was just 2 miles short of the magic 100 milestone. So this morning (June 1st) I got up and ran 2 miles in the rain.
I really wanted to sleep in and take a day off but this morning's run accomplished two things:
1. When you think you're done, give it a little bit more. You'd be surprised what you can accomplish when you think you're done. Make one more phone call. Knock on one more door. Do one more sit up.
2. Always over deliver. Give people more than they were expecting. Go above and beyond. Don't just do what you said you were going to do. Do more.
I'm not sure what I am going to do in June but whatever I decide, I know I can accomplish it…and then some.
For now, I'm content to build relationships, solve problems and have fun.
Why don't you join me?
Photo Credit: Jayneandd via Creative Commons