Monday Morning Match is a quick post – maybe a quote, inspirational story or idea – intended to spark some motivation inside each of you so your week gets off to a fantastic start on Monday morning.
I took my family to Lexington, Kentucky this past Saturday to watch the Florida Gators baseball team play against the Kentucky Wildcats. My 10-year-old son Ryan is getting ready to start his summer travel baseball season and we thought it would be a fun trip so we left for the 3-hour drive from Columbus early on Saturday morning. Just to add a competitive spirit to the trip, I am a Florida graduate and my wife, Ronda, is a Kentucky graduate.
We arrived in Lexington a few hours before game time so we stopped in at Kennedy's Bookstore so my wife could spend a small fortune on Kentucky Wildcat National Championship (men's basketball) apparel for her and the kids. My daughter Riley equally supports Florida and Kentucky and was just excited to get a new hoodie while Ryan is at the age where he jumps on the bandwagon of any team as long as he can get a hat, t-shirt or some other souvenir to show off at school the next week.
As we arrived at the parking lot outside Cliff Hagan Stadium we found a shady spot to park. Ryan and I grabbed our gloves to play catch before heading in to the stadium. After about 10 minutes of tossing the ball we decided to go in and watch the teams warm up. Ryan made sure he had his glove with him, just in case a foul ball happened to come our way. We settled in to our seats about 16 rows behind home plate, just one row from the press box.
It turned out to be a gorgeous spring day in Lexington and the game remained scoreless through the first 5 & 1/2 innings, with each team stranding several runners on base. Other than a few foul balls down the baseline, there had been no foul balls into the stands and we were running out of time. I told Ryan to keep his eye on the batter and be ready with his glove in case a ball was fouled back over the large net behind home plate.
The Wildcats got two runners on base in the bottom of the 5th and had runners on 1st and 3rd. With 2 outs, Matt Reida stepped to the plate and fell behind in the count 1-2 and then it happened. Reida slapped at a fast ball and fouled it straight back. It rose over the protective netting and was headed straight at my daughter Riley. Ronda screamed and Ryan kind of froze, not realizing that it would carry all the way up to our area of the stands. I instinctively rose and, almost protectively, reached out over Ronda and Riley's head and calmly caught the foul ball squarely in my right hand.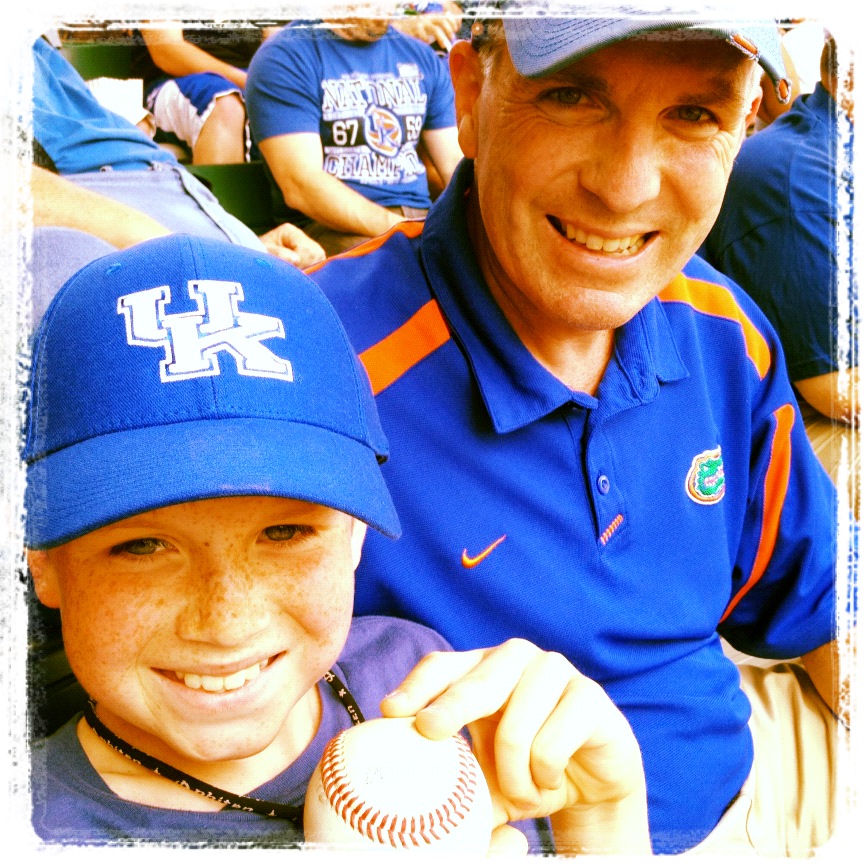 It was my first "official catch" of a foul ball in a baseball stadium (I've collected balls at Cincinnati Reds during batting practice and Columbus Clippers games while standing in line for a beer but never on the fly directly off the bat). After raising the ball triumphantly and getting a nice round of applause from the Wildcat home crowd, I shared my excitement with the many Gator fans in attendance by doing the Gator Chomp with my arms. (That brought some quick boos from the Wildcat faithful but it was all in good fun).
I quickly gave the ball to my son for his collection he has started with the balls I got in Cincinnati and at the Clippers game. Just like that, Ryan had what he came for – a foul ball.
For what it's worth, on the very next pitch after the foul ball, Reida slapped a single to center field knocking in the first run of the day for Kentucky and they went on to beat Florida 2-1.
Bringing Their Baseball Mitts
Most kids bring their baseball mitt when they are going to a baseball game. They dream of sitting in the stands and catching a home run ball hit off the bat of their hero or snagging a foul ball that flares into the stands.
A chance to grab a ball during a game is rare as a small percentage of the balls pitched actually make it into the stands. For the ball to even come in your general vicinity is kind of neat but to have a chance to actually get your hands or glove on one is rare.
But that doesn't stop kids from carrying their baseball mitts with them. They sit there the entire game wearing their mitt, only taking it off between innings when there is no chance of a ball coming their way. They even practice how they will raise their glove up and catch the ball if it comes their way.
Kids have the ability to believe that good things will happen to them so it's only logical to be prepared.
When Did You Stop Wearing Your Glove?
As you headed to work today, did you leave your baseball mitt in the garage or car trunk? Have you already given up that your next big deal or new client might be out there today, just waiting to fly in your direction?
Why do we stop believing that "today might be the day" when we become grown ups? We spend more time worrying about what won't happen instead of looking for the things that will.
Kids rarely seem to make excuses before the pitch even nears the batter like "we'll never get a foul ball sitting up here" or "why does everyone else keep getting all the foul balls on their side of the stands?" 
Yet all too often, adults do. They lose focus on the batter at the plate and start thinking about what needs to get done after the game.
It's time to start paying attention. The batter is at the plate and the pitcher is starting his wind-up.
The next pitch might just be the one that sends a foul ball your way.
Photo Credit: Derek Gavey via Creative Commons
Photo Credit: Sean Carpenter via Camera+