Monday Morning Match is a quick post – maybe a quote, inspirational story or idea – intended to spark some motivation inside each of you so your week gets off to a fantastic start on Monday morning.
On this date – May 21st – in 1932, Amelia Earhart became the first female to fly solo across the Atlantic Ocean. She left Newfoundland on May 20th (5 years to the date of Charles Lindbergh's famous crossing) aiming for Paris but weather pushed her off course. She landed safely in a farmer's field in Ireland but she had done it. She crossed the Atlantic Ocean alone.
Earhart continued to fly, earning awards and recognition for her bravery but she was mostly recognized for her skill.
Much has changed with air travel over the last 80 years. Just think of the courage that her original solo flight must have taken. Think of all those people who doubted her. Think of all the things that could have gone wrong. Think of how much safer she would have been just staying on land.
"There is no doubt, however, that the world will always remember Amelia Earhart for her courage, vision, and groundbreaking achievements, both in aviation and for women. In a letter to her husband, written in case a dangerous flight proved to be her last, this brave spirit was evident. "Please know I am quite aware of the hazards," she said. "I want to do it because I want to do it. Women must try to do things as men have tried. When they fail, their failure must be but a challenge to others." – Excerpt from Amelia Earhart, The Official Website
So now, tell me again…what is it you can't do this week?
Isn't it time to quit blaming the "market", the weather, the competition, the government or anyone else for your results?
It kind of makes your hesitation to get in front of that video camera seem pretty silly doesn't it?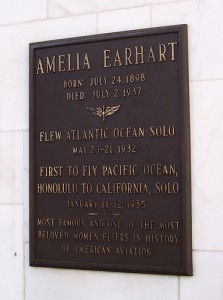 Maybe you can think of young Amelia soaring across the ocean before you dial that former client you haven't spoken to in a while?
Perhaps you'll meet the challenge of knocking on the door of that homeowner who just put the shiny new For Sale By Owner sign in his yard this weekend.
Is it time to add that assistant you so desperately need to take your business to that "next level."
The cabin door has been closed so it's time to turn off and stow your electronic devices.
Strap on your helmet and take some chances this week.
Get out there and build relationships, solve problems and have fun.
Buckle up your seat belt, return your seat back and tray tables to their locked and upright positions and enjoy your flight.
You're all clear for takeoff. 
Photo Credit: Derek Gavey via Creative Commons
Photo Credit: Kevin Collins via Creative Commons