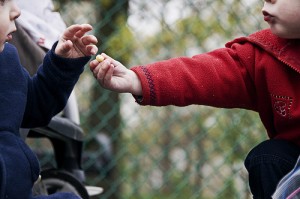 "When we can share – that is the poetry in the prose of life." – Sigmund Freud
Do you remember your kindergarten and elementary school days when you had "show and tell" on the agenda? Those were fun days when you got to bring your new GI Joe or model airplane in to school or perhaps you were introduced to one of your friend's pets like an iguana or a new puppy.
We're taught the lessons of sharing early in life when it comes to our toys, our sporting equipment and even our snacks. "It's nice to share" we were told countless times by our parents, teachers and babysitters yet for some reason it was usually easier to share with our friends than it was with our siblings and I'm not exactly sure of why that was. Many of us are taught later in life that it's the right thing to do to share with our church or house of worship.
Then we start to grow up and  our possessions become a little more important to us. We're often scored by "who has more" and we can determine our success by knowing more than the other guy. Sharing isn't usually expected in a competitive environment but when you find someone who is willing to share valuable information, skills or advice, hopefully you take advantage of the opportunity.
Last week I had another opportunity to see the essence of sharing take place. We held our Coldwell Banker Ohio Top Agent events in Cincinnati and Columbus. We hosted luncheons for our Top 30 agents and managers in each market and invited some top agents from outside of our company and region to join us and share what they have done to achieve success.
"Three helping one another will do as much as six men singly." – Spanish proverb
It's always neat to find people who are willing to openly share what makes them successful because the people doing the sharing rarely look at themselves as "super stars." Instead they just see themselves as hard-working individuals who are striving to achieve success. They usually take the approach that by sharing their systems, skills or secrets that they will become better at the same time. In fact, much of what made them successful can probably be attributed to someone sharing advice or wisdom with them at some point early in their careers.
Every top salesperson or manager feels they offer something unique to their customers or clients or else they wouldn't be successful. In my opinion, it's the moment that they try to keep that knowledge to themselves that their success begins to plateau. It's not the fear of someone taking what you teach them and out-working you, outselling you or out-performing you that should worry you because no one will ever be able to do something excatly the way that YOU do it.  It's avoiding the chance to open your mind to hear other ways to do what you're doing or other ways that people are doing the same things or more.
Different Strokes for Different Folks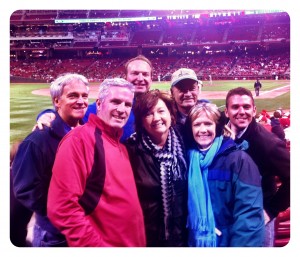 There are many different ways to be successful in real estate and we got a chance to learn from several of the varying systems out there. We had a husband and wife team, an individual agent and a partnership between two successful agents.
Jim & Linda Arnold from Coldwell Banker Gundaker in St. Louis shared some great details of their extensive geo-farming techniques focuses on three specific neighborhoods that creates an ideal "move up" strategy. They also discussed their diligent and detailed listing presentations, pricing strategy and buyer counseling materials they use to pre-qualify and prepare every client they work with for what to expect in today's real estate arena. It's neat to see someone who passionately believes in and delivers a direct mail, hard-copy newsletter to their market place and to see the recipients of the newsletter see value in it. Jim and Linda also see tremendous value in the tools and systems their broker provides and take advantage of every company perk and program they can.
Patti Texeira is from Coldwell Banker M&D Good Life on Long Island, New York and has been in real estate for 25+ years. She is still earning her business the way she was when she began in real estate – having a great attitude and taking care of her customers. She has never felt confined to stay in one specific neighborhood and her slogan – "Working Shore to Shore to Give You More" – shows her dedication to understanding many different markets from the Long Island Sound to the Atlantic Ocean. There's no doubt it's working because Patti enjoys almost 88% of her business from repeat and referral clients. She is active in her church and her yacht club and still believes in the power of an open house, sometimes hosting 3-5 opens each weekend. She also shares her skills and expertise with her fellow CB agents on Long Island by helping with the company training and recruiting.
Aaron Hoover and Scott Pressler or top superstar agents with Century 21 Bradley in Ft. Wayne, Indiana who realized that strength in numbers was a way to build their business and increase their income but more importantly, deliver excellent services to their marketplace and clients they serve. The try to leverage their individual strengths and use each other to manage around their weaknesses.  Harnessing their broker's cutting edge technology and marketing power, they utilize video for both personal promotion as well as property exposure. They still work every aspect of the market from FSBO's and Expireds to sign calls and social media. Aaron and Scott also use Skype and other communication systems to communicate with their office administrator who doesn't even live in their state! She's living in Kentucky but they knew she was the ideal candidate for the job so they didn't let that stop them from finding a way to make it work.
The More You Give, The More You Get
As happens every time we bring outside agents and guests in for these events; the guests themselves also leave with additional knowledge, ideas and inspiration. They didn't get to be top agents by just doing one thing right. They excel because they are always looking and listening for the next best thing, the new way to use  a system or exploring totally new areas that might give them an edge in their own markets. Patti filled several pages in her small notebook before we had even been together for 24 hours and Jim, Linda, Aaron and Scott were constantly dropping new notes into their iPads that they discovered or were reminded of from each other.
It was also neat for me to get to spend time with a hugely influential person in my life, Mr. Kim Daugherty. Kim was alos a guest for our event and is my counterpart with Coldwell Banker Gundaker. He is part of the reason I am in the role I hold today. (See my blog post about my 101 Most Influential People here). Kim always engages his audiences whether they be in a classroom, an auditorium or at a dinner table. Nobody shares a story better than Kim and each time I get to spend a few hours (or days) with him, I feel I just became a better teacher, speaker and person.
We all need to remember how little we knew when we started in this business and think of how much we know now. Why is that? Was it all book smarts or is much of what we know and do a result of someone, somewhere, sharing something with us and helping us develop those vital "street smarts" needed to succeed?
Now It's Your Turn…
Who's the person who you owe some of the credit for your success to? Who has shared with you in the past to make you a better person? Who will you share with next week to pass on some of your wisdom, skill and savvy?
I invite you to share the name of your mentor, coach or teammate who helped you get to where you are today in the comments below. Share this post with your social networks and share this blog with others who you think might enjoy what we talk about here.
Finally, I hope you'll continue to share in my philosophy of building relationships, solving problems and having fun.
Photo Credit: BenGrey via Creative Commons 2.0
Photo Credit: Sean Carpenter via iPhone