I recently spent some time in The Big Easy – New Orleans, Louisiana. I went down to The Crescent City for the Coldwell Banker Generation Blue Experience.
Gen Blue is a gathering of agents, managers, brokers, owners, leadership and staff from all over the globe coming together to share, learn, engage and enjoy being away from work for a few days. For anyone who's ever been to New Orleans before, you know that there are a few things you can count on in that city. Great music, great night life and great food.
We heard wonderful jazz bands throughout the famous French Quarter, we enjoyed dueling pianos at Pat O'Briens and even enjoyed some of our friends on the karaoke stage (although they will claim that it must have been "someone else" we saw). The nightlife should really be called "Early Morning Life" because it's hard to head home from Bourbon Street before midnight and even if you do decide to head back early, there are so many other fun spots and hotel lounges that you might be enticed to have "just one more."
And as for great food? As they say in cajun country, "Oh lawd, child." Crab meat, oysters, crawfish, gumbo, jumbalaya, fresh fish, andouille sausage and everything else that could tempt you is available. I'm pretty sure you could eat at a different restaurant in New Orleans each night and never eat at the same place twice all year.
You Ain't Been to New Orleans if You Haven't Had Beignets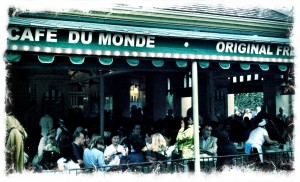 I waited until my last day to visit the world famous Cafe Du Monde. This little "French Market Coffee Stand" may be considered a "tourist trap" by some but if I could be trapped eating warm beignets all day, lock me up and toss away the key. Beignets are little square pieces of dough, deep fried and tossed in powdered sugar. They are served in orders of three, which could seem like a lot until you savor your last bite of the third beignet and subconsciously wish you would have ordered more. I don't know…maybe that's just me?
My friend and fellow Realtor Chris Nichols from Utah had recently been to New Orleans for some business and highly recommended that I not only swing by Cafe Du Monde for some beignets but also visit the side of the establishment and look at the system that they use to deliver these tasty treats to their customers.
There is something to be learned from the simple efficiency of this place.
As you can see from the video above (click here if you don't see the video), the system is quite simple.
First, there isn't a huge menu – it's pretty much beignets, coffee and sodas.
Remember – most of you reading this are Realtors. You assist people with their real estate needs helping them make good decisions.
You work with Buyers. You work with Sellers. It's really pretty simple.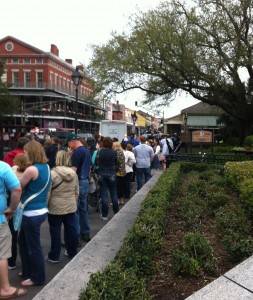 You can sit down and  enjoy your beignets and coffee at a table or you can go around back (and avoid the huge line on Decatur Street) and approach the carry out window. This is where I met my friend Tony, who was randomly approaching people in line to take their order, thereby keeping the patrons happy and easing the congestion and wait time.
How do you help create ways to save your client's time? Are you delivering pre-listing packets before each and every listing opportunity? Do you arrange for a Buyer Counseling Session before showing Buyers houses so you're not wasting their time (or yours) looking at houses that don't fit their needs?
Do you seek out your clients and customers, anticipating their needs before they realize what they are?
Cafe Du Monde is a "cash only" location. Sure, many tourists don't carry cash and that could make it inconvenient for some but this does make it easy to keep the line moving. It also allows hard workers like my friend Tony to grab orders, deliver warm beignets and hot coffee (or cold sodas) and quickly make change for his customers, some of whom might just tell him to "keep the change." When your paycheck (and tipped income) depends on not only the quality of the product but the speed and quality of the service, efficiency can be worth plenty.
Do your clients see you "hustle"? Do you reach out for the business or are you more content to sit back and wait for it to come to you? 
You also may have noticed in the video that there wasn't a whole lot of "cooks in the kitchen." When the "recipe" is kept pretty simple, you don't need a lot of people to get in the way of the process. Two guys working the dough side, two guys working the fryers and a few more working the "line" between the cooks and the servers.
As you look at your business, what type of efficiencies have you built in to your daily routines to keep it simple? Is it repeatable every day for every task or do you make it up as you go? Who is on your "service line" from start to finish?
I understand that each and every client is different and their deals depend on numerous factors (many of which are beyond your control such as bank deals, inspection issues and title work) but when it comes to your daily routine – how many steps do you have in place to insure that the beignets get into the hands of the customer while they are still warm?
Find ways in 2012 and beyond to deliver the products and services people are asking for with the least amount of hassle, wait and confusion. If you can do that consistently, anything else you can do to build relationships, solve problems and have fun with your customers and clients is just powdered sugar on top.
Take it from me and the great folks at Cafe Du Monde – keep it simple in 2012 and "let the good times roll." Or, as they say in the Big Easy…"laissez le bon temps rouler."