The customer had tried other service providers before.
Oftentimes there was no answer. Sometimes there was an answering machine stating "how important your call is" but obviously not so important to have a staff member to take the call in person. Of course there was always those times when the customer was prompted to "listen closely, as our options have changed."
After talking to a staff member, messages were taken, promises were made that the right people would see the message and the call was promptly ended. It was the classic strategy of "Stack 'em and rack 'em."  It was a textbook case of "over promise, under deliver." No calls were returned. No care was given. No answer was received.
After all, the answering machine did say "If this is an emergency, hang up and dial 9-1-1."
Remember that time you called the doctor's office…and they answered?
Yeah…I didn't think so.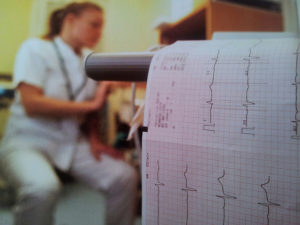 After getting through the high security labyrinth known as the modern-day doctor's office phone system, a real live human finally answered.
"Columbus Cardiology, this is Sally?"
A human being? No more selecting numbers to push as if you were playing the Pick-3 Lotto numbers in your local convenience store? No more shouting your social security numbers to prove you were a real person? No more hitting "0" incessantly, secretly hoping that an operator would pick up and help you?
Questions were asked and some follow-up questions ensued. Clarification was gained and more details were given. A run down of current medications were gathered and the next steps were discussed. The situation would be brought to the doctors attention so the best decision could be made.
Less than 3 hours after speaking to Dr. Kevin Hackett, one of Columbus's best cardiologists, Sally had responded with the doctor's best assessment and advice for what do to next. It was further suggested that the prescription be shared with the family doctor so all advisers were on the same page.
Listen then Respond
Please forgive my desire to share this story about amazing customer service and exceeding client's expectations. The amazing thing is it didn't happen at a grocery store or local coffee shop. It didn't happen with a car dealer or a successful Realtor. You see, those places are built on delivering amazing customer service and creating memorable experiences.
In today's insurance-driven race to the bottom, this real-life scenario happened with a successful yet extremely busy cardiologist and his office staff.
But then again…I'm sure this happens in every scenario that might involve a customer, client, patient or guest seeking a diagnosis or answer, right? Never mind…don't answer. I already know what you're thinking.
Set the Pace
What's your system for making sure your clients and customers get the answers they need – when they want them and how they want them and who they want them from? It just might be the difference in keeping the blood pressure low or sending your client's pulse through the roof.
Find ways to build relationships, solve problems and have fun. It's truly at the heart of great service.
Photo Credit: Helge V Keitel va Flickr