Monday Morning Match is a quick post – maybe a quote, inspirational story or idea – intended to spark some motivation inside each of you so your week gets off to a fantastic start on Monday morning.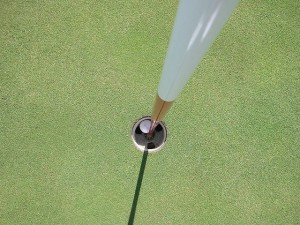 "It's in the Hole!"
You push the tee into the ground and balance the small ball atop it. You check the wind and the yardage one more time as you select the club you will swing. Slowly, you make a few practice swings and with each one, you envision the sweet spot of the club face making solid contact with the ball and driving it high into the air. You can see your ball settling softly on the surface of the green and rolling into the hole as if it was hit with a putter.
The elusive hole-in-one is a shot every golfer dreams of yet few will ever accomplish the feat in their golf careers. Actuaries at such companies have calculated the chance of an average golfer making a hole in one at approximately 12,500 to 1, and the odds of a tour professional at 2,500 to 1. I've hit two holes-in-one in my career which is far short of the record, believed to be held by professional golfer Mancil Davis who has scored 51 holes-in-one in his lifetime.
It was on this date (Sept 15) in history back in 1868, Old Tom Morris scored the first recorded hole-in-one at Prestwick Golf Club in Scotland.
There is really no "trick" to hitting a hole-in-one. Sure, it takes talent and skill to be able to hit a ball squarely on the golf club face and have some understanding about distance and direction to hit the ball but it usually boils down to stepping up to the ball and taking "dead aim" at the hole.
Are You Taking "Dead Aim"? 
How close are you to hitting your goals for the year? Don't get distracted with any tasks or activities that don't directly impact your efforts to achieve the volume or unit total you have set for yourself. You shouldn't be worrying about what has happened before today that is in the past just like a golfer shouldn't be worry about any other shots that have been played in his or her round that are already counted on the scorecard. The only "shot" you control is the next.
Make sure you know what you have ahead of you.
Check your distance. Take a deep breath. Then step up confidently and make a good swing.
Or phone call. Or offer. Or presentation.
You'll be surprised with your results when you start taking dead aim. Oh sure, you might not hit a hole-in-one but you will probably end up a lot closer to your target than if you just get up there each day and swing away without worrying about the target you're trying to hit.
Have a great week building relationships, solving problems and having fun.
Photo Credit: David Hilgart