Monday Morning Match is a quick post – maybe a quote, inspirational story or idea – intended to spark some motivation inside each of you so your week gets off to a fantastic start on Monday morning.
Planning Your Tour
Welcome to Columbus. When I bring guests to town we almost always head to Ohio Stadium on the campus of The Ohio State University. I try to take them through downtown or to see a Columbus Blue Jacket hockey game or maybe we'll take in a Columbus Clipper AAA baseball game. Dinner at Hyde Park or lunch at Katzinger's Deli? If we can't squeeze in a round of golf, I always try to find a reason to drive visitors past the boyhood home of Jack Nicklaus.
Think of your current home town. You've got visitors coming to visit and they have some extra time and have asked you to show them around. Where are you going to take them? Is there an iconic view in your city? That one historic spot that people have heard about? What's the biggest tourist spot and what's the hidden gem of your town?
Is there a famous restaurant or business based in your city? Is there a big college or sports stadium? Could you drive them past the childhood home of some famous person? Is there a place that when they tell others they visited ______________, will people say, "Do you go to _____________?"
Getting to See Seattle
Last week I visited the wonderful city of Seattle, Washington for the first time. I was headed there for some company training but knowing I had never been to the city and had so many friends in the area, I decided to take a few extra days to visit and see what the city had to offer. My good friend and fellow real estate trainer (and one of the best photographers you'll ever meet) Linda Aaron picked me up when I landed at SEA-TAC airport and from the moment I jumped in her car on a rainy Sunday evening, she was in "Welcome to My City" mode.
We made a quick pit stop at my hotel in Bellevue (an incredible city in its own right) we headed over to downtown Seattle to meet more friends for dinner. The defending World Championship Seattle Seahawks had just finished beating the NY Giants so traffic was busy but we found a spot at the iconic Pike Place Market and got to see some of the hustle and bustle that this legendary location offers the residents and visitors of The Emerald City. From the fresh flowers and seafood to the art work and crafts, this place just oozes charm and uniqueness. We passed the original Starbucks as we headed to the Steelhead Diner to meet up with Michael and Ron, Chavi, Kim and Teri. Needless to say, the blend of great friends, great food and fabulous local beers made for a truly memorable evening.
After a full day of speaking to and sharing with the brokers and team members of the Coldwell Banker Bain company on Monday, it was time to network and build relationships with many of the people who spent the day preparing for a strong finish to the year and an awesome 2015. We connected over  cocktails, more local craft beers and food before heading to a more intimate dinner at downtown Bellevue.
A Day of Discovery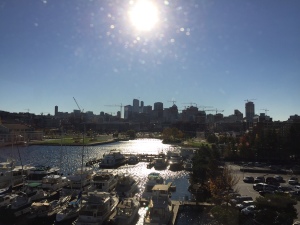 Tuesday was "Show Me Seattle" Day with Linda as my personal tour guide. We explored three of the CB Bain branch offices (Bellevue, Mercer Island and Lake Union) which is always fun to see the way other companies try to create a welcome, engaging work place for their agents and brokers while still delivering the best tools and technologies to help them better serve today's clients.
We headed down to a very busy downtown Seattle to visit the headquarters of Zillow, the largest, most popular real estate portal on the web. Director of Industry Outreach Jay Thompson was our proud host who guided us all around the 5+ floors of the technology giant's incredible headquarter offices. The neatest thing about Zillow was how much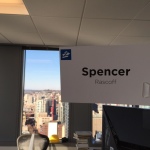 energy there was every where we walked. From the sales floor to the engineers with their fingers deep in the code of the busy site, to the marketing team all the way back to CEO Spencer Rascoff's cubicle (yes, I said cubicle – he sits on the floor with he team with no door or glass separating him from the other Zillow employees), this place just looks like the kind of place that people enjoying working at. Not only did we get a neat view into how this major player in the real estate business works, we got the amazing view of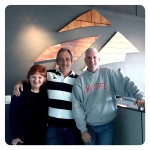 the Puget Sound and the Southern skyline of Seattle.
A stroll through the Veteran's Day crowded Pike Place Market in full color led us to lunch overlooking the city before we raced sundown to visit the campus of the University of Washington, the neighborhoods of Montlake & Capitol Hill where we got to visit the charming little loft space that houses the Seattle Divas real estate operations. Catching up with Team Diva over beers and appetizers and learning about their neighborhood and market was a great way to finish a fun day.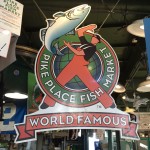 Later in the week I was able to visit with the teams at Trulia and Market Leader and learn about their tools as well as catch up with another long-time friend Debra and her husband Andrew in a charming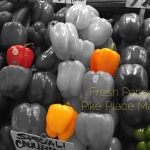 little spot in downtown Bellevue. The amazing thing is how many connections and friends that I still didn't have time to connect with and I'm sure there is still a lot I didn't get to see and do.
I had such a great visit to the Seattle area and want to thank Linda, all the CB Bain people, our hosts at Trulia and anyone else who made it an amazing week. I'll look forward to another opportunity to visit this gem of a city – truly the Emerald City of the Northwest.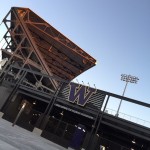 So think about it…if someone came to your city tomorrow, what would you show 'em? Would they have enough to build a blog post or their Instagram feed or some Facebook posts? Would they tell others about your city? Would they want to come back?
Until next time, keep building relationships, solving problems and having fun.