Remember Viewer Mail?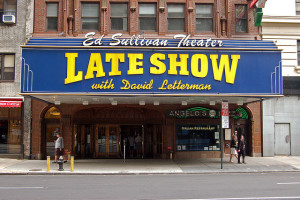 David Letterman has ended his 30 year run as a host of a late night talk show and in his wake, he will leave a generation of fans…actually several generations of fans searching for a new voice, inspiration and friend to keep them company at the end of a long day. Whether you watched Late Night with David Letterman before you headed out to the bars back in your college years or struggled to stay up to watch the show before falling asleep in your middle-aged years, you're probably going to miss Dave's humor as he interviewed some of the biggest and brightest stars of our times.
One of Dave's bright spots was his quirky, fun, unique segments that he sprinkled in to the show. Sure, there was the Top Ten List which became a staple on September 18th, 1985. There was the stunts where he threw items off buildings, threw footballs into the windows of moving NYC cabs, jumped into a tank of water wearing a suit made of Alka Seltzer and even used a megaphone to interrupt a live episode of The Today Show with Bryant Gumbel and Jane Pauley.
And then there was one of my favorite segments – Viewer Mail. This was where Dave would answer questions from real viewers in funny, theatrical, serious and heartfelt ways. I'm sure a mega-star like Letterman received hundreds of thousands of letters and later emails or social media inquires from his fans. Obviously it would have been impossible to answer them all but when he did, it was always fun.
What about Reader Spam?
Oh sure, I get some comments here or there on my blog. Not as many as some of the more controversial bloggers might generate. Sometimes I get my email subscribers that will just reply to the email instead of posting it on the actual web version of the post. Either way, I am thrilled to hear from anyone who wants to give me feedback, kudos or even question my thoughts.
On those days and sometimes weeks where I might not receive any actual comments or replies, I can always rely on the spammers of the World Wide Web to entertain me and keep me company. In tribute to the great Dave Letterman, here's a sampling of some of the spammer comments I get and my simple responses to them.
Not often do I encounter a weblog that is both educational and entertaining, and let me tell you, you may have hit the nail on the head. Your concept is great; the issue is something that not sufficient individuals are speaking intelligently about. I'm happy that I stumbled across this in my quest for something relating to this.

Alva H
Thanks Alva. I hope you're enjoying your "quest." How exciting. As an agent, my slogan was "Nobody knows homes like a Carpenter" so hitting the nail on the head is what I am all about.
I know his if off topic butt I'm looking into starting my own blog and was wondering what all is neederd to get set up? I'm assuming having a blog like yours would cosst a pretty penny? I'm not very internett smart soo I'm not 100% positive. Any recommendations or advice would be greatly appreciated.

Thank you

Geraldo
Hey Geraldo – thanks for your spam. One of my first suggestions would be hire a proof reader. There is also a spell-check component on many blog systems or pretty much any word-processing system using technology these days. I would become very familiar with how those work. I am impressed that you spelled "recommendations" correctly while missing the word "so." Keep your head up Geraldo…it gets easier the more you do it.
Howdy I am so excited I found your blog, I really found you by accident, while I was browsing on Askjeeve for something else, Nonetheless I am here now and would just like to say thank you for a fantastic post and a all round interesting blog (I also love the theme/design), I don't have time to read through it all at the moment but
I have bookmarked it and also included your RSS feeds, so when I have time I will be back to read a great deal more, Please do keep up the fantastic job.

Arianne
Arianne – Thanks for the spam. I am honored that, although you didn't have time to actually read my blog, you took time to send me a very mysterious comment. Hopefully you'll become a regular reader and comment more often.
Hey I am so glad I found your site, I really found you by mistake, while I was browsing on Bing for something else, Nonetheless I am here now and would just like to say kudos
for a tremendous post and a all round thrilling blog (I also love the theme/design), I don't have time to look over it all at the minute but I have saved it and also added your RSS feeds, so when I have time I will be back to read more, Please do keep up the great job.

Leta
Hey Leta – do you know Arianne? Your messages seem very similar…and you both found me by accident. I didn't realize anyone even used Ask Jeeves or Bing any more so thanks for letting me know they are still in use. Maybe you can connect to me on MySpace or send me an email using your AOL address one of these days?
That is unfortunate because it is not a difficult job. Writing a wedding thank you note is far too often a daunting task. Now few learn the skill prior to when they find themselves with a huge stack of thank you notes they know they need to write after opening a mound of wedding presents.  

Myra
Myra – Thanks for the spam. I must say, I receive a ton of spam here on my blog but this one might be one of the most cryptic ones yet. I'm pretty sure that if you have a huge stack of wedding thank you notes to write, you probably shouldn't be surfing the web reading random blogs, let alone taking the time to leave comments. Does your new husband know he married a distractable procrasinator?\
Its such as you read my thoughts! You seem to know a lot about this, such as you wrote the e book in it or something. I believe that you can do with some percent to pressure the
message house a bit, but other than that, this is great blog. A fantastic read. I'll definitely be back.

Myles F
Myles – you, my friend, are the man. Thanks for the constructive criticism about the whole "some percent to pressure the message house a bit." You're so right. I was just telling my daughter the other day that I really needed to focus more on pressuring the message house a bit and your comment reinforced that. Maybe it was you Myles, who was reading someone's thoughts?
Enjoy your retirement Mr. Letterman…and Paul Shaffer and all the staffers and crew of The Late Show with David Letterman. Thanks for the companionship, consistency and comedy. Best of luck in whatever you do next.
Good night kids!
Photo Credit: Rob Young via Flickr
Photo Credit: Erik Forsberg via Flickr