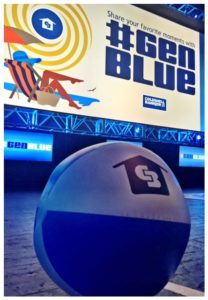 Monday Morning Match is a quick post – maybe a quote, inspirational story or idea – intended to spark some motivation inside each of you so your week gets off to a fantastic start on Monday morning.
I just returned from Miami Beach where I spent a few days enjoying the Coldwell Banker Generation Blue Experience – our annual gathering of agents, managers, brokers, owners and staff from Coldwell Banker companies and offices around the globe. It's a action-packed few days filled with education, celebration, inspiration, conversation and socialization.
I've been attending these event since 2002 in San Diego and haven't missed one since then. We've been to some amazing places like San Diego, Orlando, Las Vegas, San Francisco, New York, Los Angeles, Chicago and now the sunny and swanky South Beach. Each year brings new people to the event and each event creates a new set of memories.
Among the many benefits of attending events like this are learning new ways to solve problems and undoubtedly there will be parties and activities to have plenty fun but perhaps the biggest of benefits is the opportunity to build relationships.
This past week I ran into many of the people I met at that very first IBC (these events used to be called the International Business Conference) and I also was able to create many new friendships from people in my own state of Ohio to people as far away as Turkey, France, Spain and India. I've been introduced to some of my dearest friends because they were once an attendee in one of the many classes I have taught during the  learning sessions. A Gen Blue event might have been our first meeting and we have continued that friendship on social media since or for others, we connected online years before and only this year met in real life. Either way, relationships were built and relationships were strengthened.
One of the good problems that occur thanks to events like Gen Blue is you meet so many new friends and mentors each year that you don't have enough time to connect with them all at future event. You leave home with intentions to spend time with everyone you know but once you're on the ground and caught up with the hustle and bustle of the event's agenda, social obligations with your own company or brokerage and any other personal things you need to do, it's time for you to head back to the airport and get back to business.
Don't let the fact that you might not be able to catch up with everyone and some of the conversations you do have are in passing between sessions or as you're headed opposite directions at a lunch break. Even a quick minute to grab a hug or snap a selfie is a worthwhile moment and adds to the connection.
Attend these events and others like it locally, nationally and globally when you can. Plan your schedule early and consider building in a day or two extra on the front end or back-end of the event for extra meet-ups or simply to get some downtime relaxing or visiting the host city or area. Just remember that when it comes to company and industry gatherings like this, the more you go, the more you know.
That means more opportunities to build relationships, solve problems and have fun.
Just like this week.
Go make it happen.