Monday Morning Match is a quick post – maybe a quote, inspirational story or idea – intended to spark some motivation inside each of you so your week gets off to a fantastic start on Monday morning.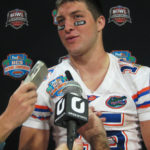 Today is the birthday of my favorite college athlete ever – Tim Tebow. He's turning 30 years old. Sure, he's a fellow Florida Gator. He played a huge role in helping the Gators claim two football national championships. He also became the first sophomore to win the coveted Heisman Trophy. But to be totally honest, the real reason I am a huge fan of Tim Tebow is that he is simply a nice guy. He is kind to people, he has humility and he always tries to make others around him better.
"True success is not measured in physical possessions, but in the amount of lives that you change." – Tim Tebow
He is a role model to his peers, his fans, and his enemies. For some unknown reason, he seems to have lots of the latter, and that probably says more about his enemies than about Tebow.
His football-playing career is over and while his college career is arguably one of the greatest ever, his professional career never achieved the levels of success at Florida. (He did have this amazing moment in the NFL Playoffs vs. Pittsburgh). He's currently working hard inside the New York Mets organization to continue a professional baseball career. In his own words, he is trying to "pursue something that he loves." In the off-season, he works in the national media and helps people, organizations, and charities around the globe. People who know him say how transparent and genuine he is and how he always puts others first.
Now reread that last two paragraphs and replace your name for Tim's. Are you doing everything you can to be a role model to others? When one chapter of your life/career finishes, are you doing everything you can to write a better next chapter? Are you tuning out the critics and naysayers? When you're not "on the clock" can you help others? Are you transparent, genuine and putting others first?
Be nice. Work hard. Become better.
I hope you have a great week building relationships, solving problems and having fun.
Photo courtesy of Open Sports via Flickr