Monday Morning Match is a quick post – maybe a quote, inspirational story or idea – intended to spark some motivation inside each of you so your week gets off to a fantastic start on Monday morning.
I spent a few days last week attending the Ohio Association of Realtors Convention in Cleveland and the Social Brand Forum in Iowa City, Iowa. While I spoke at OAR – a short 1-hour session on using Twitter, it was nice to go to an event as an attendee. I enjoyed four different sessions as an audience member during the two days I was in Cleveland including Nobu Hata's session on "The Agent of Tomorrow"  and the always engaging Leigh Brown talking about "Client Care and Retention." Renowned real estate coach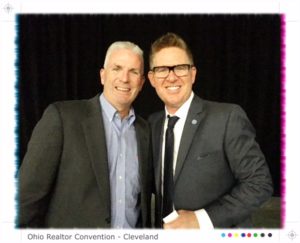 Tom Ferry was the convention keynote and crushed his session on why now is the right time for agents to multiply their business by 10x. Tom also delivered a fast-paced, extremely humorous afternoon CE class on "How to Create More Listings," a topic that any Realtor can learn something from. The really neat thing is all three of these speakers are friends of mine yet I still listened intently and took notes on what they were saying because I am always trying to #BecomeBetter.
I flew to Iowa City the next day…or at least that was the plan when I left Columbus. Late summer thunderstorms caused numerous delays and when I landed at O'Hare, I was notified that my flight to Cedar Rapids had been cancelled. Needing to be in Iowa City that afternoon to speak to Stefanie Sersland's amazing team at Coldwell Banker Real Estate Professionals, I quickly utilized my FastBreak status with Budget and grabbed a rental car to drive the 4+ hours to the heart of Hawkeye Country. (Not having 4+ hours, I made it there in a little over 3 hours…with no speeding tickets!)
No Pressure to Perform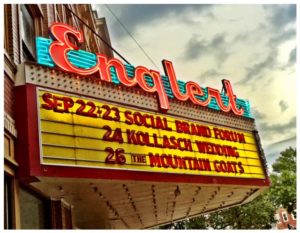 The Social Brand Forum is hosted by podcaster and University of Iowa professor Nick Westergaard. Westergaard recently published his first book, Get Scrappy, a great guide for any company or brand looking to improve and maximize their digital marketing strategy. This conference was going to bring many ideas in that book to life. I've been wanting to attend this event for the last several years but job commitments haven't allowed that to happen. This year I planned accordingly and made it to Iowa City.
Waking up on Thursday morning with no obligations as a speaker or event host? I must say it was nice.
I had invited Stefanie to attend with me and we were lucky enough to snag a few extra seats. I suggested we take a few of her agents who might benefit from the event and the presentations that would be delivered by guests like Joe Pullizi, Kristin Craft, Melanie Deziel, Andy Crestodina, Jed Record, Mike Smith and event keynoter and author of the customer service focused book, Hug Your Haters, the very engaging Jay Baer.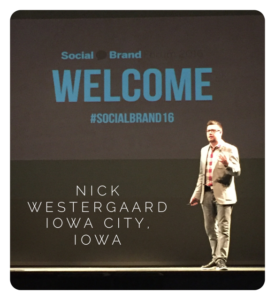 We arrived early at the iconic Englert Theatre in downtown Iowa City along the outskirts of the Iowa campus and grabbed great seats in the first few "VIP Access" rows. Host Westergaard was there early to meet and greet with his attendees so we caught up on his family and podcast and a little Big Ten football banter. We met some of the sponsors from Delivra and AWeber, got our mobile devices ready to take some notes and filled up with one more iced coffee from Starbucks (Thanks Taylor!).
I can't tell you how neat it was to spend 85% of my week as an audience member facing the stage instead of in the spotlight. Don't get me wrong, I love to share ideas and inspiration with my students and audiences on building relationships, solving problems and having fun but it sure is nice to refuel the tank every once in a while with tools, tips and techniques to doing the same in my own business and life.
Beyond the seats of the Cleveland Convention Center and the historic Englert, I was also honored to be in the audience of some amazing agents and people all week-long from Northern Ohio to Eastern Iowa. I enjoyed a social gatherings and dinner in Cleveland at the Rock & Roll Hall of Fame and with the CBREP associates celebrating the amazing career of Bernie Kennedy (retiring after 28 years as a Realtor) and couldn't have asked for two better fellow #SocialBrand16 attendees than Taylor Blazek and Dawn Slezak. These two rising stars were listening intently to every speaker and gleaning insights and ideas for how to continue to grow their already successful businesses but leveraging the tools, technologies and trends shared at the event. We had some great discussions before, during and after the sessions and I'm excited to see what the will take from the two days and put into action to serve their clients, company and community.
So that's my recap of last week's "action from the audience." One thing is for sure, you never can know too much. There is so much to learn and concepts that will help all of us if we simply sit back and listen. Sure, you can take notes, record a Facebook LIVE or tweet all the nuggets you hear but until you actually take the message and turn it into actions, your time in the audience won't have been as valuable.
Where will you be sitting this week? Who will you be listening to? What will you do with the message, stories or lessons you hear? I hope you'll build relationships, solve problems and have fun.