Where Everybody Knows Your Name
32 years ago today a fictional bar in Boston started serving up drinks and laughs on television and before it was "last call" eleven years later, Cheers was the top rated show on television. Bartender Sam Malone (played by actor Ted Danson) was the central figure in the cast of likeable characters that gathered in the bar "where everybody knows your name."
I think everybody would love to have that local place where they feel comfortable, know their fellow patrons as well as they know the staff just like we all knew Sam and Coach, Carla and Diane, and later we got to know and love Woody and Rebecca. Of course if you ever tended bar or waited tables in real life, you might have connected more with regulars like mailman Cliff Klaben, psychiatrist Frazier Crane or every bar denizen's hero, Norm Peterson.
(If you don't see the video below, click here to see the best greetings for Cheers #1 customer)
The Cheers of Cincinnati?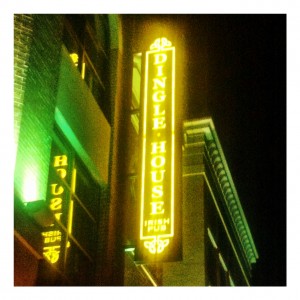 I'm lucky enough to have a spot near my favorite hotel that I stay at when I come to Cincinnati for work that I know I'll always feel welcomed like the patrons of Cheers were on Thursday nights. After checking in and changing clothes, I walk across the street and down the block to The Dingle House Irish Pub.
The Dingle House, located in the Cincinnati suburb of Westchester, is located right next door to our Coldwell Banker West Shell Union Centre office. I've been a loyal patron since the two establishments opened up several years but I almost always try to visit when I am down for three simple reasons;
1. It's walking distance from my hotel.
2. I'm usually here on Tuesdays…which means he "Tuesday Night Reuben Special" is in effect.
3. Christian Z is tending bar.
To be honest, I'd be a big fan of this place even if reasons #1 and #2 weren't true. Christian is as good as it gets when it comes to delivering remarkable service.
Welcome Back
It doesn't matter how long it's been since your last visit to the pub. It could have been yesterday, a few weeks ago or several months since you were there but when you walk in, if Christian is working, one thing is for sure; You're going to feel like you never left.
"Welcome back my friend," the kilt-wearing Christian will shout from behind the bar.
The guests can't help but smile and say "Good to be back."
It's not that he remembers every name but he certainly remembers every face. Christian will remember just enough to make you wonder how he does it.
I know how he does "it." It's actually quite easy to figure out if you sit and watch him for a beer or two; He loves what he does. He's proud of the establishment he works for. He thrives on serving the community that patronizes the pub (both locals and visitors). I know he really enjoys sharing his passion and enthusiasm for the product he represents – good food and great beer. The "people part" seems easy once you understand the plentiful menu and complex list of 80+ beers they serve, both on tap and in bottles.
Christian is super smart but he's not a "know-it-all." His product knowledge about the most unusual beers available in the cooler or their newest selection on tap is as much or as little as you need to know.
"Does it taste good?" earns a simple "I love it," while an inquiry about the recipe, alcohol content or "hoppiness" of a specific beer yields a much more thoughtful, researched response.
Christian has a loyal following of regulars who will stand and wait for a bar stool to open up instead of sitting at an open table. He brings in customers who only visit The Dingle House on days he works the way Dodger season ticket holders will only show up when Clayton Kershaw is pitching. He is a total All Star.
Are You a Christian?
Of course I'm not trying to mock anyone's religion with that rhetorical question but I am asking you what you are doing each and every day to make your customers and clients feel like they are getting something more than the average customer. Just like the average customer might think all real estate agents do the same thing, they probably think all bartenders are created equal. One man's rum and coke is…every man's rum and coke? Or is it?
Are you delivering service that makes your clients want to not only come back again the next time they have a need but also refer you to others?
Are you representing your product, brand or industry in such a way that it becomes something people will talk (or blog) about?
Do you do anything unique and different that will make people say "wow"?
Can you find something each and every day to be passionate and enthusiastic about?
I guess, when you strip away all the fluff and BS and propaganda just ask yourself this…
Are you finding ways to build relationships, solve problems and have fun?
If you are, Christian will probably raise a frosty mug to you in celebration, reach out his hand in appreciation and then get back to work. After all, he's got people to welcome back to his bar.